Sun Sniper Camera Straps
Bron Imaging Group, Inc., (
www.bronimaging.com
) announces that its professional-standard, European Sun Sniper camera straps have been launched nationwide in the United States. Amateur and professional photographers across the country, who are serious about their camera equipment can now find the Sun Sniper Pro and Sun Sniper Compact straps to enhance the security of their cameras. They also provide back and shoulder support that is superior to any traditional neck strap on the market.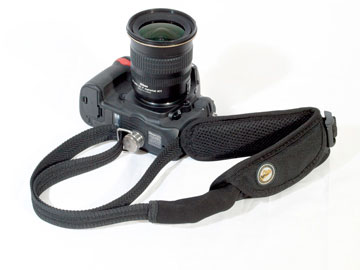 "Our goal is to provide serious photographers with the world's best photography gear," said Michael Hejtmanek, President, Bron Imaging Inc. "Common camera straps are often uncomfortable and not very secure. With state-of-the-art technology and an innovative design which has been endorsed by orthopedic physicians such as Dr. Stephan Redeker, the Sun Sniper camera straps are the most comfortable and secure straps on the market and allow photographers to shoot the way they are supposed to shoot. We are thrilled to make Sun Sniper straps available to photographers from coast to coast."
The Sun Sniper line of camera straps deliver:
ENHANCED COMFORT
• Conventional camera straps tend to leave the weight of the camera and lens pulling at pressure points on the neck or at a single spot on the shoulder. Additionally, these straps are usually attached to non-movable eyelets on the sides of the camera, allowing for only one swinging axis of motion and resulting in the banging of the camera on the chest. The Sun Sniper Pro's ergonomic "sling" design reduces strain on the neck, shoulder and back and limits unwanted movement. With Sun Sniper straps, the camera hangs securely at the user's side, thus distributing the weight of the camera and lens evenly along a stylish, padded shoulder strap that rests diagonally across the chest.
• A shock absorber eliminates any jarring – both to the body and camera – that may result from jumping, running or climbing.
CONVENIENCE
• Traditional neck camera straps that hang at the user's chest can restrict range of motion, make it difficult to switch from portrait to landscape mode and are not as practical or comfortable on long outings. Sun Sniper straps' innovative design allows for complete, fluid range of motion. Whether shooting a wedding, a sporting event or in the middle of an uphill hike, Sun Sniper straps enable photographers to quickly and conveniently bring their camera into shooting position.

• Sun Sniper offers a variety of strap options that can be used with any camera, such as the Sun Sniper Pro and the Sun Sniper Compact. The Sun Sniper Pro is perfect for the serious photographer working with a larger camera. The Sun Sniper Compact is ideal for the more casual photographer who uses a standard camera, and features all of the same comfort and security benefits as the Sun Sniper Pro in a smaller design and at a lower price point.
BUILT-IN SECURITY
• Along with the comfort and convenience of Sun Sniper straps, steel anti-theft wire inside the design ensures that users don't need to worry about the strap tearing during activities such as traveling, hiking or climbing, or if would-be thieves attempt to cut the strap from their possession.
• Sun Sniper is so confident in the security of its straps, the company offers insurance of up to $500 if a thief somehow manages to cut the steel reinforced strap and steal your camera.
"I took the Sun Sniper camera strap to the 2011 Winter X Games in Aspen and was instantly sold on the product," said Scott Markewitz, an award-winning outdoor and adventure photographer recognized as one of the most influential in the industry. "Normal camera straps get heavy, strain the neck and can get tangled, making it difficult to switch cameras quickly. None of that happens with the Sun Sniper straps. I am confident that once people try Sun Sniper they'll see what they've been missing. It will change the way people think about camera equipment."
The Sun Sniper line of premium camera straps are manufactured in Germany and distributed by Bron Imaging. The Sun Sniper Pro (MSRP: $88) and the Sun Sniper Compact (MSRP: $62) are available for purchase now at select retailers nationwide, including B&H Photo (bhphotovideo.com), Samy's Camera and Adorama (adorama.com), and more information can be found at www.BronImaging.com.
Bron also distributes these high-end Sun Sniper straps:
• Sun Sniper One
• Sun Sniper Steel
• Sun Sniper Double Press Harness
• Sun Sniper Triple Press Harness

LATEST VIDEO

SPONSORED VIDEO
Testing Tamron's SP 150-60mm G2 lens while capturing birds and alligators in Apalachicola, Florida.