Stocking Stuffers 2007; What Santa Should Bring This Year
"A good conscience is a continual Christmas."--Benjamin Franklin
Submitted for your approval: A list of gizmos, gadgets, and gear for the digitally-minded who thought they had everything but didn't know that they really needed lots more stuff in order to capture, enhance, or store the ultimate image. Use this month's column as a shopping list for your favorite photographer or grab a lime Sharpie Mini and circle some of the goodies you want and causally leave it near where your spouse eats his or her morning Cap'n Crunch.

Print Me
You'll probably need one of Shrek's stockings to hold the Epson (www.epson.com) Stylus Photo R2400 that's become my indispensable printing tool. Its eight-color Epson UltraChrome K3 inkset includes three levels of black (black, light black, and light-light black), making it ideal for printing black and white prints as well as for images combining color and monochrome. The R2400's expanded inkset ensures a wider color gamut with superior mid tones, highlights, neutrals, and shadow details and doesn't seem as ink-hungry as previous Stylus Photo printers. It quietly (you hardly know it's working) outputs photos up to 13" wide at a maximum 5760x1440dpi. Throughput is fast and it can knock out an 11x14" photo in less than 2 minutes. Since the inks are pigment-based they deliver fade-resistant color prints that stay brilliant for up to 108 years or more than 200 years in black and white. The R2400 is not inexpensive ($850) because it's a true professional quality photographic instrument. You might remind your secret Santa there's a $75 rebate--at least for a while.
Proof Me
PhotoTune's (www.phototune.com) Test Strip Proofer lets you emulate the time-honored system of incremental proofs known as test strips and ring-arounds by traditional wet darkroom workers. It lets you tweak your image files without wasting paper and that Dom Pérignon-priced ink. Test Strip Proofer is a Photoshop Automation plug-in that automatically makes calibration proofs with your choice of color variation and amount. Available in two versions, the Home version ($59.95) makes horizontal and vertical proofs in sizes from 4x5 up to 12x15" while Test Strip Proofer Pro ($129.95) offers horizontal and vertical sizes ranging from 4x5 up to 36x45", plus a selection of proofs from 16 to 43" wide. Test Strip Proofer makes all proof images using a 4x5 aspect ratio and if your image is taller or wider it will be cropped to fit. With images shorter or narrower than 4x5 more white space will be added between images. If you don't want your image cropped, use Photoshop's Image>Canvas Size or Crop tool to alter your image's dimensions to match the 4x5 ratio before using Test Strip Proofer.
© 2007, Joe Farace, All Rights Reserved
Intellihance Pro
onOne Software's (www.ononesoftware.com) Intellihance Pro 4.2 is a Photoshop compatible plug-in that combines eight image adjustments in one easy-to-use interface. It enhances and adjusts images using a visual comparison method. Just try different settings with the pull-down menus until you get the results you're looking for. If you want to adjust Levels or Curves, Intellihance Pro 4.2 lets you access these methods in its Fine-Tune mode. You can choose from viewing a single image, side by side, before and after or up to 25 different variations of the same image to help you find the adjustment that looks the best to you. Intellihance Pro 4.2's grid view allows you to visually compare adjustment settings for a single control or for multiple presets and lets you save settings for future use or batch processing. It includes video tutorials to help you get the most out of the plug-in and is compatible with Adobe's Photoshop CS3 and Intel-based Mac OS and Windows computers.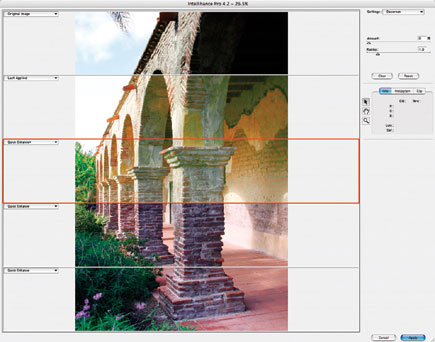 © 2007, Joe Farace, All Rights Reserved

LATEST VIDEO

SPONSORED VIDEO
Testing Tamron's SP 150-60mm G2 lens while capturing birds and alligators in Apalachicola, Florida.