Starting Here, Starting Now; Predicting The Future For More Than 25 Years Page 2
www.4-optic.com
Like me, Roy Cox is a native Baltimorean, but unlike me he's remained faithful to Charm City and in the process has created amazing fashion photography images that push the genre into new storytelling and highly cinematic directions. His elegantly styled—as befits his imagery—site contains three books and one portfolio of headshots that while including headshots features a whole lot more. From the first look at the first image in "Book 1," you know you're not in Kansas anymore and it just isn't his "South Kansas" series that puts a wonderfully wicked update on Frank Baum's classic tale. A combination of immaculate styling, perfectly cast models, and Cox's larger-than-life vision shows Dorothy and her pals in ways that leave you wanting to see a sequel.

There's also a CSI-like crime scene with the most fabulously attired detectives you're ever going to see on any screen, big or small. "Love and War" is another mini-movie perfectly lit and dramatically shot that shows the seemingly endless energy that vibrates off Cox's photographs. There's a heckuva lot more and that's just "Book 1."

In "Book 2" there's an occasional filmic excursion but the rest is more traditional fashion work, at least for what Cox would be traditional, because the one thing that permeates and in fact defines his work is that he expands what most people think of as fashion photography into directions that combine complexity and elegance in ways that are often operatic. In "Book 3" you start to see more monochrome work that embraces men's and women's fashion in styling that can be elegantly static (and dripping with oil) one moment or filled with the kind of excitement generated by Clark Kent jumping into a phone booth and turning into Superman. But in all of these images it is Roy Cox who is Superman or at least super photographer.
© 2009, Roy Cox, All Rights Reserved
www.johnfrenzelphotography.net
This month's Reader's Homepage belongs to John Frenzel and includes three portfolios—"People," "Black & White," and "Other"—each of which contains several collections, producing a total of 10 galleries of images. There are four collections in "People," each of which has a different theme, the first of which is "Candids," containing monochrome and color photos of people (and one of a cow) made spontaneously and unposed yet are more alive than many formal portraits. The images are wonderful to look at but somewhat hampered by a site design that doesn't let you see them bigger, and you want to see them larger because they are so good.

The "Portrait" section includes an interesting collection of traditional but mostly casual portraits where Frenzel is not afraid to get close to his subjects, allowing their character to be displayed in their faces. Over in the "Black & White" portfolio the site design changes slightly, which might be a problem for users of the Firefox browser but not for users of Microsoft's Internet Explorer for whom the site was clearly designed. You can still navigate in Firefox but it's not as tidy, especially since each of the two galleries includes five more sub-galleries. Take your time and browse away, because here you'll find some wonderfully subtle yet evocative landscape photography. The "Other" portfolio is diverse and includes "Lomography" that, while it varies in its subject matter, remains true to the spirit of the genre by being eclectic yet subject focused (if focus is a word you can use when discussing images made with these plastic cameras). I also enjoyed Frenzel's "Still Life" images that remain true to his vision that is nostalgic yet wonderfully optimistic and patriotic. And you can't ask for more in a website.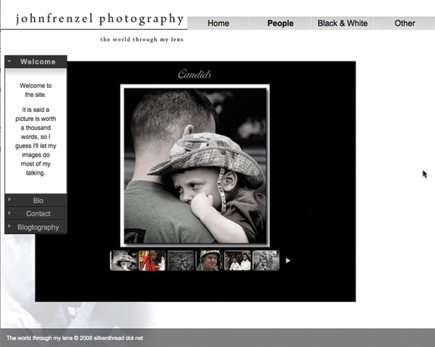 © 2009, John Frenzel, All Rights Reserved

LATEST VIDEO

SPONSORED VIDEO
Testing Tamron's SP 150-60mm G2 lens while capturing birds and alligators in Apalachicola, Florida.