Special Report: photokina
New Films (!), Darkroom Gear (!), And News From The Silver-Halide Wars Page 2
Another name beloved of the fine art market, Bergger (
www.bergger.fr
), had two new warm-tone variable contrast papers: Prestige CB Style which has an ivory base and Prestige CX which has a white base. Both papers are on 300g/square meter fiber based, and both have a "lightly matte" surface. Grades 0-5 are available with the appropriate filtration.
Darkroom Gear
With all the negative reports about the future of halide photography you would probably not expect new darkroom equipment, but at least three manufacturers had enough confidence to introduce new, high-end equipment.

Most surprising of all was a new 8x10" enlarger from Kienzle. This is a very compact unit, no bigger than some 4x5" enlargers. It is a modular system so you can choose a color head, a variable contrast head, a cold light head, a condenser head, or a split-grade head. And it sells for under 4000 euros, which is $5000. Herr Kienzle is anxious to find distribution in the US but is currently selling directly via his website (www.kienzle-phototechnik.de). Anyone with an old Leitz Focomat IIa, Ic, IIc, or Valoy II can also order a range of spare parts from Kienzle, including color and split-grade heads. Again, check his website.
Other enlarger news came from De Vere (www.odyssey-sales.com) in the shape of a new LED light source for their digital enlarger. It is lighter and more compact than previous light sources and there are no moving parts to go wrong. The new light source and digital panel can be retrofitted not just to De Veres but to enlargers by Durst, Omega, and ZBE, and it allows you to print digital files onto conventional photographic paper.

Then there was the new film processor from Heiland Electronic (www.heilandelectronic.de) called the TAS. Actually, it's an agitation unit which automatically inverts the tank after you have filled it manually. It is small, easily transportable, and can be used with JOBO, Paterson, Kaiser, and Kinderman tanks. You can order special versions for other tanks.

Its great strength is that it can deliver a wide range of agitation regimes: you can set overall duration (1-30 minutes), frequency of agitation (initially constant for 1 second to 2 minutes, then every 1 second to every 5 minutes), and the number of inversions (1-9). Inexpensive "memory sticks" can be programmed with your favorite development time(s). Look to spend $1000 or more on it, though.
Tetenal Availability
There have been slight problems with the availability of Tetenal products in the US. Surprisingly, this is mostly because of international labeling requirements. Every country has different regulations: as one Tetenal spokesman said, "We risk having a label where you can hardly see the company name or the name of the product because of all the safety information." They are working on the problem, which will almost certainly result in redesigned packaging for a worldwide market. Jobo has traditionally been the US distributor for Tetenal, so try their website (www.jobo-usa.com) first. If you can't find what you need check Tetenal's website (www.tetenal.com).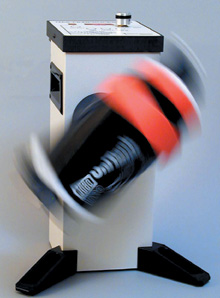 What Is Available?
The best way to keep up with the changes in photographic film and paper is to check the websites of your favorite manufacturers and dealers: dealers' websites can be a good source of information, but don't trust the first source who tells you that something is discontinued. This may be code for "we don't stock it" or in extreme cases "shaddup and buy what we got."

LATEST VIDEO

SPONSORED VIDEO