Special Report: photokina
New Films (!), Darkroom Gear (!), And News From The Silver-Halide Wars
The Changing Market
As of November 1st the Agfa Imaging division will be carved out of Agfa Gevaert. It will become a new independent company named AgfaPhoto. Forecasts show the new company in a very strong position. Dan Unger of Agfa U.S.A. assured me that they retained an enthusiastic commitment to film in general and black and white film in particular.

Foma (www.foma.cz) is coating film and paper and doing very nicely. Efke (www.efkefilm.com) is still coating films and papers, but the plant is up for sale: we met with people who were considering buying the coating line. At the time of this writing no one could guess the future of Ilford and Forte, as noted in the text.

If you care about silver-halide photography, buy films, use them, print them, and buy some more. Stop buying, and they will cease production. The future is up to you.
Let's start where my heart is, with new films. New films? Yes. Not as many as in previous years, but halide is still alive and kicking. This is just as well, given the announcement of exciting new film cameras from Zeiss, Nikon, Voigtländer, and others.

The biggest and most frequent improvements are in color negative films, such as Fuji's (www.fujifilm.com) new pro films for wedding and portrait photographers, Pro 160S (replacing NPS 160) for optimum skin tones and Pro 160C (replacing NPC 160) for more saturation. Their 400 and 800 speed films have also been updated for improved sharpness: NPH is now Pro 400H and NPZ is Pro 800Z. All four films can be printed on the same processing channel.


Kodak's (www.kodak.com) introduction (for the European market only) was Elite Color 200. Elite Color films are sold as Ultra Color in the US, so if you run out of film in Europe, don't be put off by the different name. But in the US there is only Ultra Color 100 and 400, no Ultra Color 200. And don't confuse any of them with Elite Chrome, the slide film. I was checking some details on the web and found that at least half the Google hits got them mixed up. Perhaps Kodak might find it easier to use the same consistent, rational names for the same film worldwide, to avoid confusing their many loyal customers. Will there be Ultra Color 200 in the US? Watch this space...

Then there was Agfa's (www.agfa.com/photo) new "Eye Vision Technology 3.0," to be incorporated in all their Vista and Optima color negative films, though Agfa majored on memory cards for digital cameras, sold as "Agfa Digital Film." This is perhaps a good reminder that digital and film photography coexist and feed off one another and that the picture is more important than how you capture it. Another crossover innovation from Agfa is the "REDC" program for Agfa d-labs and image box workstations, which detects and removes redeye as your prints are being made. It can be retrofitted to existing units.
Rollei Black And White
To return to film, the most exciting announcement for me came from Maco (www.freestylephoto.biz) and Rollei (www.rolleiusa.com): Rollei R3 professional black and white film. Camera manufacturers "badging" or approving films was fairly common before World War II and this may mark a return to an ancient trend. Come on Leica! Perutz Flugfilm, where art thou?

The new Rollei/Maco film is ISO 400 but can be used at anything from EI 25-6400 depending on the developer. Rollei R3 Low Speed Developer gives EI 25-200 with development times from 20-25 minutes (at 24Þ C, 75Þ F) and R3 High Speed Developer gives EI 400-6400, with development times from 9-32 minutes, probably at 20Þ C, 68Þ F though this is not stated.

Preliminary literature refers to ISO 25-6400, but of course this is impossible. ISO speeds are good only for a fixed contrast (approximately 0.62), so only one of the speeds quoted in any given developer can be the true ISO speed. At other development times you inevitably have different contrast levels, so the other quoted speeds are EIs (Exposure Indices) and not true ISO speeds. But then, poor documentation has always been the Achilles' heel of Maco's otherwise excellent products.

The film is available in 35mm, roll film, and sheet film from 6.5x9cm up to 20.3x25.4cm (8x10"), as well as special formats to order. A "starter kit" includes a special box in which to store your films, a test sensitometer strip of 35mm film, R3 Low Speed Developer, R3 High Speed Developer, R3 High Energy Fixer, and R3 High Energy Wetting Agent. I have all of this to test, so watch for the results.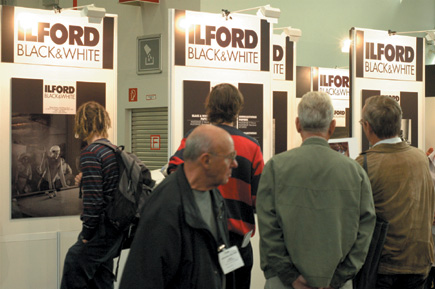 Among the other black and white players, Ilford (www.ilford.com) was there, but Forte (www.omegasatter.com) was not. Both companies had gone into receivership (Chapter 11) in early September. At the time of this writing Ilford was still coating and shipping film and paper, while Forte had temporarily stopped production but was expected to restart by late October. There were plenty of rumors and counter-rumors about rescue plans, but without a crystal ball I really can't make a sound prediction.
Chemicals
Ilford is no longer producing photographic chemicals. That part of the business has apparently been licensed to Champion (www.championphotochemistry.com). As Champion produces only liquid chemicals, there will be no more powders, but a Champion spokesman said that they have equivalent liquid products.
If you are firmly wedded to powdered chemicals it is worth knowing that Tetenal still produces them. One developer, Emofin, is celebrating its 75th anniversary. Emofin is a two-bath black and white film developer without hydroquinone. Fotospeed (www.fotospeed.com) is also working on a hydroquinone-free developer to be introduced sometime in the spring. They weren't sure yet whether Luminos (www.luminos.com), their US distributor, would take it up.

For those who develop their own C-41, color or chromogenic black and white, Tetenal announced a new two-bath "Colortec C-41 Negative Kit Rapid." A one-liter kit can develop 12 135/36 films. Although it is called a two-bath process (developer, bleach/fix) there is also a final stabilizing bath.
Paper
Photographic paper is selling very well. Kentmere (www.kentmere.co.uk), who coat Luminos papers, have just had their best month in their 100-year history. But some surfaces are being discontinued because the manufacturer who supplies the paper stock is discontinuing the necessary paper. There are only two or three companies in the world who provide paper stock to all the different photographic (and digital) paper manufacturers. For example, the single-weight paper which Kentmere has always used for their non-supercoated Art Document will be replaced by a double-weight paper sometime around November. It will be the same emulsion, without the supercoating, and it will actually be easier to use because it doesn't go so floppy.



FEATURED VIDEO