Special Report: photokina
New Electronic Flash Units Page 2
High-Tech Metz Models
Metz has been making flash units for decades and most recently, the company has been working on new models that are dedicated to high-tech cameras, including digital. Their new 54 AF-1 digital series, for example, is compatible with the latest 35mm and digital cameras that accept accessory flash units. The Metz 54 AF-1C was designed for the Canon EOS and high-end PowerShot cameras. The 54 AF-1M targets owners of Konica Minolta SLR and DiMAGE cameras while the Metz 54 AF-1N is great for Nikon analog or D-series SLRs as well as Coolpix cameras.
Check the list of supported features for the camera that you own, and you'll be quite impressed by the extensive level of compatibility. New technology should ensure great flash exposures employing sophisticated metering systems, such as E-TTL (Canon); D-TTL, 3D/D-TTL, and i-TTL or i-TTL-BL (Nikon); or ADI flash metering (Konica Minolta), depending on the camera model that's used. Conventional TTL and manual flash, rear curtain sync, slow sync, and high-speed sync are also supported with pertinent cameras; a flash exposure compensation control (adjustable in 1/3 step increments) is available. (Note: www.bogenimaging.us includes some information on features/compatibility while www.metz.de/en provides full specifications.)


Other features include high power output (Guide Number 177, in feet, at ISO 100 at 105mm); user friendly controls plus an illuminated LCD data panel; a swivel/tilt head; autofocus-assist beam projector; powered auto-zoom head with positions from 24-105mm that can be manually set if desired. A telephoto attachment and wide angle diffuser are included in the kit. (Street price, $289.)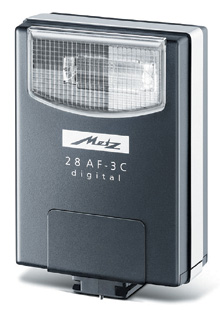 If you do not need that much power, you may be happy with the new ultra compact Metz 28 AF-3 digital with a Guide Number of 28 in meters at ISO 100; that equates to more power output than you get with most cameras' built-in flash heads. Dedicated models are available for four brands of digital cameras. The 28 AF-3C is compatible with Canon's E-TTL/FEL features; the AF-3M for Konica Minolta supports DiMAGE TTL pre-flash metering and ADI flash metering; the AF-3N supports Nikon i-TTL/i-TTL BL flash control, while the AF-3O for Olympus cameras is compatible with TTL with pre-flash. Depending on the camera used, the 28 AF-3 digital supports first and second curtain sync, pre-flash for redeye control, flash exposure compensation, standard TTL, slow sync, as well as full and partial output manual flash. (Street price, $149.)