Special Report: photokina
New Electronic Flash Units
Whether you own a 35mm or digital SLR camera, a dedicated external flash unit can be a valuable accessory. Offering higher power output, and often extra features such as a bounce/tilt head, the optional units can help to produce more sophisticated flash lighting effects. Even if you already own a flash unit that's compatible with your camera, it may not support all of the latest technology, such as superior flash metering or high-speed flash sync. (These features vary from camera to camera; review your Owners Manual for specifics on the flash units that support all in camera technology.)

Most of the camera manufacturers already make ultrahigh tech flash units, but Canon and Olympus announced new models at photokina. Two independent brand manufacturers, Metz and Sigma, did so as well. I'll provide a brief overview as to the features of each model. However, the specific features supported by each flash unit can vary, depending on the camera's capabilities. This is particularly true with the after-market brands. If any of the following flash units might be of interest, be sure to review the information for your own camera on the manufacturer's website.
Affordable Olympus Flash
The latest Olympus digital SLR camera, the E-300 EVOLT is a lot less expensive than the pro-level E-1. As a companion for the new camera, Olympus (www.olympusamerica.com) introduced an affordable flash unit, the FL-36 TTL. This unit is also compatible with the E-1 as well as the few high-end compact Olympus cameras (with built-in lenses) that include a hot shoe for accessory flash. At our press time, full specifications were not yet available but we do know that the FL-36 TTL is equipped with a 1/8 step illumination control for precision shooting, a wide angle diffuser panel for even illumination with wide angle lenses, a lockable bounce and swivel mechanism for bounce photography, and a compact zoom head to accommodate lenses from wide angle to telephoto.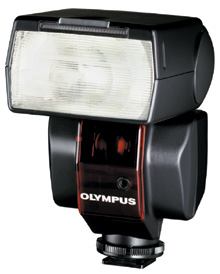 When used with the E-series digital SLRs, the FL-36 supports TTL Auto, and FP-TTL automatic and manual flash metering; the flash unit provides a range of 12-36 yards (depending on the focal length of the lens) and has a field of view coverage suitable for lenses as short as 8mm (16mm equivalent in 35mm photography). (List price, $249.)
Canon's New Flagship
Replacing the 550EX as Canon's top flash unit for 35mm and digital SLRs, the new Speedlite 580EX is a high-powered model, with a Guide Number of 58 (in meters, at 105mm, ISO 100). In spite of the slightly higher power, and 25 percent faster recycling time, the 580EX is smaller and lighter than the 550EX, offering 13 (vs. six) Custom Functions. It's even more convenient to use with new controls such as the Select Dial. Coverage is provided for lenses as short as 14mm (vs. 17mm). Full swivel capability, 180Þ in both directions (not just one direction), is also available.
The Speedlite 580EX offers a wealth of features such as maximum support for digital EOS cameras' high-tech capabilities, including the ability to transmit precise flash color temperature information and vary the zoom setting to match the imaging sensor size. Note, too, that its focus-assist beam is compatible with all of the 35mm and digital EOS cameras' various focus point arrangements. Naturally, all 550EX features are maintained, including the flash exposure control system, wireless flash control with multiple Speedlites, and even distribution of light over the zoom range. (Street price, $479.) To learn more, visit Canon's website at: www.usa.canon.com.
Versatile Sigma Macro Flash Unit
Sigma (www.sigma-photo.com) recently began marketing two DG-series flash units with extensive dedication to digital and 35mm SLRs, the EF-500 DG ST and EF-500 DG Super. During the photokina show, I found another new DG model, the EM-140 DG Ring Flash for macro (extreme close-up) photography. Like other ring flashes, this one consists of a controller unit that sits in the camera's hot shoe, plus a circular flash head that mounts on the front of certain macro lenses. You can set it to fire both of the two tubes for even, shadowless lighting, or select only the left or right tube, for more directional lighting that produces a three-dimensional effect. For the best results, it's worth using the Modeling Flash function to check for reflections and shadows before actually taking a flash picture.
Sigma indicates that extensive compatibility is provided with most of the latest TTL flash metering systems, including Pentax TTL and P-TTL, Canon E-TTL (but not A-TTL), Nikon D-TTL and i-TTL, Minolta-ADI, as well as Sigma S-TTL. Flash exposure compensation, wireless off-camera TTL flash, and high-speed sync flash are also available with many cameras. Multi-flash wireless effects can also be achieved using the EM-140 DG as the main light, and an EF-500 DG Super as a slave unit to light the background, for professional-looking nature images. The Guide Number of 14 (in meters, ISO 100) is not high, but it's plenty for most close-up work. (Street price, $349.)

FEATURED VIDEO