Special Report: photokina
New Digital Cameras With Integral Lens Page 2
New 7-Megapixel Cameras
Virtually overnight, more than a half dozen 7-megapixel models appeared, with several employing a CCD made by Sony. Because most companies do not release information as to the sensor manufacturer, we cannot be certain as to which digicams incorporate the Sony chip.

I can guarantee that Sony (www.sony.com) is using their own CCD in two new 7-megapixel cameras, including the moderately large "prosumer" Cyber-shot DSC-V3 with retro styling, Carl Zeiss aspherical 34-136mm zoom, oversized 2.5" LCD monitor, and a 2 fps burst mode. The camera includes 12 shooting modes; five-point autofocus sensor with NightFraming and NightShot modes for low light; JPEG, uncompressed TIFF, and raw file capture options; a wide range of user-selectable overrides; and a hot shoe for an optional HVL-F32X flash unit.

Much smaller and slimmer (1"), the new 7-megapixel Sony Cyber-shot DSC-P150 includes features usually found in larger cameras, such as a Carl Zeiss 38-114mm zoom; Auto, Program AE, full Manual plus nine Scene modes; live histogram display; five-point autofocus sensor plus a wide range of user-selectable overrides. Its Real Imaging Processor ensures fast start-up, nearly instant (0.3 seconds) response to the shutter button, and a fast framing rate, while optimizing autofocus and autoexposure performance. (Street price, $699 and $499, respectively.)

The new 7-megapixel entry from Pentax (www.pentaxusa.com) features retro-styling in an aluminum-alloy exterior and an aspherical 38-188mm zoom but is quite compact and lightweight (10.8 oz) for a camera with such a long lens. The Optio 750Z is jam-packed with numerous shooting modes including 12 subject-specific Programs; many user-selectable overrides; JPEG and TIFF recording modes; swiveling/tilting 1.8" LCD screen; and a new 11-point autofocus sensor with both passive and active autofocus for great reliability in low light. (Street price, $649.)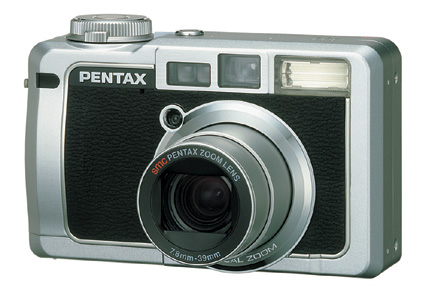 Billed as the "smallest 7-megapixel camera with a 5x zoom," the Olympus C-7000 Zoom (www.olympusamerica.com) is a surprisingly compact, lightweight (10 oz) metal-bodied camera with 38-190mm (equivalent) lens, large 2" LCD monitor optimized for outdoor use, and a host of sophisticated capabilities. Important features include TIFF, JPEG, and raw capture modes; an amazing 143-point autofocus sensor; a manual focus option; histogram display for exposure assessment; 2.3 fps framing rate plus full control over every image parameter. It's exceptionally fast, too, with quick start up and nearly instant response to a touch of the shutter release button. Although intended for serious shooters, the 10 Program modes plus "Auto Redeye Fix" make this camera suitable for the digital novice as well.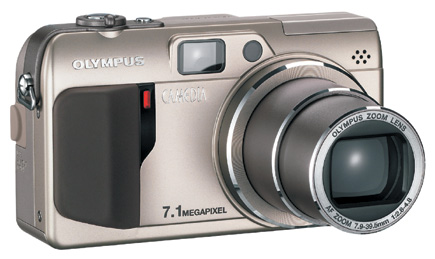 The full-featured Olympus C-7000 Zoom includes a new Active Histogram that other manufacturers should adopt; it's far more intuitive than the typical histograms. Preview a scene on the LCD monitor and you can visually assess areas that will be overexposed or underexposed thanks to a red and blue overlay. Adjust exposure until the preview image indicates correct exposure of important highlight and/or shadow areas and your image should be close to technically perfect. (Street price, $599 US.)

We generally think of Samsung (www.samsungcamera.com) as a specialist in highly-affordable cameras, but this company is keeping up with big-name competitors in the 7-megapixel category. The new Digimax V70 features a Schneider-Kreuznach 38-114mm (equivalent) zoom, a 2" swiveling LCD monitor, and 10 different Program modes that make it an ideal family camera with ease of use. However, some advanced features are included, too, including semiautomatic and fully manual mode plus overrides for exposure, color rendition, and sharpness. (Estimated price, $499.)

The new PowerShot G6 employs a Canon 7-megapixel CCD and is similar in many respects to the highly rated (5-megapixel) PowerShot G5. In addition to higher resolution, the G6 boasts 10 percent smaller size, faster start-up time, simultaneous raw+JPEG recording, 30 percent faster zooming plus 55 percent faster autofocus. Features include an all-glass 35-140mm f/2-3 optical zoom lens; new nine-point AiAF autofocus system; 12 EOS-based shooting modes; super macro mode plus an extensive range of user-selected overrides. Designed for photo enthusiasts, with EOS-style controls, and swiveling 2" LCD monitor, the PowerShot G6 also accepts EX-series Speedlites and E-TTL wireless off-camera flash accessories. (Street price, $699.)

Also a 7-megapixel camera, the Canon PowerShot S70 is intended for families who want high resolution and great versatility but appreciate a smaller body with a clamshell design. Nearly identical to the earlier (5-megapixel) S60, the S70 incorporates a 28-100mm zoom with new Ultra High Refractive Index Aspherical technology, for outstanding sharpness and clarity in a smaller size. Other features include faster start up; faster continuous shooting at 2 fps; 13 shooting modes; raw+JPEG recording plus optional wireless remote controller. (Street price, $599.) For more information on both PowerShot digital cameras, visit www.powershot.com.

FEATURED VIDEO