Special Report: photokina
New Digital Cameras With Integral Lens
During the photokina 2004 show, many new digital cameras were introduced, including many of the ultra-compact/simplified models that target snapshooters. While some of those products will sell like the proverbial hotcakes, lack of space precludes me from attempting to cover them all. Consequently, I decided to concentrate on cameras intended for the photo enthusiast, as an alternative to a digital SLR system or as a first digital camera for film photography enthusiasts who want to try digital capture.

While exploring the numerous options that are currently available, I identified a few meaningful trends. Particularly in the mid range and higher priced models, larger LCD monitors, up to 2.5", are becoming common. Smaller monitors (especially 1.8") are still more typical, because they consume less battery power. Thanks to the superior new lithium ion batteries available today, larger monitors should become the norm; even with the extra power consumption, the best batteries last a long time. Swiveling/tilting LCD monitors are also becoming more common. This feature can be useful occasionally: for self-portraits, for low-level shooting, or for holding the camera above the heads in a crowd at a concert or other event.

We're also starting to see more digicams with faster start-up times and reduced shutter lag: with nearly instant response to a touch of the shutter button. That's great for anyone who has missed a lot of candid photo opportunities, waiting for an older digicam to finally take a shot. Some manufacturers are publishing specs as to start-up time and for shutter lag (as short as 0.2 seconds) for some cameras; the others simply state that a new model is faster than its predecessors. In any event, the entire problem of digicam shutter lag should be completely solved in the next year or so, by all major manufacturers.

And more good news. Digicam prices are dropping even more quickly than in the recent past. For example, Concord (www.concordcam.com) announced a 3-megapixel camera in a metal housing for $99.99: the 3043, with a wide angle lens and all of the basic features for family picture taking. Add $20 and you can get the similar 3346z, similarly equipped but featuring a 3x optical zoom lens. Granted, these are not Concord's best cameras, but they'll probably satisfy teens and some other families. While none of the other familiar manufacturers have broken the $100 price barrier for a 3-megapixel digicam (as of this writing), they'll probably move in that direction to remain competitive at the low end of the market.

As the above might suggest, 3-megapixel sensors are being relegated to entry-level models while 4-megapixel sensors are generally used in the moderately-priced digicams. Most new mid range/advanced cameras now boast 5- or 6-megapixel sensors while 7- and 8-megapixel resolution is quickly becoming the norm in the "prosumer" category. Especially in the $500-$600 price range, an increasing number of digicams boast longer optical zoom lenses, such as the Leica 35-420mm f/2.8 ED (with optical Image Stabilizer) available in the 5-megapixel Panasonic Lumix DMC-FZ20K (street price, $599; www.panasonic.com) and the Schneider-Kreuznach 38-380mm f/2.8-3.7 zoom in the 5-megapixel Kodak EasyShare DX7590 (street price, $499; www.kodak.com).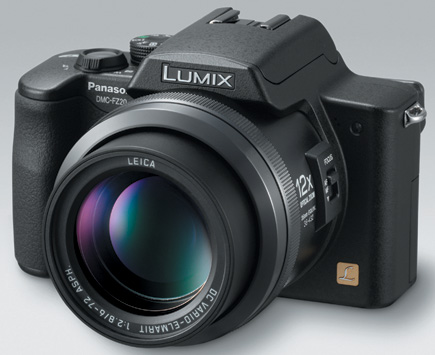 A Unique Widescreen Format
Even at a glance, the new Fujifilm FinePix F810 (www.fujifilm.com) is obviously unique, because it sports an unusually long 2.1" LCD screen that hints of the camera's unique new capability. This 6-megapixel digicam allows for widescreen format (16:9) photography, generating long/narrow 3299x1800 pixel images. Naturally, the camera can also be used in standard (4:3) format for more typical 2848x2048 pixel images. Its Fujinon 4x zoom provides the equivalent of 32.


5-130mm focal lengths in standard mode and 35-142mm in widescreen mode. Although some websites call widescreen images "panoramic," that term is not correct. Think of the FinePix F810 as a camera that offers an option for making moderately long/narrow pictures without cropping a conventional digital image and losing pixels.

Speaking of pixels, do note that this 6-megapixel camera can capture 12 million recorded pixels through internal interpolation, using the Super CCD HR (High Resolution) sensor system. That translates to images with 4048x3040 pixels in standard format or 3968x2232 pixels in widescreen mode. As expected, the FinePix F810 is a full-featured camera loaded with a wide range of capabilities plus extras such as JPEG and raw format recording for great versatility. It's also fast, with a 1.2 second start-up time and shutter lag of a mere 0.05 seconds. (Street price, $499.)
New 8-Megapixel Cameras
Although the first 8-megapixel cameras were introduced only eight months before the photokina show, two manufacturers arrived in Germany with new/improved versions. Think of the following trio as the proverbial tip of the iceberg, with many more 8-megapixel digicams to follow over the next year or two.

The Konica Minolta DiMAGE A2 has been a highly-rated 8-megapixel camera with built-in 28-200mm (equivalent) APO GT zoom and an Anti-Shake (Image Stabilizer) system that shifts the CCD sensor module to compensate for camera shake. Now there's a second, more affordable model using the same sensor. The new DiMAGE A200 (http://konicaminolta.us) omits some non-essential A2 features such as the eye sensor for automatically activating the electronic viewfinder, the tracking autofocus mode, PC cord terminal, and wireless off-camera flash capability. However, it benefits from several enhancements that will make it a highly desirable camera, including a slightly smaller and lighter (17.8 oz) body, improved control layout, superior CxProcess III image processor plus an advanced high-speed LSI "engine" and a flip-out rotating (higher resolution) LCD monitor.
(Estimated price, $899.)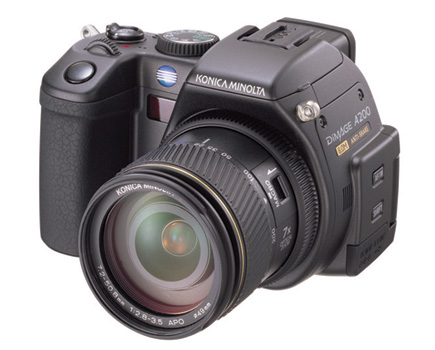 Nikon (www.nikonusa.com) released two second-generation 8-megapixel cameras, starting with the Coolpix 8800 with magnesium-alloy body, swiveling 1.8" LCD monitor, and a 35-350mm (equivalent) ED zoom. More importantly, this is the first Coolpix model to incorporate a Vibration Reduction system, shifting optical elements for sharper images in handheld shooting. Other enhancements over the earlier Coolpix 8700 include more convenient controls, nine vs. five focus points, a few extra Program modes, and autofocus-assist beam in the body (instead of the flash unit) for greater low-light reliability. In addition to a more powerful built-in flash, this camera now supports full i-TTL flash operation using the Nikon SB-800 or SB-600. In camera software allows for shadow detail recovery and "Redeye Fix." (Street price, $999.)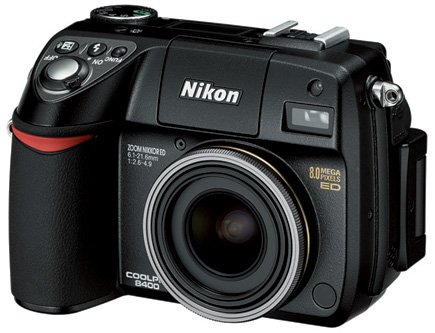 Similar in many respects, the new Coolpix 8400 is smaller and features a new 24-85mm (equivalent) ED lens, for those who prefer wide angle over telephoto photography; it would be especially desirable with the optional 0.75x adapter for ultra-wide 18mm coverage. Do note that the Coolpix 8400 does not incorporate the Vibration Reduction system or the special software, but employs a more sophisticated hybrid autofocus system. Like the Coolpix 8800, it's extremely versatile and fast, with features such as nine-point autofocus sensor and TIFF, JPEG, and raw capture, intended for serious photographers. (List price, $899.)

LATEST VIDEO

SPONSORED VIDEO
Testing Tamron's SP 150-60mm G2 lens while capturing birds and alligators in Apalachicola, Florida.