Special Report: photokina
Frances´ Fancy Page 2
I always look at cleaning materials because they sort of fit in with the darkroom. Indeed, I would have to do a lot more spotting if it weren't for Kinetronics (
www.kinetronics.com
). I've used their StaticWisks for years and the newest one in the line-up will be around my neck when I am next in the darkroom. The SW-010 is a small antistatic brush which retracts into a brass cowling. For a very stiff, firm brush (short bristles), pull the cowling back just a little way. For a very soft brush (long bristles), pull the cowling all the way back. The brush comes with a breakaway lanyard so you can wear it around your neck. Kinetronics also has new cleaning kits for laptops and portable DVDs, as well as a new antistatic microfiber cloth called the Panther Cloth.
LensPen (
www.lenspen.com
) has a new range of products for cleaning camera phone lenses, scanners, TV screens, monitors, laptops, and copiers, all making use of their patented cleaning technology. Real-world tests with greasy fingerprints actually work: there are few if any faster ways to remove dirt and smudges.
And to return to cameras, Minox (
www.minox.com
) had three new digital "babies," a circular 6-megapixel version with seven diamonds set around it; a more conventional-looking camera with 24 karat gold plating, three diamonds, and 4.2 megapixels; and a miniature Leica M3 with a big "bulb" flash and 4.0 megapixels. Diamonds are forever so the diamond-studded cameras should last longer than the average snapshot camera...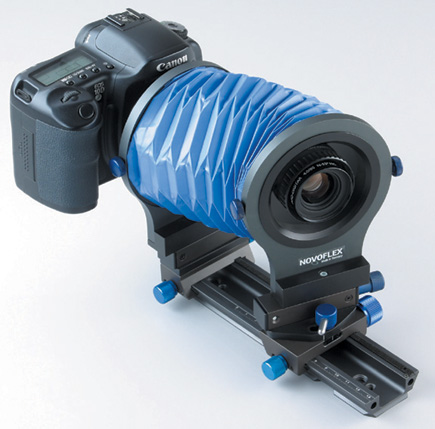 Pick Of The Show
If I could have anything that I wanted at the show, it would be a rangefinder Leica from the "a la carte" selection: a silver chrome MP with red leather, 0.85x finder, and M7-style rewind. Engraved "F.E.S.," too: why not? Discreetly, on the back, of course. I'd heard about a la carte Leicas when we were giving print critiques on the Leica stand at Arles in July, but this was the first time I had seen them. Wow!

In the areas I was specifically covering, though, I'd go for the new carbon-fiber travel tripod from Gitzo. As far as I know, it's a unique design: the legs fold through 156Þ, so that when they are folded down, the center column is already pointing straight upward, instead of hiding between the legs. Compact, light, elegant, and easy to set up, it would be the perfect complement to the MP. Or indeed to the Leicas and Voigtländers that I already have.

For that matter, I was really impressed by the new Basalt line from the same company. They melt basalt rock at 1500Þ C (over 2700Þ F) and extrude it into fibers. This is then formed into tripod legs via a resin impregnation bath and die-extrusion, in somewhat the same way as carbon fiber. Incredibly, this material is cheaper than carbon fiber, and has many of the same desirable characteristics. It is about 20 percent lighter than light alloy tubing of comparable strength, and is also much more "dead"--in other words, it absorbs vibration better. It looks good, too. What more could you ask for? Well, a Leica a la carte for a start...

LATEST VIDEO

SPONSORED VIDEO
Testing Tamron's SP 150-60mm G2 lens while capturing birds and alligators in Apalachicola, Florida.