Sophisticated Multi-Flash Systems; Expand Your Creative Lighting Capabilities
On-camera flash units have been around for some 50 years and now they've become much more sophisticated with the development of D-SLRs. To get the most out of flash units, it's important to understand their different modes and functions. For professional-looking results it's also important to understand things like light balancing and lighting ratios. The concepts that are taught in a basic studio lighting course are just as applicable for compact, portable, multi-flash setups as they are for working with heavy-duty studio equipment. But for some, these new electronic wonders are a lot easier to work with and simpler to control, and a lot more affordable.

Most major camera manufacturers have dedicated units for their D-SLRs, plus there are numerous independent manufacturers that offer products as well. The latter group is generally less expensive than similarly featured units from camera manufacturers and may have additional bells and whistles. In fact, independent makers were some of the first to add retractable diffusers or bounce cards for softer, more natural-looking pictures. Frequently, camera manufacturers, in an effort to stay competitive with their flash units, quickly add similar features.

This article deals primarily with multi-flash systems with wireless capabilities being marketed by camera manufacturers for their own D-SLR equipment.
Manufacturer Flash Units Of Note
Nikon's new SB-900 Speedlight flash, which is part of the company's Creative Lighting System (CLS), features i-TTL (intelligent-TTL) capabilities and can be used as a stand-alone, on-camera Speedlight, a wireless command unit, or as a remote unit. The common configuration is to have the master unit attached to the camera with a hot shoe or bracket, while the other one, two, or three units are positioned on tabletops or lightweight stands.
Each SB-900 can control three separate groups. Any number of heads can be included in each group. Power output and flash ratios can be controlled directly from the command unit. Four different communication channels make it possible for multiple sets of Speedlights to operate in the same shooting environment. And, it automatically senses whether it's attached to an FX- or DX-format body.
Canon's higher-end Speedlites have many of the same capabilities. One of the newest models in that line is the 430EX II, which is smaller and lighter than the popular 550EX, but has the same multi-flash configuration capabilities. Each unit can be used as a master or slave, with three-channel operation and full Canon E-TTL II flash control. Settings can be made and altered on any compatible Canon camera.

The 430EX II recycles faster than previous Canon flash units. Recycling takes anywhere from less than a second to 3.7 seconds, depending upon the charge left in the batteries. A fresh set of AA batteries can get as many as 1400 flashes.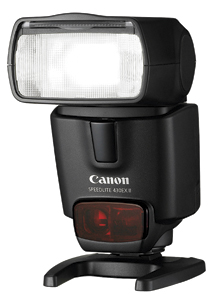 The Olympus FL-50R, Pentax AF540FGZ, and Sony HVL-F58AM all also support wireless operations. The Olympus features Remote Control (RC) wireless flash settings that work with three flash groups and four channels. Designed to couple with the company's E-3 D-SLR, the FL-50R can sync at up to 1⁄4000 sec. Such high-speed sync capabilities can stop even very high-speed action, if there's no ambient light there to interfere.

FEATURED VIDEO