Sophisticated Multi-Flash Systems; Expand Your Creative Lighting Capabilities Page 2
The Pentax AF540FGZ supports wireless operation through four channels. Units can serve as master, control, or slave. In addition to its wireless capabilities, the Pentax flash has a retractable diffuser and bounce card built right in. Flipping the diffuser over the light broadens light coverage to 20? while the bounce card softens and reflects the light for much more pleasing lighting effects.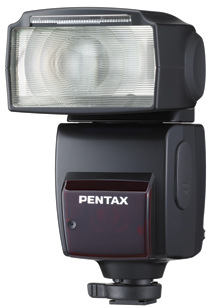 The Sony unit's wireless radio communications capabilities work with three independent groups of flash units. Its quick-shift balance system makes it easy to adjust and control light output.

Sony's HVL-F58AM has a capability seen in more and more new flash units—generating a modeling light. But this modeling light is not from a continuous light source, as modeling lights are in a studio flash system. Instead, the flash generates a short burst of strobe light, which simulates continuous light. That approach isn't ideal, but it does make it possible to figure out where shadows are going to fall when the flash fires.

The Sony flash has another interesting innovation—stroboscopic lighting control, the ability to fire multiple times during a single exposure. That makes it possible to capture sequence action in a single frame, again, when the ambient lighting conditions are right.

Even if you decide initially to buy and use just a single flash, it's a good idea to go with a unit that supports multi-flash operation and control. Once you start playing with flash, you'd be surprised how quickly you'll get interested in working with more than one unit.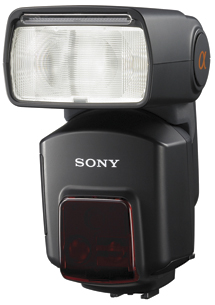 What To Look For In A Flash
There are a couple of things to keep in mind when considering on-camera flash units.
Recycling Time
For serious shooting, flash units need to recycle quickly. While they don't recycle as fast as studio electronic flash units, most on-camera flash units from major manufactures recycle relatively quickly, usually in 2-4 seconds. But recycle times can increase considerably as batteries are drained. Some units recycle in a second or so when the batteries are fresh, but can take 4 or 5 seconds or longer, even though they may still have power left in them.

Want to see how your unit might withstand the rigors of a day's shoot? A good recycle test is to take a set of fresh batteries and fire a unit 100 times in rapid sequence (but not so fast that the flash overheats). Then see how long the unit takes to recycle. Do the same after 200 firings. That will give you a better idea of how fast the unit actually recycles when working.
Flexibility
On-camera flash units need to have tiltable, rotating heads. A flash head that can't be tilted upward or rotated severely limits creative lighting control. Some also support zoom lens operations. They can automatically read the focal length of the lens that is attached to the camera and focus the light output accordingly. A telephoto lens gets a narrower beam of light; a wide angle goes, well, wider.
Bracket-ability
The most common way to mount on-camera flash units is in the hot shoe, but that's not always best. A better approach is to use a lighting bracket. There are brackets that elevate the head higher, directly above the lens.

There are also brackets that position the flash more to the side. And there are models that let you adjust the position horizontally and vertically.

Higher-end flash units have advanced Through-The-Lens (TTL) communications capabilities, and having one that allows you to use a dedicated TTL cable attached to a port on the D-SLR is a real advantage.
Multi-Flash Capability
Increasingly, on-camera flash is being configured in multi-flash systems that can be used to produce very professional-looking results. Almost any unit can be transformed into a wireless unit by simply connecting it to an inexpensive slave trigger, but strobes specifically designed for such operation make controlling light much easier.

With their wireless communications capabilities and multiple firing channels, it's simple to control numerous flash units from one camera, including doing things like setting lighting ratios. Everything is self-contained and, in most cases, controlled remotely. Being able to control multiple on-camera flash units without stringing various flash cords or utilizing remote triggers has made it not only possible, but easy, to set up mini studios on location.

LATEST VIDEO