Sony A9 Review: A Unique Fusion of Speed, Image Quality & Compact Mirrorless Camera Design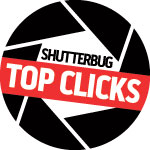 (Editor's Note: With this Field Review, the Sony A9 has received Shutterbug's Top Clicks award for exhibiting exceptional quality. Read about our Top Clicks award at this URL: http://bit.ly/2tnl0ny. You can read our Lab Review of the Sony A9 here.)
It's always nice to escape the heat and humidity of New Orleans this time of year, especially when the trip involves a prelaunch introduction to the advanced Sony Alpha A9 mirrorless camera with two days of shooting in California's beautiful Santa Barbara mountains. Sony's goal with the full-frame A9 (model ILCE-9) was to create their most technologically advanced camera ever, and I was eager to experience everything this new powerhouse had to offer.
A quick glance at the specs made it clear that speed and image quality top the list of the camera's impressive capabilities. The Sony A9 is the world's first camera to feature a full-frame stacked CMOS sensor with 24.2MP resolution. As for speed, let's just say that continuous shooting at 20 frames per second (fps) with no viewfinder blackout and dead-on autofocus is something you have to experience to believe.
Of course, the new A9 boasts a long list of other innovative features, so let's take a closer look at this fast and compact full-frame mirrorless camera from Sony.
Who's It For?
After just a few minutes with the A9 I had very few doubts that Sony designed this model with the professional photographer in mind, and its hefty price of $4,500 immediately settled things. This is a serious camera for serious shooters that makes no apologies to high-end DSLRs like the Canon EOS-1D X Mark II and the Nikon D5.
Given the Sony A9's high-speed capabilities, I expected that our two-day itinerary in Santa Barbara would focus exclusively on sports/action photography, and there was plenty of that. We photographed skateboarders and BMX cyclists on a hilltop halfpipe with a view of the Pacific Ocean in the distance, as well as some fast-paced equestrian events. But our hosts also provided a number of opportunities to shoot landscape and nature photographs as well.
In short, despite the A9's obvious appeal for sports/action photographers, I came away with the distinct impression that Sony views this new flagship of their mirrorless line as a compact, high-performance, all-around tool with great color rendition for professionals and other photographers who can afford its premium price.
Handling & Ergonomics
I found the Sony A9 a pleasure to shoot with for a variety of reasons. It has a very compact body with a big camera feel, in the sense that it features a robust build quality with controls exactly where I wanted them. The somewhat cumbersome menu system of earlier Sony models has been refined for more intuitive navigation, and there's now a double-tiered dial atop the A9 for setting focus modes and frame rates without digging into the menu.
And this brings up my one gripe with the A9: While the dials atop the camera for controlling shooting modes, drive modes, and AF modes have lock tabs to prevent inadvertently changing settings, the EV compensation dial does not. As a result, on more than one occasion I under- or overexposed a shot because I unwittingly shifted the EV compensation dial while bringing the camera up to my eye or pulling it out of my bag.
I eventually became accustomed to taking the extra time necessary to check the dial and the viewfinder to make sure the EV compensation was set where I wanted it, but this slowed me down a bit and seemed like a curious design omission.
On the plus side, there's a handy joystick on the back of the camera for easier menu navigation, and then there's that new no-blackout Quad-VGA OLED electronic viewfinder that is simply the best I've ever used. It's almost like getting the benefits of an EVF and the immediacy of an optical viewfinder all in one.
The Sony A9 also features two SD card slots, including one for UHS-II cards, and you can choose to record images simultaneously to both cards or to reserve one for Raw images and the other for JPEGs (or to separate still photos and videos).
Speed Thrills
OK, I admit it: I was pretty much blown away by the blazing 20 fps continuous capture and precise high-speed autofocus of the Sony A9. Admittedly, most of my shooting is of landscape and nature scenes, and my "high-speed" photography typically involves stumbling tourists in the New Orleans French Quarter or wildlife images of languid alligators in the swamps of Southern Louisiana.
That said, other shooters on the trip who regularly shoot sports seemed equally impressed. The A9 owes its speed to a new stacked 24.2MP Exmor RS sensor and a new BIONZ X processor with a "front-end LSI" that Sony says contributes to the camera's larger continuous shooting buffer and its continuous 20 fps with continuous tracking of up to 362 JPEGs or 241 Raw images.
As for its precise and nearly instantaneous focus acquisition, the Sony A9 features 693 focal plane phase-detection AF points that cover about 93 percent of the frame. The camera's hybrid AF system combines the speed and tracking performance of its phase-detection capability with the precision of contrast-detection AF. Bottom line: It works, and it works fast.
Image Quality
The aforementioned new image sensor and the BIONZ X processor do more than contribute to the blazing speed of the Sony A9; they're also responsible for the camera's enhanced output characteristics. I was very pleased with the color rendition, dynamic range, resolution, and sharpness delivered by the A9, especially because our schedule involved shooting landscapes at midday under harsh light that was far from ideal.
Sony touts the A9's processor as the "pinnacle" of their technology, explaining that it is back-illuminated for optimum results. The sensor is also responsible for the A9's high ISO performance with a sensitivity of 100 to 51,200 that is expandable to 50 to 204,800. The A9 also supports uncompressed Raw capture so users get the most out of the sensor's wide dynamic range. The images you see in this review were shot as JPEGs.
Another benefit for low-light shooters is the A9's very effective five-axis image stabilization system that Sony says provides a five-step shutter speed advantage. A half press of the shutter button enables you to view the effect of image stabilization in either the viewfinder or on the rear LCD.
Other Features
As someone who occasionally shoots music performances in small venues, I was really impressed with the Sony A9's ability to function almost silently with no vibration at speeds up to 1/32,000. There's nothing worse than shooting at a jazz club and getting dead-eyed by someone at the next table or by one of the performers. So like I said earlier, typecasting the A9 as a camera exclusively for sports photographers does it an injustice.
It's also worth mentioning that while Sony cameras have been criticized for poor battery performance, the A9's battery has been significantly improved with a claimed 2.2x increase in capacity over batteries used by earlier Sony full-frame cameras. I make it a practice to always have a fully charged spare battery in my bag, and despite capturing a lot of images in Santa Barbara, I never had to swap out a dead battery during either day of shooting.
While I concentrated exclusively on still photographs, a few others captured some very impressive videos with the A9. The camera offers very respectable performance in this area, with 4K (3840x2160p) recording across the full width of the sensor. In this mode the A9 uses full pixel readout without pixel binning—oversampling the 6K of data to produce very high-quality 4K footage.
Videographers also have a choice of recording in the Super 35mm format, or recording Full HD at 120 fps at up to 100Mbps for files that can be edited into 4x or 5x slow-motion video at Full HD.
And by the way, if you've read reports of some Sony A9 cameras overheating, here's the deal: Since I never experienced this issue myself I checked with Sony and was told the issue has to do with a premature overheating warning—not actual overheating of the camera. In any case, the issue seems to have been resolved with firmware update 1.01 that's available for download on Sony's support website.
Conclusion
Upon returning home I couldn't resist spending a day on the bayou in an attempt to get some action shots of a Rougarou—Louisiana's fabled swamp-dwelling werewolf. Fortunately, there was nary a bloodthirsty monster in sight, but the Sony A9 performed admirably with more familiar subjects like flora and fauna.
In short, the new Sony Alpha A9 is clearly a great choice for sports/action photographers. But it's also a highly capable, lightweight performer for shooting landscapes, street scenes, portraits, wildlife, and anything else one might encounter. So if you have an extra $4,500, or a couple of vintage bicycles to sell (I'm seriously thinking about that), I'd say go for it. You won't be disappointed.

FEATURED VIDEO