Sony A9 Mirrorless Camera Lab Review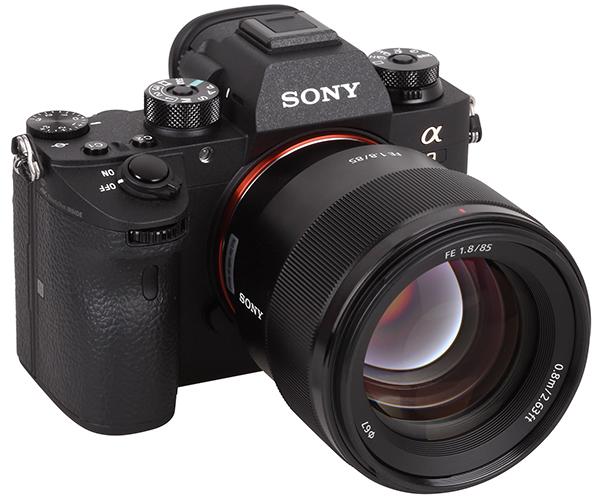 (Editor's Note: Lab Review lab tests and comments are supplied by BetterNet, Shutterbug's TIPA-affiliated testing lab and edited by George Schaub. TIPA is a worldwide association of photo and imaging magazines. You can see our Field Review of the Sony A9 here.)
Earlier this year Sony announced its new mirrorless flagship Alpha A9 camera to much fanfare. This successor to the Sony A7 offers a full frame 24MP sensor and a lot of speed, in every sense.
The brand new sensor in the Sony A9 features different layers, including memory systems and a very high data rate, which is used for very fast continuous shooting; its fast autofocus (AF) system; and the unique electronic viewfinder. The A9 has the same image resolution as the first A7, which shipped in 2014.
This 24MP of resolution in the A9 is noticeably less than that of the current high-res mirrorless in the Sony line, the Sony A7R II, which features a 42MP full frame sensor. The Sony A9 ($4,499, body only), however, is significantly faster overall. Let's take a closer look in this Lab review.
Features, Build & Handling
The Sony A9 mirrorless camera has a unique viewfinder system. Resolution of the 0.5 inch OLED system is 3.68 million RGB dots, the same resolution offered by the Panasonic GH5 and the Leica Q.
The Sony A9's viewfinder is very fast. It can be used with a frame rate of 60 or 120 frames per second: both modes offer very smooth reproduction of moving elements. But even more important is its blackout free feature: while SLR-systems have to move the mirror in the mirror box to its upright position for image exposure on the sensor/film, the new Sony offers a continuous stream of high-resolution images on its viewfinder screen. This feature is undoubtedly designed for sport photographers, yet it benefits everyone else as well.
The blackout free reproduction is also noticeable when the LCD screen is used. This screen offers 1.44 million RGB dots and can be flipped up- and downwards (upwards by 110 degrees, downwards by 45 degrees). The screen isn't touch sensitive.
The new Sony also has a unique AF system. This hybrid system (a combination of phase detection and contrast metering) offers 693 AF areas – a lot more AF areas than offered by any other camera until now. More importantly, these AF areas cover 93 percent of the image, which is a lot more than the AF area covered by cameras like the Canon EOS-1D X Mark II or the Nikon D5.
Using the Sony A9's AF system in continuous mode will show "dancing" AF indicators on the screen because the systems reacts to every single movement in the scene and allows the photographer to keep even very fast moving objects in focus. AF and AE metering are updated 60 times per second. This represents a very impressive further development of Sony's "4D Focus" system, already successfully used in some other Sony cameras.
The Sony A9 has a lot of function elements on its camera body. On top of its bulky grip the user will find a combination of shutter release button and on/off switch, while a parameter dial is located on the front of the grip.
The A9 offers two dedicated parameter dials: the second is located on the back and controlled by the thumb of the right hand. In addition, the Sony mirrorless camera has a small joystick on the back and a cursor control field that uses an additional wheel for menu navigation and for changing menu items or other parameters. It also offers a mode dial (standard exposure programs P, S, A, M), three custom settings, "Full AUTO" mode and two additional modes for video.
The first video mode allows the user to record 4K and Full HD videos with manual exposure settings, while the "S&Q" mode allows the user to shoot in "slow motion/quick-motion" modes.
A dedicated EV compensation wheel on the Sony A9 allows the user to change exposure settings quickly and easily even when using autoexposure modes. And a third dial on top (located left to the viewfinder) allows setup of single shot: continuous shooting mode has in three settings (high/medium/low). The camera allows for up to 20 frames per second in full resolution while using continuous autofocusing/autoexposure mode.
The Sony A9 has a very robust body (based on a magnesium-alloy chassis). It offers a metal lens mount and allows for use of very heavy lenses. It is also sealed, but Sony "does not guarantee complete prevention of dust and moisture from entering the camera body." The body looks very similar to the last A7 version, the A7R II, with only a little more depth. Weight of both cameras is nearly identical.
Nearly every feature of the Sony A9 is very fast. It offers an Ethernet port for fast image and video transfer. Besides that it supports UHS-II SD cards for JPEG, raw photo and video recording. Only Sony knows why only one of the A9's two SD card slots supports UHS-II while the second supports the older UHS-I standard.
Comments on Image Quality
Color: The color reproduction of the Sony A9 is excellent. The test chart was reproduced with perfect saturation (average of 100.2 percent). Most colors show very little shift to their given values: only the dark blue nuances show a shift into the magenta area of the color space. White balance (AWB mode) is absolutely perfect. All gray patterns are located exactly in the center of the color space. Brighter skin tones are reproduced perfectly, while darker skin tones show a little shift into the darker areas (the orange area of the color space). Color differentiation is excellent. The camera differentiates the luminance levels of all colors very realistically. The perfect image saturation helps to create these effects.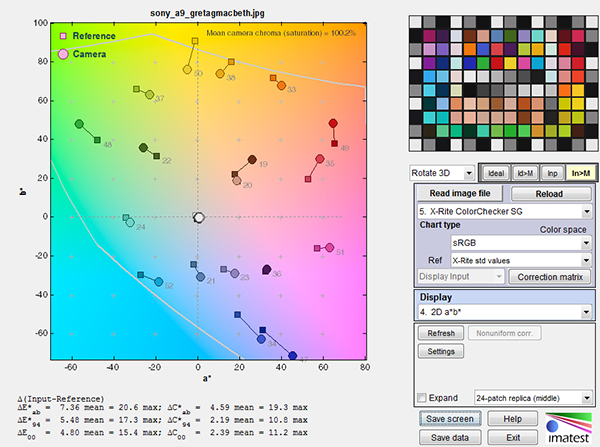 Sharpness: Sharpness is very high: images created with the Sony A9 have a very crisp look. Digital image sharpening of the A9 processor is on a low level, so images have a very natural look and the "overshot" effect in our result chart is only 11.5 percent. The camera reproduced the test chart with 3616 of 4000 lines. High sharpness (without exaggerated filtering effects) is also noticeable in our test shots. Reproduction of details like the model's eyelashes or the fabric of her t-shirt is very good.
Noise: The Sony A9 performed excellently in our noise tests. Noise level is low at ISO 100 setting (y-factor 0.52 percent) and increases very slowly when using higher ISO speed settings. So, the 1.0 percent line is crossed between ISO 12,800 and ISO 25,600 mode (!). The maximum noise level of 1.93 percent is reached in ISO 51,200 mode and is therefore still acceptable. Color noise artifacts first get visible at ISO 25,600: at lower ISOs images are absolutely clean and color noise is filtered out in a very discreet way.
Dynamic range results are also excellent. The Sony A9 offered a maximum of 11.3 f-stops. More importantly, a high level of dynamic range is maintained when using higher ISO speed settings. The A9 delivers about 11 f-stops at ISO 100 to ISO 6400, which is excellent.
Video Format and Handling
The Sony A 9 offers 4K recording. Videos are recorded in XAVC-S format, which allows higher data rates and a higher quality for image compression than standard MP4 formats. The camera also allows recording in Full HD resolution. For Full HD videos the camera offers additional file formats: Standard MP4 and AVCDHD, which is compatible to standard camcorders. While the camera records 4K videos with 30 frames per second, the Full HD mode (1920x1080 pixels) allows recording up to 120 frames per second (25/100 frames per second when set to PAL instead of NTSC video mode). For slow-motion and quick-motion (time lapse effect) the camera offers a dedicated mode on its top dial.
To record videos the photographer has to press the additional video recording button on the back – even when the camera is set to "video mode" on the mode dial. This mode has to be used when the photographer wants to use manual exposure settings. Only when the dial is set to film mode will the second camera menu (dedicated to video settings) offer P, S, A and M mode. In addition, it allows for changing of ISO speed in all exposure modes.
Even though the camera offers professional video capabilities, something is missing: The Sony A9 doesn't offer special color modes like "S-LOG," used to create "flat videos" with plenty of scope for color enhancement in post production. The camera does offer jacks for an external microphone and earphone for sound monitoring on the fly and allows manual setting of sound levels.
Comments on Video Quality
The Sony A9 mirrorless camera performed excellently in the video tests. Full HD videos are recorded with 995 of 1080 lines, which is very good. Videos in 4K mode were recorded with 2118 of 2160 lines, which is excellent. Even though the videos are extremely sharp we didn't noticed any moiré effects, neither in test shots in the studio nor in our sample scenes. Detail rich structures reproduce very well.
The color reproduction in video mode is similar to color reproduction in photo mode: The AWB system of the Sony A9 performed excellently and created images with a perfect white balance. There are only minor shifts of color compared to their given values. The same applies to its performance in noise tests. Up to ISO 6400 videos look very clean and smooth. Color noise artifacts get visible in videos taken with ISO 12,800 to ISO 51,200. Results of dynamic range in video, however, are only on an average level. The camera reproduced the Stouffer 4110 chart with a maximum of 9.36 f-stops.
Pro:
+ Very fast and compact camera (especially when compared to professional high speed DSLRs)
+ Unique high resolution, black-out free viewfinder
+ Very fast AF system with 693 AF areas that covers 93 percent of the image
+ Easy handling, some help for beginners (scene modes, tips & tricks show up when using the menu)
Con:
- Robust body, but Sony doesn't guarantee complete prevention of dust and moisture from entering the camera body.
- Very expensive (but not as expensive as high-end DSLRs)
The Sony A9 mirrorless camera has a list price of $4,499 (body only.) For more information, visit Sony.com.
(Lab Review is where we publish web-exclusive lab reports on cameras. To read more Lab Reviews, click on the Reviews tab on the top navigation bar of this page. New photo gear reports are published frequently, so check Reviews for more equipment evaluations from Shutterbug writers.)

LATEST VIDEO