Sinar eVolution86 H
At Photokina, Sinar will introduce a new high-resolution multishot digitalback with 48.8 Megapixel. Complementing the eVolution75 H, which is in wide use in the market, the eVolution86 H features a CCD sensor with a significantly higher number of pixels. This 50% increase, when used with appropriate lenses, clearly enhances the image quality. The 50% increase in pixels readily permits prints with 300 dpi at 19 ½ x 27 ½ inches.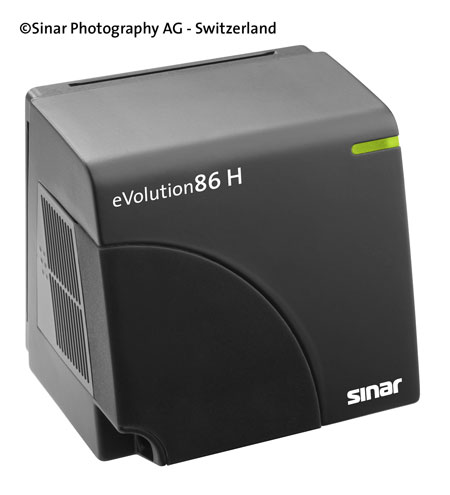 Whenever work is being performed in the fields of still life or archiving, Multi-Shot backs stand out because of their high resolution of details, which is especially noticeable because of rich contrast in color transitions. In the 4-shot mode, the CCD sensor's pixel matrix is shifted three times laterally or vertically by exactly one pixel width from one exposure to the next, so that every image point is covered by every primary color (red, green and blue). Another decisive argument in favor of Multi-Shot technology is the significantly reduced Moiré effect, which becomes hardly noticeable because of the controlled color layering. This exposure technique completely eliminates the interpolation that is necessary with one-shot products. All Sinar Multi-Shot products, of course, can be operated in a pure one-shot mode.
The eVolution backs were designed in a way that excludes all electronic modules that generate heat that would generate noise (such as display, battery and internal storage.) The unique dual cooling of the sensor by means of Peltier elements and fans assure a fast heat dissipation, so that eVolution backs are ideally suited for use in rapid exposure sequences and prolonged operation. This technology guarantees uniform image quality over the entire photographic task. The high-performance cooling concept not only provides a long operation in daily work – it also extends the life of the eVolution back, which in turn makes the investment all the more attractive.
The eVolution75 H and 86 H backs, like several other Sinar backs, feature a unique adapter concept. With only a few flicks of the hand, these adapters easily allow these backs to be mounted on any desired camera platform. Sinar offers adapters for Sinar p3, Sinar Hy6, Mamiya RZ 67, RB 67, 645 AFD Pro, Fuji GX 680, Contax 645, Hasselblad V and H. The advantage of this philosophy is due to the fact that Sinar backs can still be used when a different camera system or when a different camera brand is to be used. Thus eVolution backs can be used on view cameras as well as medium format systems.

LATEST VIDEO

SPONSORED VIDEO
Testing Tamron's SP 150-60mm G2 lens while capturing birds and alligators in Apalachicola, Florida.