Sigma sd Quattro H Mirrorless Camera Review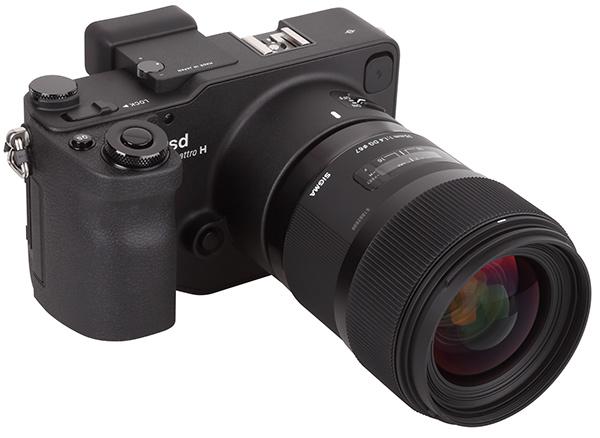 (Editor's Note: Lab Review lab tests and comments are supplied by BetterNet, Shutterbug's TIPA-affiliated testing lab and edited by George Schaub. TIPA is a worldwide association of photo and imaging magazines.)
The sd Quattro H is Sigma's second mirrorless camera based on a Foveon sensor that uses lenses with an SA mount. Compared to the first sd Quattro, which was introduced in summer 2016, the new camera offers a larger sensor, a more rugged yet still compact DSLR-style camera build, and a host of new features.
Features, Build & Handling
The Sigma sd Quattro H is designed to be portable and is equipped with the Foveon Quattro image sensor. A magnesium alloy body is designed to make the sd Quattro H durable and rugged, while a dust- and splash-proof design is suited for outdoor photography.
In addition to the new body design, the Sigma sd Quattro H features a list of tech updates. These include a two-mode Autofocus detection that combines Phase Detection for focus speed and Contrast Detection for focus accuracy. The focus settings have also been enhanced with such modes as Movement Prediction, Face Detection, Free Movement, Focus Peaking and a variety of others.
The Foveon sensor technology in the Sigma sd Quattro H captures RGB information in different layers of the sensor rather than different pixels with red, green and blue filters, the standard Bayer pattern layout. The new sensor is a little larger than an APS-C sensor, measuring 26.7 x 17.9mm, and is dubbed an APS-H format. The crop factor (focal length multiplier)1.3x when compared to full frame sensors.
The top layer of the sensor records 6200 x 4152 pixels and is used for blue pixel information and for image details. Two additional layers, with 3348 x 2232 pixels each, record green and red pixel information. So Sigma specifies the sensor resolution as 45MP. We used the standard JPEG and Raw file setting for the images, which offer a resolution of 6192 x 4128 pixels, nearly the resolution of the top layer. The Sigma sd Quattro H camera interpolates this data to JPEG files with 8768 x 3752 pixels.
Compared to previous "Quattro" cameras that have a long/oblong shape, the Sigma sd Quattro H has nearly the same dimensions as an SLR system. While it doesn't use the mirror system of an SLR it has the same flange focal distance as SLR system, which acts as a kind of built-in SA lens adapter.
The Sigma sd Quattro H's body has a large grip and is well balanced. There are two setup dials on the top, accessible to the index finger and thumb of the right hand when the photographer holds the camera in standard position. Both dials are user definable: in default settings, when set to manual exposure mode, the front dial changes aperture size while the rear dial controls shutter speed. The camera also offers three sets of custom settings, which are saved, selected, and activated via the menu because it doesn't offer a custom mode dial.
Sigma's setup menu is very clear and logical. The sd Quattro H camera offers a 4-way control field for menu navigation. Both setup dials on the top help the user choose the desired menu tab and make menu navigation fast and intuitive. Settings can be fixed by using the large LOCK switch on top.
The Sigma sd Quattro H offers a very large LCD screen on the back – actually a combination of two LCD screens – covered by a single glass panel. The left screen is 3-inch color screen for live preview, review of images and menu settings, while the left LCD is a black and white screen which is used as at status display similar to status displays on the top of many SLR cameras.
Right beside this status display the camera offers five buttons. The first button on top starts illumination of the status LCD. The second button for EV compensation (by +/- 5 EV stops). The third button is used for ISO speed and the fourth button can be used to change exposure metering patterns. The last button offers the four exposure modes: P, S, A, and M.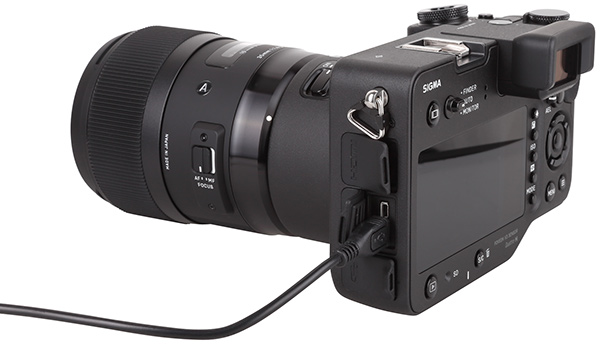 Comments on Image Quality
Color: Low ISO speed settings yield very good color reproduction, although that changes when using ISO 3200 and ISO 6400 (see more in "Noise" below). The test chart was reproduced with 98.72 percent saturation (which is a little low), but with a very natural and realistic look. The automatic white balance system caused a slight shift of neutral tones into the bluish/greenish/turquoise area of the color space, but the average color error level is very low. Brighter skin tones are reproduced nearly perfectly, while darker skin tones show a shift into more saturated colors with higher orange and red content. The differentiation of colors (in lower ISO speed settings) is extremely high. Fine details within like colors are clearly distinguishable.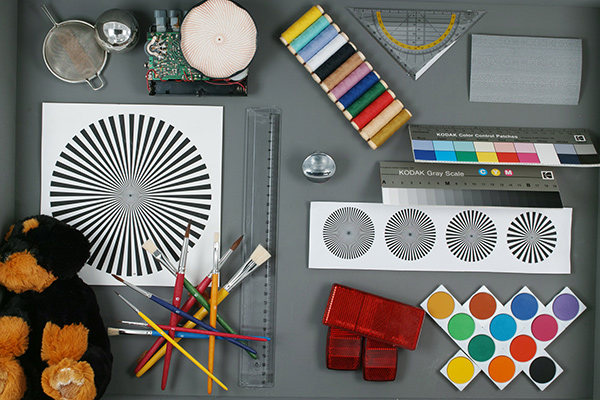 Sharpness: The Sigma sd Quattro H is able to record crystal clear, high resolution images. Reproduction of fine structures like the hair in our portrait shot, details like the structure of the metal sieve in our box shot, and our sample tests shots are reproduced in high resolution. The camera reproduced the ISO 12233 chart with 4096 of 4128 lines, which is excellent. More importantly, images don't show any Moiré and aliasing effects, which can result from color interpolation when using standard image sensors using a Bayer pattern of RGB filters. The final results can be compared to high resolution, medium format cameras with 40 to 50MP. (Note: All technical tests were done with the 35mm F1.4 DG HSM Art lens.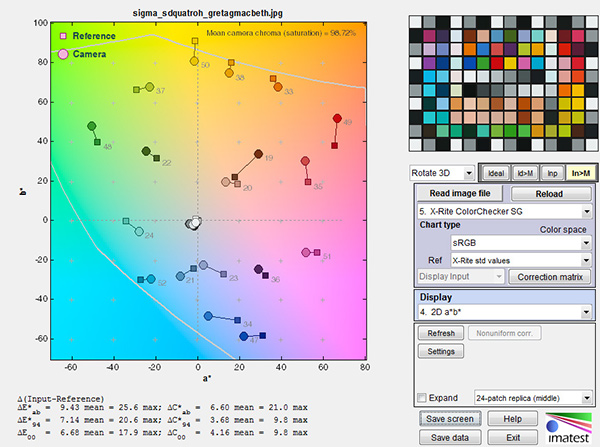 Noise: The new Sigma sd Quattro H camera performed very well in noise tests when set to lower ISO speed settings (100 to 400/800). The Y-factor is already higher than in images taken with cameras with a standard sensor, but the images look good and show extremely high detail reproduction. At higher ISO speeds luminance noise and especially color noise increase dramatically (y-factor 4.04 percent at ISO 6400). In addition, colors can shift into complementary values. In our opinion, the Foveon sensor technology simply needs light to capture realistic colors. The same behavior is visible in dynamic range testss: at ISO 100 the camera reproduced the test chart with 11.6 f-stops, while dynamic range drops drastically down to 6.31 f-stops at ISO 6400.
Pro:
+ High resolution images without Moiré artifacts
+ Nice color reproduction in low ISO speed mode
+ Easy handling
Con:
- Compared to current SLR and mirrorless systems, very slow (when saving Raw files, for example)
- Extremely high noise level at high ISO speed settings (ISO 1600 to 3200) including color shift effects at ISO 6400
- Only 9 AF areas for automatic focusing
- Fixed LCD screen; does not swivel
- Extremely large Raw files (due to Foveon image sensor system)
- No video function
The Sigma sd Quattro Hhas a list price of $1,199. For more information, visit sigmaphoto.com.
(Lab Review is where we publish web-exclusive lab reports on cameras. To read more Lab Reviews, click on the Reviews tab on the top navigation bar of this page. New photo gear reports are published frequently, so check Reviews for more equipment evaluations from Shutterbug writers.)

FEATURED VIDEO