Sigma fp Camera Review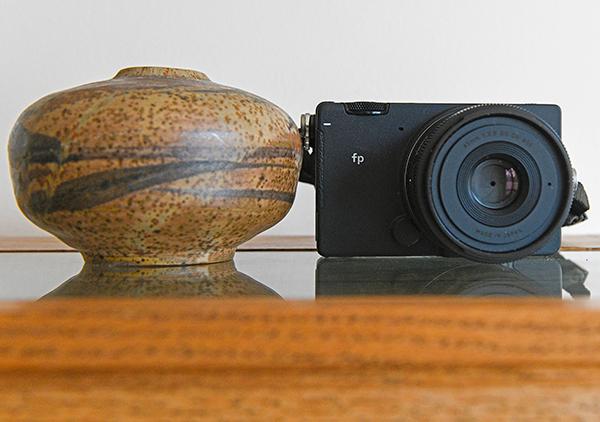 When it comes to digital cameras, Sigma dances to the beat of its own drummer. Now more than ever this holds true with the 24.6MP Sigma fp ($1899), the company's first full-frame mirrorless camera.
The Sigma fp is the smallest and lightest camera of its kind. The fp is also Sigma's first camera built around a BSI Bayer sensor (versus the Foveon sensor used in its previous models).
Designed to be modular, the Sigma fp comes stripped down to its core with a number of optional components. It's an interesting camera concept, for sure.
But whether the Sigma fp alone or with one or more of its various camera accessories fits your needs is based on what your shooting preferences are and, of course, your budget. Let's take a closer look at this truly unique camera in my Sigma fp review.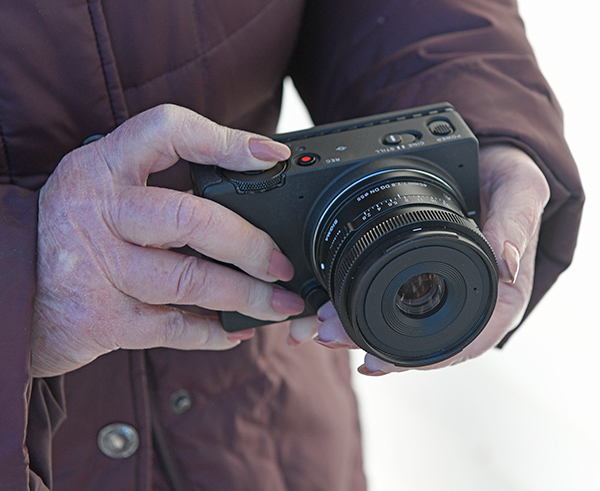 Camera Build, Controls & Layout
The Sigma fp base unit measures a mere 4.43 x 2.75 x 1.78 inches and weighs just 14.88 ounces. Despite its small size and light weight, the fp is solidly built. And it's weatherproof, too.
Although the brick-like and minimalist form factor of the Sigma fp doesn't make it the "sexiest" camera we've ever tested, the fp's layout and controls are highly functional. A power button, cine/stills switch, and a shutter button/front dial combo are located on the top of the camera.
The Menu button is on the rear of the Sigma fp along with standard controls such as like AEL, QS (quick select menu), playback and a control dial. Interesting additions include Tone and Color; the latter provides direct access to color profiles such as standard, vivid, portrait, landscape, cine and more. The menus—one set for stills, one set for video—like the external controls, are well organized and help make this camera intuitive to use.
A microphone jack, mini-HDMI and USB-C ports are available on the Sigma fp. The latter is used for charging the camera.
The Sigma fp features a trio of tripod sockets: one on either side of the camera and one on the bottom. While this allows you to shoot vertical video for Instagram with the fp, or use a clamp to mount the camera to a fence, I think the coolest thing about these 14/20-inch threads is that they're used to attach/detach the neck strap via lugs that screw in using a coin. This makes it easy to remove the fp's strap if/when you want to use a tripod, gimbal or cage.
A hotshoe attachment is included with the camera. It mounts on the right-hand side of the Sigma fp and includes a 14/20-inch thread, so you can attach the neck strap if you'd like.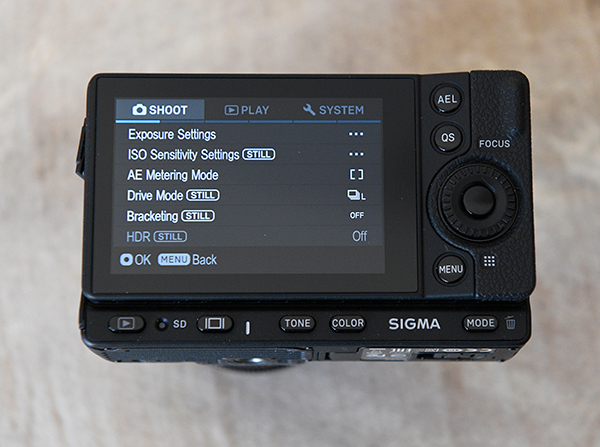 Features & Handling
While the Sigma fp's 3-inch touchscreen LCD is generally bright and clear, there's no hinge to tilt it. Because there's no built-in EVF on the fp, without the optional viewfinder, it's sometimes difficult to shoot high/low angle shots or view the screen in bright sunlight. A single SD slot on the Sigma fp supports UHS-II SD/SDHC/SDXC cards.
Rather than a standard EVF on the fp, Sigma offers an optional viewfinder that, because of its design, seems more useful to cinematographers than still photo shooters. The viewfinder on my Sigma fp test camera was missing its mounting plate, so I was unable to test it fully.
The LCD viewfinder LVF-11 ($292) fits over the monitor, sort of like a loupe. But it adds bulk to this otherwise small camera and hardly seems worth the effort and expense for still shooters.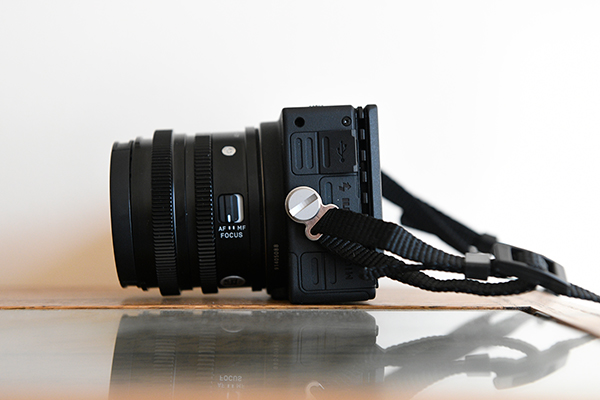 But I have to say, I really appreciated the Sigma fp's compact design when shooting New York Fashion Week. While I still carried a Nikon D850 DSLR and a couple of lenses with me during runway shoots, I was able to slip the Sigma fp and a 45mm lens in my bag for some quick shots. This small camera set-up was especially useful for crowded and busy backstage shots.
To make it easier to shoot and process Raw files, the Sigma fp offers DNG instead of priority Raw formats.
Perhaps one of the important accessories to look into for the Sigma fp is a handgrip. Sigma offers two options: the larger HG-21 ($95) and the smaller HG-11 ($58), both of which will provide a bit more of a handhold than the fp's rectangular body.
The Sigma fp's L-mount is compatible with a wide range of lenses from Sigma, Panasonic and Leica, so users have more choices than many mirrorless cameras. But Sigma also offers a mount converter, the MC-21, to make use of your Canon EF ($249) and Sigma SA ($80) lenses.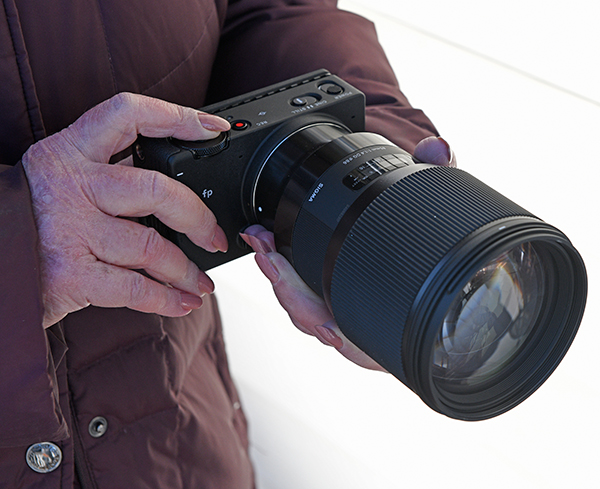 Performance
The Sigma fp's performance is a mixed bag, although generally good. A speedy continuous shooting mode on the fp offers 18 frames per second (fps) shooting but you can only really capture 12 images before the camera's buffer fills up.
Autofocus (AF), with eye- and face-detection, works well on the Sigma fp for relatively static or slow-moving subjects, even though it's slower contrast detection-based AF. But continuous AF on the fp fell a little short for me when trying to capture fast-moving subjects, such as models on the runway during my fashion week shoot.
Start-up speeds for the Sigma fp were fast during my testing, however, and the camera's touchscreen LCD was quick and responsive.
We assume that Sigma decided to use an electronic shutter on the fp in order to keep the camera body small and light. Unfortunately, that leaves the fp susceptible to an unattractive rolling shutter effect when shooting movement. And speaking of movement, the fp isn't well suited for capturing action in the studio either with a flash sync speed of just 1/30th second.
Battery life for the fp is estimated at around 280 images, which falls a little short of what we'd like to see. And the camera only features digital stabilization, so you'll need a tripod, very steady hand or an IS lens to ensure in-focus images at slower shutter speeds.
Image Quality
We were quite happy with the Sigma fp's image quality. Colors, using the standard color profile, were faithful yet nicely saturated.
My exposures with the fp were accurate as well, using all three options: evaluative, spot and center weighted average. (Naturally, the metering mode was selected depending on shooting situation.)
Dynamic range was relatively broad in images I captured with the fp. In many of my shots, the camera rendered blacks, white and grays very well—even differentiating between a model's black hair, gray headband and smoky gray eye makeup.
The Sigma fp's low light performance was quite good. An image I shot at ISO 4000, for example, was as clean as one captured at a much lower ISO. And, as a bonus, in addition to the standard ISO 100-25,600 range, the Sigma fp's light sensitivity can be expanded to as low as ISO 6, which is perfect for those shots where you need a ND (neutral density) filter but don't have one.
I tested the camera with the Sigma 45mm f/2.8 DG DN and the Sigma 85mm f/1.4 DG HSM lenses. Both delivered sharp images with crisp focus and excellent details. I preferred 45mm lens because of its small size and portability when in the field. But I also loved the 85mm for portraits in the studio using continuous lighting. Shooting wide open at f/1.4 with the 85mm produced a nice soft background, as expected.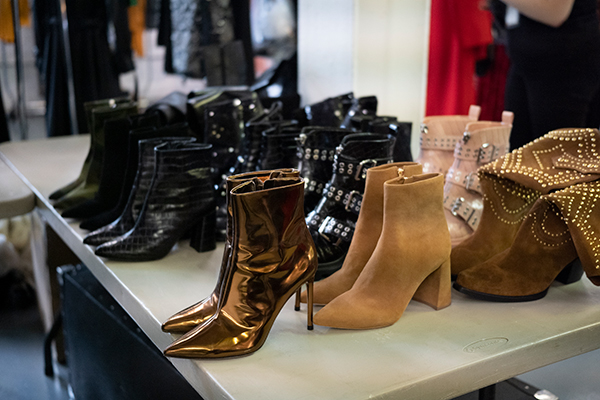 Conclusion
The Sigma fp is a camera that delivers on many levels, and videographers should definitely look at the variety of cinema features it offers including 4K. But, in my testing, I wanted to concentrate on the Sigma fp's still photo capabilities. When paired with the Sigma 45mm f/2.8 lens, this camera offers a nicely compact and highly portable design. Whether you're in the field or need a compact camera to mount on a drone, the fp may work well for you.
We admire Sigma's innovation with the fp. It's an interesting concept and we look forward to where Sigma takes this model. In this first iteration, the image quality is solid and while the minimalist design might lack the snazzy appeal of other cameras, the fp is easy to use and, for the most part, quite intuitive.
Is the Sigma fp for everyone? Nope. We're so used to tilting LCDs and built-in EVFs, for example, that the fp's pared down set-up may be a hard sell to some. But it's important to keep an eye on companies like Sigma that push the boundaries of camera technology since we never know where it's going to lead.
Pros
+ Compact and lightweight design
+ Solid image quality
+ Uses DNG instead of proprietary Raw format
+ Intuitive menu system
+ Convenient USB-C charging
Cons
- No built-in viewfinder
- Fixed LCD screen
- No mechanical shutter
- Slow flash sync speed
Sigma fp Pricing
Buy the Sigma fp (body only) on Amazon for $1899.
Buy the Sigma fp with the 45mm f/2.8 lens on Amazon for $2050.