Sigma DC HSM Lenses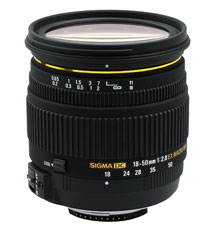 Both lenses are designated as "macro", which in common terms means close focusing and not 1:1 reproduction ratio; here it's more like 1:2.3. But given that you can focus as close as about 8 in. throughout the focal length range you can get some great depth of field effects utilizing the widest setting and fast f/2.8 maximum aperture/f/22 minimum aperture on both. Of course, having a constant max aperture of f/2.8 helps in many more situations, which the extra $100 or so for the 18-50mm justifies.
The ability to focus as close as 8 inches and work with a very wide aperture on both lenses makes for some great close-up effect potential. These shots were made with the 18-50mm lens, which has a constant f/2.8 aperture throughout the entire focal length range. That also allows for low light shooting with the equivalent 100mm focal length. Note the nice background out of focus character of the lens on these shots as well.
All Photos © George Schaub, All RIghts Reserved
Both lenses have multi-coated optics that delivered snappy images even under lighting conditions rife with flare potential. They also offer internal focusing, which means that although the lens barrel extends with zooming the act of focusing does not rotate the lens itself, useful when using polarizing filters. While f/2.8 max aperture necessitates a fairly broad front element (72mm filter size) the weight on both lenses does not add to the feathery light Nikon D40 on which I used them.
This is not a shootout test between the two lenses, so comparatives don't count, but I certainly wouldn't think of having both lenses in my kit. You do lose about a stop and a half with the variable aperture zoom and go just slightly wider. The question is: do you need a fast, constant aperture or can you live with a 1.5 stop loss when you zoom in? That's a question only you, and your style of shooting can answer.
Both Sigma lenses delivered crisp images under various lighting conditions during two weeks in the brilliant fall light of Northern New Mexico. And any lens that translates those edges and silvery light faithfully is always welcome in my camera bag. AF operation was swift and accurate, and performed flawlessly with each Nikon AF mode. It was also silent and lacked any "chatter" that some zooms exhibit.
These shots were made with the 17-70mm lens. With strong backlight and specular highlights and angular side lighting there is always a potential for flare and ghosting, something multi-coating diminishes to a great extent. In addition, the crisp, nice contrast of the lens brings out all the detail in the fall scene right after the first season's snow.
Given that Nikon continues on the AF-S only course for their beginner and perhaps even advanced amateur DSLRs (and given Nikon's recent lens announcements this seems likely) and that perhaps even other makers will follow this course, Sigma's HSM lens offerings should grow. Given what these lenses deliver they are an excellent option for those looking to add to their kit. Prices shown are MSRP; you might find lower prices when you shop.
Lens Specs
17-70mm f/2.8-4.5 DC Macro HSM 18-50mm f/2.8 EX DC Macro HSM
Construction: 15 Elements, 12 Groups 15 Elements, 13 Groups
Diaphragm: 7 Blades 7 Blades
Min. Aperture: f/22 f/22
Min Focusing: 7.9" 7.9"
Filter size: 72mm 72mm
Size: 3.1x3.2", 17.3 oz 3.1x3.4", 18.9 oz
Mount: Nikon Nikon
Price: MSRP: $620 MSRP: $720

FEATURED VIDEO