September Table Of Contents
September 2009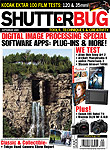 On The Cover
As you can tell from our unique cover image taken by pro Don Dixon (see more of his work on page 52), this month we're diving headlong into the creative options made possible by a range of image-processing tools, from plug-ins to graphics tablets. In addition, we have tests on the latest D-SLRs from Canon and Mamiya. Because we realize creativity doesn't necessarily have to be from digital means, we also have two in-depth reports on Kodak's new Ektar 100 film, in both 120 and 35mm formats. Finally, we have a show report from the 31st Tokyo Used Camera Show.
Tools
26 Roundup
Covering The Photo Beat
by C.A. Boylan
32 Digital Innovations
When You Need To Do More Than Just Print
by Joe Farace
62 Digital Help
Q&A For Digital Photography
by David B. Brooks
66 Classic Cameras
Tokyo Camera Show
by S. "Fritz" Takeda
78 Test Report: Kodak's Ektar 100: 35mm Roll Film
A New Color Negative Film From Kodak
by Roger W. Hicks & Frances E. Schultz
86 Test Report: Kodak's Ektar 100 Medium Format Film
If You Want That "Film Look," Just Shoot Film!
by Joe Farace
96 Test Report: ArcSoft's PhotoStudio 6
An Affordable Image Editor
by John Brandon
118 Test Report: onOne Software's PhotoTools 2: Pro Edition
Bringing Out The Best
by John Brandon
122 Test Report: Alien Skin Software's Snap Art 2
Automated Art From Your Photos
by Howard Millard
126 Test Report: Mamiya's DL28 MediumFormat D-SLR
Digital Or Film, Take Your Pick
by Jack Neubart with Linda Bohm & Gerard Marrazzo
130 Test Report: Canon's EOS Rebel T1i
15.1 Megapixels & HD Video In A Rebel
by George Schaub
154 Test Report: Wacom's Intuos4 Tablet
An Upgrade, In Four Sizes
by Jon Canfield
176 Help!
Q&A For Traditional Photography
by Robert E. Mayer
Techniques
38 Output Options
Mounting Canvas Prints
by Jon Canfield
46 Business Trends
Photographers And Copyrights—Part 2
by Maria Piscopo
52 Pro's Choice
Don Dixon's Digital Doings
by Jack Neubart
104 Book Excerpt:Digital Photographer's New Guide To Photoshop Plug-Ins
Flood (By Flaming Pear)
by Jim Zuckerman & Scott Stulberg
168 Book Excerpt: Photographic Multishot Techniques
Photomatix Pro "Exposure Blending" Function
by Juergen Gulbins & Rainer Gulbins
Creativity
10 Picture This!
Monthly Photo Assignment
by The Editors
20 Talking Pictures
Great Buddha Of Kamakura
by Paul Portillo Jr.
22 Student Union
Profiles Of The Up And Coming
by Jay McCabe
74 Web Profiles
Great Photo Sites Reviewed
by Joe Farace
108 Locations
Photography In Bhutan
by Robin Smillie
114 A Love For The Jungle
The Nature Photography Of John Isaac
by Rosalind Smith
167 Book Reviews
Latest Photo Books Reviewed
by C.A. Boylan
Departments

8 Editor's Notes
160 Trade Shows
160 Workshops


FEATURED VIDEO