Sekonic L-308DC DigiCineMate Light Meter
Sekonic announces the availability of the new L-308DC DigiCineMate – a simple and easy-to-use compact light meter that is ideal for today's DSLR videographers and digital cinematographers as well as still photographers. It features a full range of shutter speeds plus a special grouping of cine speeds and shutter angles and indicates exposure in f-stops to one-tenth step. The unit's LCD readout can be customized to display only specific functions needed for the task at hand for fast, easy operation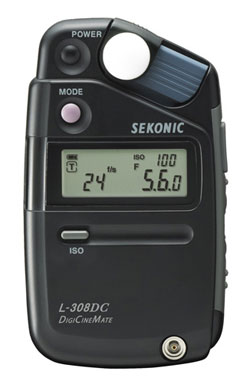 L-308DC DigiCineMate Features
Three Ways to Meter
The compact, Sekonic L-308DC is the first meter that can be customized to display only specific functions needed for the task at hand for fast, easy operation.
· HD Cine Mode: Perfect for today's DSLR videographers. Users can make exposure readings and control light using shutter speeds and frame rates and get aperture settings with one-tenth step accuracy.
· Cine Mode: Designed for digital cinematography. Users can select from the most useful frame rates and shutter angles for exposure control with one-tenth stop accuracy. Lux and foot-candle readout enables quick set up of lights.
· Photo Mode: Full control for traditional still-image photographers. Shutter-priority display of a full range of ambient and flash functions including Cord and Cordless flash measurement as well as ambient EV measurement.
Three Ways to Measure Light
· The L-308DC's Lumisphere provides incident light readings for nearly foolproof exposure readings and enables lighting that scene before the talent arrives.
· The Lumidisc is perfect for lighting green screens, adjusting ratios and taking lux and foot-candle measurements.
· Reflected light readings enable measuring the brightness of subject tones, gray cards, light sources or window light.
Calibration Compensation
Adjust the Sekonic L-308DC to film or digital camera sensors or match the L-308DC to other handheld meters.
Custom Setting
Three custom settings tune meter operations and displays to fit camera and metering requirements.
Illuminance Measurement
Lux (lx) and foot-candle (fc) display is especially useful for cinematography, theatrical and other applications that require precise control of light source brightness. Custom settings allow users to select lux, foot-candle or no display.

LATEST VIDEO

SPONSORED VIDEO