Rugged Point-And-Shoot Cameras; Hitting The Digital Trail Page 2
Olympus
Olympus' Stylus Tough cameras are known for being shockproof, waterproof, crushproof, and freezeproof and of all the cameras I tested, the 8010 seemed the most rock solid. It also ties with Panasonic's TS2 as the most expensive. The Stylus Tough-8010 delivers 14-megapixel resolution, a 5x wide-angle optical zoom lens, and 720p HD video at the touch of one button. The camera can withstand a 6.6-foot drop and 220 lbs of crushing pressure so you can toss it into your bag and not worry about it during a trip. The 8010 can dive—if you can—to 33 feet underwater and has four preset underwater Scene modes for making photos while diving or snorkeling. The camera can capture HD video with audio underwater and the lens features a water-repellent coating to prevent water droplets from forming. Stylus Tough-series cameras can be controlled with a tap on their top, back, or sides—even if you're wearing gloves.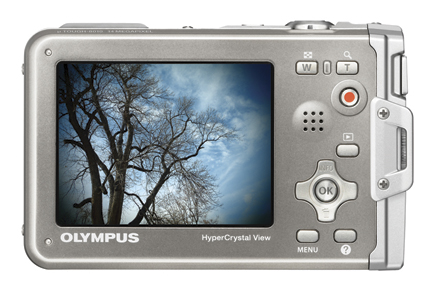 The 8010's AF Tracking continuously adjusts focus and brightness whether you or your subject is moving and is useful for unpredictable situations such as photographing kids and pets. The camera even has a Pet mode for animal lovers. The 8010 combines mechanical Sensor-Shift Image Stabilization and Digital Image Stabilization to maximize image sharpness. Mechanical Sensor-Shift Image Stabilization keeps images sharp by adjusting the sensor to compensate for camera movement while Digital Image Stabilization uses higher ISO sensitivities and faster shutter speeds to prevent blurry images. Starting in 2010, Olympus will drop the xD-Picture Card and use SD memory cards across their line-up.
The Olympus E-System SLRs' Art Filters get translated into the Stylus Tough-8010's Magic Filter that lets you enhance images as they're being captured. The Magic Filter includes Pop Art to saturate colors; Pin Hole to mimic Holga-style photos; Fish-Eye to emulate a wide-angle fisheye lens; and Drawing to turn your image into a sketch. This image was captured in camera with no postproduction or Photoshop tweaks.
© 2010, Joe Farace, All Rights Reserved
The Stylus Tough-8010 can detect up to 12 faces within the frame and automatically focuses and optimizes exposure to capture sharp portraits and group shots. The camera's Intelligent Auto mode automatically identifies what you're shooting and adjusts settings to produce the best results. It worked pretty well when I tried it. Not so with the two Panorama modes. One lets you capture three images and stitch them together in camera to create a single panoramic picture but I could never make one that looked good. The other mode lets you make a panorama from a continuous pan but I couldn't make that one work either. Maybe it's me? You can always use the bundled Olympus software and stitch up to 10 images together and that worked perfectly. All current digital compact cameras, including the Stylus Tough, offer new photo browsing and organizing software that includes face recognition technology and a GPS base mapping function but it's only available for Windows. Sorry Macheads.
Fujifilm
Fujifilm's FinePix XP10 is waterproof, freezeproof, shockproof, and dustproof and housed in a sleek metal unibody chassis that is not, alas, dentproof. Sorry, Fuji. The XP10 sports a 12-megapixel CCD sensor, a 2.7" LCD, a Fujinon 5x periscopic (à la the late and great Minolta X-series) optical zoom lens that has a protective lens barrier. The XP10 is waterproof up to 10 feet, shockproof up to 3 feet, freezeproof up to 14?F, and dustproof. The camera's AF function automatically tracks fast moving subjects and will do it as long as the subject is kept in the frame with the shutter half-pressed. When you fully depress the shutter the subject will be in perfect focus in the center of the photo, which may not be where some photographers might prefer but it's a good place to start.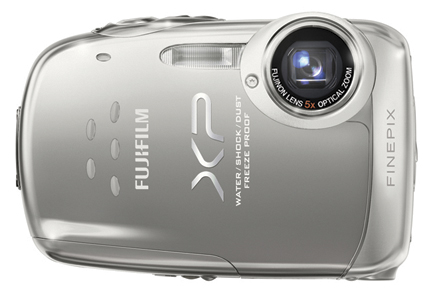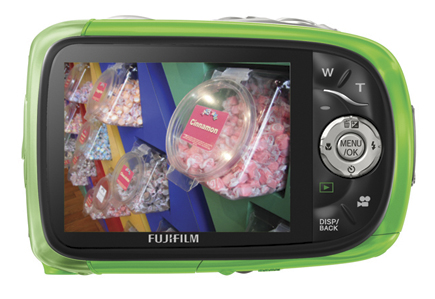 The XP10 shoots video clips (let's not call them movies, we all know what movies are) at 720p with sound. The camera has a Facebook/YouTube Automatic Web Upload function that makes it easy to post photos on social-networking sites. While in playback mode, this feature lets you designate an image for Facebook or YouTube upload. Once the camera is connected to a computer Fujifilm's included MyFinePix Studio software automatically transfers marked pictures and videos to the selected site. The XP10's Movie Editing mode and Blog mode let you add finishing touches to videos and photographs and you can choose from Black and White, Sepia, or add a lighting effect in camera.

As is typical on this class of camera, there's a Scene Recognition Auto mode that identifies the scene type and shooting conditions to "optimize picture-perfect potential." There's the better-than-nothing Digital Image Stabilization that reduces image blur by increasing ISO and shutter speeds. You also get Fujifilm's latest Face Detection technology that can track up to 10 faces simultaneously, at almost any angle to the camera. The system instantly corrects redeye and then saves both the original and the corrected image file on the SD memory card. The FinePix XP10 is a fun little picture-taking machine and at $199.95 is the least expensive camera I looked at, making it a best buy.
Sony
The 10.2-megapixel Cyber-shot DSC-TX5 is possibly the world's thinnest and smallest certified waterproof (up to 10 feet deep for an hour) digital still camera that has OIS and touch operation. The camera can make 720p HD video clips underwater. It's equipped with a foldable, 25mm (equivalent) wide-angle 4x Carl Zeiss Vario Tessor zoom lens and a 3" touchscreen LCD. It's Sony's first digital still camera using an Exmor R CMOS sensor that's certified to be freezeproof to 14?F, shockproof up to about a 5-foot drop, and dustproof so you can take it with you on a camping trip or a mountain bike ride. The back-illuminated Exmor R exposes the underside of a CMOS chip so light doesn't have to travel past the chip's circuitry to reach the light-sensitive region, making it twice as sensitive as conventional CMOS sensors.
The Exmor R sensor lets you take high-quality photos in low light without a flash and has a solution for backlight situations. With its BIONZ image processor and the in camera multi-shot Backlight Correction High Dynamic Range feature, the TX5 combines highlight and shadow detail from two separate captures into one natural-looking image—even without using a tripod—without dark foreground shadows or a washed-out background. The camera offers 10 fps continuous burst shooting for capturing action shots and makes panoramic photos on dry land or underwater using the Intelligent Sweep Panorama feature. The TX5 ($349.99, MSRP) is available in silver, pink, red, green, and black.
Pentax Imaging
The Pentax Optio W90 is waterproof to 20 feet, shockproof to 4 feet, and coldproof to subfreezing temperatures. The W90 has a 12.1-megapixel sensor with a wide-angle 5x optical zoom (28-140mm equivalent). It has a 2.7" LCD with a 16:9 aspect ratio and can capture widescreen HD video clips at 720p and 30 fps. It also offers an ingenious Digital Microscope mode with LED lighting that lets you capture small subjects from 0.39" away. As cools as that is, there's a caveat: the image size is fixed at 2.1 megapixels at 16:9 proportions. Designed with the look of mountaineering equipment, the Optio W90 kit includes a woven web fabric strap complete with a carabiner to attach the camera to a backpack and other outdoor gear.

The Optio W90 has Advanced Pixel Track Shake Reduction, Fast Face Detection, Smile Capture, Blink Detection, and processing modes specifically designed for portraiture. There's even Pet Recognition that captures up to three preprogrammed pet faces to make that ultimate shot of Mr. Snuffy. It also has infrared remote control compatibility with the new waterproof Remote Control WP, as well as other Pentax infrared remotes. For built-in Wi-Fi capability the camera has Eye-Fi wireless SD memory card compatibility that lets you transfer photos and videos from the camera to a computer to photo-sharing and social-networking sites such as Picasa Web, Flickr, Facebook, and YouTube.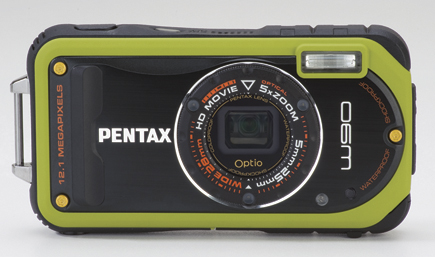 Eye-Fi cards are sold separately. The MSRP is $329.95.
The Place Of Rugged Cameras
The concept of a rugged digital compact is one that's not going away. No matter how popular the iPhone becomes it's never going to match what any of these cameras can do today. So if you enjoy an active lifestyle and want to bring a camera along, one of these models will certainly be your best bet. I don't think any fancy phone/camera these days can handle a drop in a stream!
Manufacturers/Distributors
Canon U.S.A., Inc.
www.usa.canon.com
Casio America, Inc.
www.casio.com
Fujifilm North America Corporation
www.fujifilmusa.com
Olympus America Inc.
www.olympusamerica.com
Panasonic Corporation of North America
www.panasonic.com
Pentax Imaging Company
www.pentaximaging.com
Sony Electronics Inc.
www.sonystyle.com