On The Road; What I Learned; My Journey From Fashion To Far Away Page 2
Women Walking.
They were on their way to the Pushkar camel fair in India, and probably subconsciously I responded to how they positioned themselves, how their clothes looked, and their hand gestures. I know I saw a fashion picture here, and I took it using a technique from those days. When you shoot fashion you learn how to shoot people who are walking toward you while you're walking backward. If you're standing there, stationary, and they walk toward you, it's an entirely different look than if you're walking backward in rhythm with them. It takes a while to learn, but when you can do it, the people look much more natural. The trick is keeping the distance between the subject(s) and yourself relatively consistent. It takes practice—and autofocus tracking.
Lady and Tomatoes.
I think I have a good eye for color and how colors work together. The first thing that struck me was the tie-in of the red tomatoes and her red pants, but the fact that she was eating a bowl of noodles was the small element that made the picture for me. I'm sure I was influenced by editorial fashion, by what the models were doing in the photographs. It was always important to get some action, get them doing something. My choice of angle for this picture was dictated by getting that action. The graphic composition comes from the influence of two fashion photographers—Bill Silano and Guy Bourdin; their sense of composition greatly inspired me to look for more than a record shot in any situation.
Man Rowing. Striking a balance between what's given and what you can ask for.
Covered Women. I photographed these Muslim women in Gujarat Province, India. From fashion shoots I'm very aware of how fabric looks and how colors play against backgrounds. I also did a lot of cosmetic shoots where hands were involved, and I'm very conscious of how important the position of hands can be in a photograph.

Man Rowing. This is on Inle Lake in Burma. The graphic composition is totally influenced by the motion and gesture of fashion photographs. I climbed in the boat with him and was aware of all the elements. I asked him to tilt his head so the red of the underside of the hat showed. I thought it was really important because most of this shot was cool colors, and I felt that the little bit of red would add a bit of warmth. A lot of times I just let things happen, but when I need something to happen, I will direct it if I can, and that comes from working with models in the studio, asking them to give me their best, and to follow my ideas, too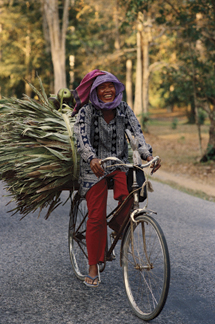 Girl and Bike. Making the most of what a situation offers.
Girl and Bike. I took this in Cambodia, and she's laughing because I was walking backward as fast as I could go, shooting with her. Then I'd jump in the car so my driver could get ahead of her, and I'd jump out and walk backward as fast as I could for another set of shots. If I'd stood still I'd get only a certain number of shots until she'd be gone. The fashion lesson here came from working with models. You've got them for a certain amount of time, so get the most you can. What I got from doing my walking and driving routine four or five times over a quarter of a mile was her laughing, and it was worth every bit of
the effort.
Maynard Switzer's website, at www.maynardswitzer.com, features several portfolios of his travel images.

LATEST VIDEO

SPONSORED VIDEO
Testing Tamron's SP 150-60mm G2 lens while capturing birds and alligators in Apalachicola, Florida.