Ricoh WG-50 Compact Camera Review: A Rugged Adventure Shooter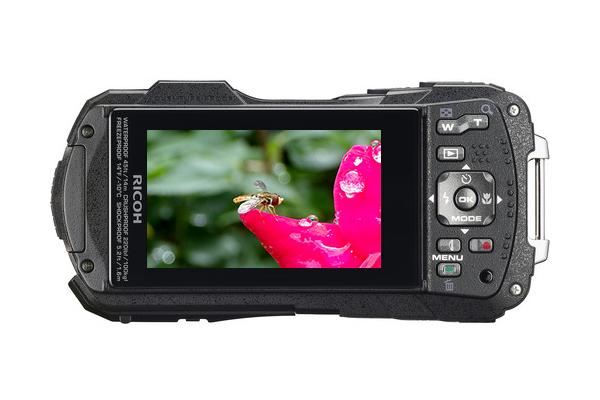 I recently received a ruggedized WG-50 compact camera from Ricoh and immediately embarked upon a challenging, thorny photographic adventure—the likes of which you can't imagine. I emerged with just a few scratches—although it does look like I've lost some blood. I can't reveal the location of this treacherous place for fear that others might be tempted to defy this danger—but I can tell you this much: it's no bed of roses.
Okay, I lied. It is a bed of roses. It's a small park near the town where I live and it's home to at least 200 rose bushes. Maybe 300; I'm really bad at estimating bushes. The garden is carefully maintained, and from what I can tell, none of the bushes are ever molested by visitors.
A typical review of a ruggedized compact tough camera like the Ricoh WG-50 usually includes shots taken underwater, in snow, after being dropped, etc. Well, you're not going to find any of that here, no sir. Images like that are so predictable that you can imagine them without closing your eyes.
Instead, I'm showing you what you might do with this neat little pocketproof digital camera on an afternoon in early July. In dry weather. In a rose garden.
Specifications
The Ricoh WG-50 camera is small. Think of a 3x5-inch index card and then read the measurements: 4.8 x 2.4 x 1.2 inches. And it weighs less than 7 ounces. The compact size and shape of the camera, coupled with the nearly indestructible construction, means the Ricoh WG-50 begs to be carried in your pocket—all the time.
The Ricoh WG-50 features a 16-megapixel CMOS sensor and a 5x (28-140mm equivalent) zoom. It's capable of Full HD (1080p) video recording and a high-speed shooting rate of 8 frames per second (for about 10 frames). The LCD is 2.7 inches (230k dots) and features an Outdoor View Setting that improves visibility on bright days.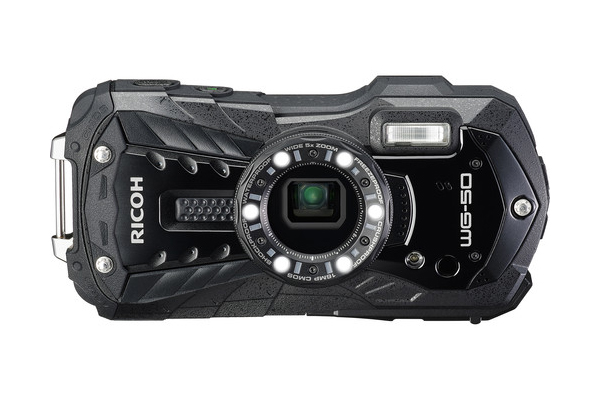 The Ricoh WG-50's autofocus is fairly quick, and certainly fast enough for a camera in this category. And it offers some sophisticated options: Smile Capture, Blink Detection, Self Portrait Assist, Self Portrait Assist + Smile Capture and Pet Detection settings. The later did not work with my dog, which helps substantiate her claim that she is not a pet, but rather a family member. Sadly, she would not blink so I was unable to test Blink Detection.
In addition to 24 shooting Modes, the Ricoh WG-50 provides a dozen Digital Filters, namely B&W/Sepia, Toy Camera, Retro, Color, Extract Color, Color Emphasis, High Contrast, Starburst, Soft, Fish-eye, Brightness and Miniature, that can be applied after capture (in the Review mode). There's also a cool "Small Face" filter that can be used to improve images of folks who have big heads (I guess).
A defining feature, in my book, is the Ricoh WG-50's excellent Macro capability. The WG-50 can shoot close-ups at a distance of 1 centimeter. (For us metrically-impaired Americans that's about 0.4 inches.) To provide even, shadow-free illumination at this distance, a set of six LEDs are positioned around the lens. Ricoh calls this combination the Digital Microscope mode. Admittedly, I chose shooting close-ups of flowers and bugs at the rose garden because of this feature.
Construction
This is the area where the Ricoh WG-50 camera truly shines. In scientific terms, she's an IPX8 and a JIS Class 6. What that means in English is she is fully waterproof and dustproof under the most extreme conditions. For a full explanation of what IPX and JIS grades mean, check my article from January 2016 which links here.
The Ricoh camera is designed for underwater use at a depth of 14 meters (about 46 feet). She also can withstand a 5.2 foot fall, temperatures down to 14° F and up to 220 pounds of crushing force. So most of us can safely keep the WG-50 in our back pocket when we sit down, or when we fall over backwards, for that matter. In that respect, there's probably never been a better camera for pub crawls.
Cosmetically, the Ricoh WG-50 has an exaggerated bowtie shape (I mean that in a good way) and enough textured surfaces that there's virtually no chance it will slip from your hands (or gloves). The buttons on the back are small, but then again the whole camera is small. Overall, it's a very comfortable camera to use.
Performance
The close-up shots look very good, and the images captured at normal distances look fine, too. Keep in mind that this camera's sensor packs 16-megapixels onto a 1/2.3-inch CMOS chip, so more noise is expected than from a camera with a larger sensor.
Start-up time and lag time for the Ricoh WG-50 are both very short; this is great for an in-the-pocket, grab-and-go kind of camera. I found the pressure necessary to trip the shutter release to be surprisingly heavy, but then I remembered that often times cameras designed for underwater use (at pressures greater than one atmosphere) have more resistant shutter release mechanisms out of necessity. Small point and I quickly adjusted my expectations.
Conclusion
The Ricoh WG-50 is a good camera to toss into a backpack, carry in a pocket or purse, or otherwise keep casually at hand. No doubt it's a great camera for youngsters because of its extraordinarily durable nature, This tough compact camera is also the perfect choice for sportsmen, skiers, boaters, snorkelers—just about anyone who enjoys any sort or outdoor activity than can occasionally become wet or dirty.
Available in basic black or snazzy orange and priced around $279 as this is written, the Ricoh WG-50 is a lot of rugged camera for the money.
—Jon Sienkiewicz

FEATURED VIDEO