Panasonic FZ48 Camera Review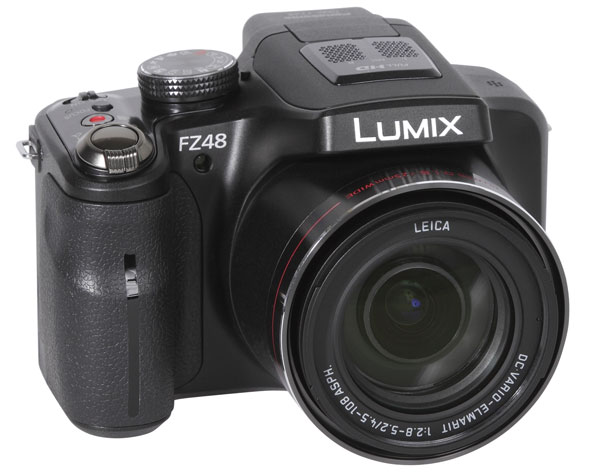 This is a test report on the new Panasonic FZ48 integral lens camera. The camera looks like a compact SLR. It has a big grip on the right hand side of the body, which allows for comfortable handling for shooting, important for a long-range zoom such as this.
The camera has a large fixed LCD monitor with 461.000 RGB dots. Controlling menus and reviewing images is very easy. Switching between the EVF (electronic viewfinder) and monitor view is accomplished by pushing the "EVF/LCD" button located next to the viewfinder .The basic modes (P, S, A, M; film mode; panorama mode) are chosen via a large mode dial on the top. This mode dial also offers a custom defined image mode ("CUST"), which allows the user to directly activate image parameters.
The camera offers a lot of automatic systems, including face detection, a very efficient optical image stabilizer ("Power O.I.S."), iAuto-mode for automatic detection of the matching scene mode, and more. The FZ48 offers a standard 4-way button field on the back and a small dial that is controlled with the right hand thumb.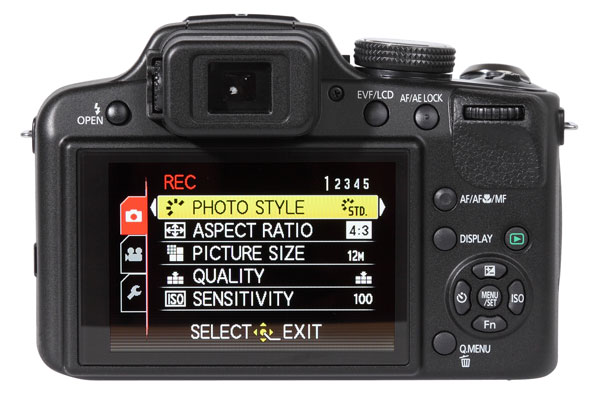 The camera offers an extreme zoom lens with a nice wide-angle setting of 25 mm (35 mm format angle of view equivalent) and an ultra tele of 600 mm. In addition, Panasonic offers a tele converter with a multiplication factor of 1.7, which, when used in conjunction with the longest focal length of 600mm, yields a setting of 1020 mm(!) Using the digital zoom function allows for exposures to be made at 4800 mm (!!)
The camera offers Full HD video capabilities. It uses the AVCHD file thus allows editing with all standard software. The camera is supplied with additional software called "PHOTOfunSTUDIO 6.3HD Lite Edition" for simple video editing (trimming clips for example) and to burn DVDs (even HD DVDs with AVCHD movies on a standard DVD disc).The camera has a stereo microphone on the top to record sound but can't use external microphones.
Image Quality
Color: The automatic white balance system showed an ambivalent and sometimes even poor performance when taking images with our standard studio light (fluorescent light with a color temperature of 5500 Kelvin/daylight). The portrait shot and the test box shot had a yellow to greenish touch, especially in bright areas. The color test results shows that darker gray fields are located nearly perfectly in the center of the graphic, which means that they are reproduced with neutral colors. The bright white color field tests show a shift into the yellow area. In standard daylight condition the camera shows a more neutral, even slightly cooler color character. The FZ48 reproduces slightly under- saturated colors in our tests. It should be noted that the camera does offer additional modes with more vivid colors.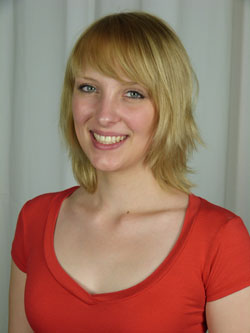 Sharpness: While the nominal resolution of the image sensor is 4000 x 3000 lines, the camera reproduced the ISO 12233 test chart with 2313 lines in picture height. This is an average result for super zoom cameras and quite acceptable. The camera showed a lot of details in images taken with lower ISO speed settings because the anti noise filtering is on a low level in ISO 100 to 400 mode, but will increase in higher ISO modes. We noticed a lot of image details in the portrait shot and the standard test box shot – both were done at ISO 100. The hair structure of the model looks realistic and the fabric of the model's t-shirt shows a lot of details
Noise: In P-mode (standard mode for our tests) the camera offers ISO settings between ISO 100 and ISO 1600. Images taken with ISO 100 to ISO 400 are nearly free of color noise, but luminance noise is visible. The noise factor shows the high luminance noise, which looks a little like film grain (images taken with ISO 100-200). In images taken with higher ISO settings you will notice color noise with smoothed structure because the camera uses an intense anti noise filtering system. Nevertheless, even images taken with ISO 1600 are still usable in larger print sizes.
Pro
+ compact camera with extreme zoom lens system
+ well balanced ratio of resolution and CCD size
+ very efficient image stabilizer "Power O.I.S."
+ easy handling, a lot of features which will help beginners
+ Full HD video in AVCHD format
Con
- missing swivel monitor
Test report and results from Betternet, the Shutterbug testing lab TIPA affiliate.

LATEST VIDEO