Quick Picks: Cameras, Lenses & Trends: New Products In 2014…So Far!
Starting with the 2014 CES trade show, held at the turn of the year, and continuing through press time for this issue, we've seen a goodly number of new products come to the fore. All this is only the start—this being a photokina year we'll see a whole new round of products, including CMOS-sensor medium formats, with prices to match, coming our way. I trust that this report will give you a good sense of what's here and what's coming down the pike. So, here are my quick picks of those products that caught my eye, plus a snapshot of some of the trends.
Note: Focal lengths are stated in 35mm equivalents. With so many products, mentions are necessarily brief and you can rest assured that we will follow up with tests and more details on the products in future issues and on our website. Some new products did not make the cut because of press deadlines and we will follow up on those in a later issue or on our website. Prices are not quoted: Google the make and model for current pricing and more specifications.
Trends
Some camera companies have dropped their compact point-and-shoot lines altogether, finally throwing in the towel because of the camera phone charge. Everyone now incorporates connectivity options, offering access to Wi-Fi and remote operation as a minimum. It looks like the camera and phone/tablet are wed for life.
Two camera "types" in the non-interchangeable lens class have taken up the slack in the point-and-shoot realm: so-called bridge cameras (high ratio zooms in the 30x and above range) and "tough" cameras, still cameras with video capabilities that can handle the elements above and below water. Small and smaller is the name of the game in interchangeable lens cameras in the APS-C and MFT format realm. 4K is the new buzzword in video, and still for TV display as well. Finally, everyone loves a rumor and the Nikon D4S is now the worst kept secret in the rumor mill, there being one shown "under glass" at the CES show. I wouldn't be surprised if we didn't see further announcements on this camera by the time this issue hits the newsstands.
Connectedness Triumphant
If a camera isn't "connectable" in some fashion it seems to be forever banished from future offerings. One communicative setup you'll see more and more is NFC (Near Field Communication). When linked via the appropriate code and amenable device you can share images between devices, mobile and otherwise, by just getting close. In fact, the SD Card Association recently sent us a release that future cards may well have NFC built in, meaning down the road that just about any camera can have this touchy-feely feature.
While many cameras have all sorts of connected options, the new Samsung NX30 APS-C mirrorless camera seems to embody the summation of all things connected, and while Samsung has their own snappy names for these functions, you'll be seeing more of this type of thing in cameras from other makers real soon.
In Samsung's lingo, the "Tag & Go" function lets you tap and share with NFC-enabled smartphones and tablets. The "Photo Beam" function allows the transfer of an image or video to a smartphone or tablet by simply touching the two devices together, with no other configuration needed. If you're into multiple sharing you can use MobileLink to select four distinct smart devices at one time. AutoShare automatically sends every photo to a smartphone or tablet. And aside from the usual site uploads, Dropbox web storage service and Flickr is preloaded on the NX30 and usable in "select regions."
And to give the NX30 its due as a camera onto itself: it has a 20.3MP APS-C CMOS sensor, offers a fast 1/8000 sec shutter speed and a 9 frame per second (fps) rate, sports a very handy tiltable electronic viewfinder plus a very high-res 3" Super AMOLED swivel and touch-control display.
Interchangeable Lens Cameras
There were numerous additions to this category of cameras, including "classic" D-SLRs, but mirrorless types are the lion's share. Small is the name of this game and each company tried to outdo the other with tinier and lighter models. Another new feature is so-called 4K video, meant to feed the maw of the new class of TVs.
The tricked-out rig shown here is the Panasonic GH4, a mirrorless 16MP Live MOS Sensor camera that can record 4K video with a newly developed Venus Engine processor that has been juiced up with a quad-core CPU to handle the high data rate. Panasonic touts this as a pro video camera, but it's no shirker in still recording, with up to 12 fps AFS recording and burst rates of 40 for Raw and 100 for JPEG. The Live View OLED Finder (LVF) has a remarkable 2.359 million RGB dots and a 1.036 million RGB dot monitor. The body is composed of magnesium alloy and has a full die-cast front and rear frame, and the maker claims testing up to 200K actuations. Remote operations via Wi-Fi and NFC with smartphone or tablet are possible. The mic and rig shown are also available, the latter being an interface for pro/industrial video workflow.
In the D-SLR realm, the Nikon D3300 has a 24.2MP DX-format CMOS sensor, sans low-pass filter. The ISO range is from 100 to 12,800, with a 1 EV push available, and you get a 5 fps shooting rate. Stills and HD videos can be shared with the Nikon WU-1a adapter. The D3300 measures 4.9x3.8x2.9", in keeping with the diminutive theme.
The Canon EOS Rebel T5 is an entry-level D-SLR with an 18MP APS-C CMOS sensor and a DIGIC 4 image processor. The ISO range is 100 to 6400 (expandable to 12,800) and has a nine-point AF system (including one center cross-type AF point) and a continuous shooting rate of up to 3 fps. The camera can record Full HD and enables easy manual control of exposure, focus, and Live View features, as well as in camera editing.
Sony's Alpha 5000 is a 20MP unit that claims to be the lightest interchangeable lens camera with an APS-C sensor and Wi-Fi connectivity. It weighs in at less than 8 oz plus comes with a flip LCD screen that goes up to 180 degrees for those self-important selfies. You can also download numerous apps from the Sony PlayMemories collection, including a new version of their Time Lapse. If you want, you can have images sent directly to phone or tablet when the camera gets turned off.
Another new Sony CSC is the 6000, and not the NEX-7; with this introduction Sony told us it will be discontinuing future NEX branding on its cameras. The Alpha 6000 sports an APS-C 24MP CMOS sensor, has a very fast AF system (0.06 seconds) with 25 contrast- and 179 phase-detection points, and offers an 11 fps shooting rate with AF tracking. We saw a demo of their image stabilization system and the resultant video almost looked like the camera was on a dolly. The image processor is the same as the vaunted Alpha A7 and A7R, dubbed BIONZ X. And to top it off, the camera yields 4K still and video output for TV display, arrived at on the still side by downsampling the image info.
Not to be outdone in the diminutive trend, the MFT class has the entry-level Olympus OM-D E-M10, which can deliver 8 fps. If it's too small for some it can be used with an accessory clip-in grip that upsizes the camera for larger hands.
The Fujifilm X-T1 is a weather-resistant interchangeable lens camera with a large OLED Electronic Viewfinder (EVF) and the latest generation 16.3MP APS-C X-Trans CMOS II sensor. (We will have a lab test on this camera soon.) The X-T1 uses more than 75 points of weather sealing, and the camera body is dust-resistant and water-resistant. The X-T1 is also freeze-proof to -14˚F, something we could have used this winter. The 3" LCD screen has 1.04 million dot resolution and is made of tempered glass for additional protection.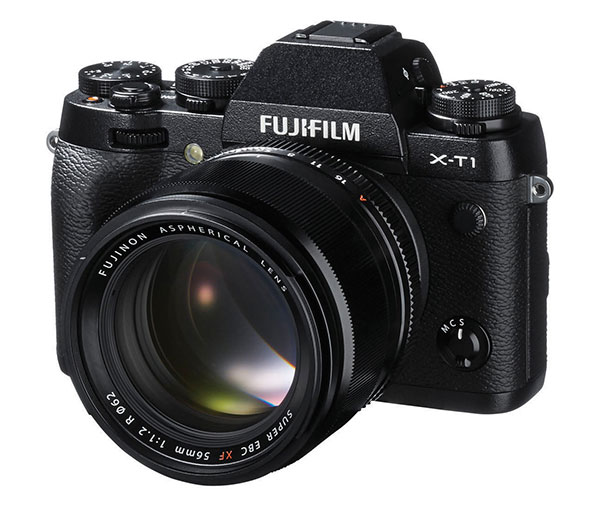 Tough Stuff
Many of the new "tough" point-and-shoots look similar to me, although this is one area where designers seem to have had a ball. Keeping with the smaller is better theme this year, most are even more pocketable than the clamshell-sized ones we're used to. Specs are similar, too, with some bragging rights to depth capabilites, drop height, temperature tolerance, and so forth. In fact, right at press time we got tipped off about the new Canon D30 that claims the underwater depth record in this class at 82 feet (!) and has what they dub a "sunlight" LCD, easily readable in very bright light. Anyone who enjoys making images when engaged in outdoor and water activities and who fears their overly delicate smartphone will catch cold or become waterlogged should own one: spec 'em out and take your pick.
The Fujifilm FinePix XP70 has a 5x optical zoom and can handle up to 33 feet underwater, with Full HD video and of course Wi-Fi connectivity.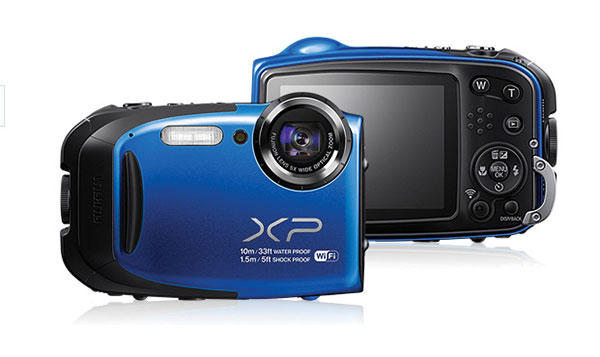 I like the swivel screen finder on the Olympus TG-850 iHS, which lets you make those half-in, half-out of water shots with ease. It's a 16MP unit with a 5x zoom that starts at an exciting 21mm equivalent.
Nikon's COOLPIX AW120 can be brought to depths of 59 feet, can handle a temperature of 14˚F, and has built-in GPS, built-in "mapping," and an electronic compass. Built-in Wi-Fi allows sharing of film and video to "compatible" devices.
Pentax and Ricoh have joined forces, but now you won't see the Pentax name on anything but interchangeable lens cameras and lenses, while the Ricoh name will be reserved for their tough cameras (and more). There are two new models here, the WG-4 that also comes in a GPS-capable unit aptly named the WG-4 GPS. Both have advanced shooting modes like HDR, Slow-Motion Video, Panoramic, and Digital Microscope, which uses six LED lights to illuminate subjects as close as 1 centimeter from the lens. The cameras both sport a 16MP CMOS sensor and a folded optical 4x zoom with a starting f/2 maximum aperture and the design is certainly distinctive.
The Canon PowerShot D30 is waterproof to a record-breaking 82 feet below sea level plus is temperature-resistant from 14˚ to 104˚F and shockproof to 6.5 feet. A built-in GPS tracker records date, time, and location of each image.
Bridge Cameras
Bridge cameras offer integral long-range, high ratio zoom lenses (our cutoff in this report is 30x) with necessary image stabilization as part of the package. They handle still and video, many with a "sharing" capability. In the past, most of these cameras were in a D-SLR form package, but now we're seeing more portable and pocketable cameras as well.
Weather resistance has come to the "bridge" camera (high zoom ratio—integral lens) category with Fujifilm's FinePix S1, with a 50x zoom, a 24-1200mm "equivalent." The S1 also has a vari-angle monitor, a good trick for a weather-resistant unit. That much zoom requires a lot of stabilization, and the S1's got a five-axis system to get steady shots at far-flung focal lengths.
The Olympus SP-100 has a 50x (starting at 24mm equivalent) zoom and a rather interesting wrinkle dubbed "Eagle Eye," indicated by "EE" in the specific model. By raising a pop-up finder after focusing on a subject (say an eagle soaring above) you can peek up into this finder and see, with an "X," where the subject focused upon sits within the frame. This might sound odd to those who have not shot with such an extreme zoom, but it's actually quite helpful.
4K comes to video images produced by the Sony HX400V, which incorporates a 50x optical zoom with a 20MP sensor, GPS capability, and a BIONZ X processor.
The impressive Nikon COOLPIX P600 has an amazing 60x zoom starting out at 24mm and going out to 1440mm (!). The 3" LCD on the P600 has a bright-light readable LCD that utilizes "white pixels" in what they call an RGBW array. It includes their "Dynamic Fine Zoom" feature that apparently uses information from the lens to offer an expanded zoom range (2x, up to 2880mm) without the usual image degradation found in digital zoom functions, a feature worthy of testing, to be sure.
If you would prefer a long-range zoom that's more "pocketable," check out Panasonic's Lumix DMC-LZ40. It's equipped with a 42x optical zoom lens (22-924mm equivalent) and integrated Optical Image Stabilizer. The Panasonic Lumix DMC-ZS40 (pictured) has a 20MP sensor with Live View and a 30x optical zoom (35mm equivalent: 24-720mm). It offers Raw format mode, focus peaking, and advanced HYBRID O.I.S.+ (Hybrid Optical Image Stabilizer Plus), claimed to effectively suppresses hand movement in both photo and video recording. The ZS40 also has built-in GPS.
Another camera in form factor smaller than usual in this class is the 30x optical zoom Canon PowerShot SX700 HS. It offers a 16.1MP CMOS sensor and DIGIC 6 Image Processor. It's a connected camera with Wi-Fi and using the Mobile Device Connect Button offers built-in NFC and remote control via the free Canon Camera Window app. "Zoom Framing Assist Auto" has been enhanced to make it easier to keep a subject that is at a far distance in the frame of view. The Hybrid AUTO mode allows users to record up to 4 seconds of video every time a still image is taken, and then automatically joins the clips and pictures into a video.
Hybrids
It may look like a phone but hybrids are all camera, albeit with all the features of a camera phone, sans the ability to make and receive calls. The wrinkle is access to the entire Android universe, with games, movies, books, connectivity with all the usual suspects, and, yes, a host of photo apps. Large screens are necessary for all this stuff, and the newest are coming close to mini-tablet size. Can Apple be far behind?
The Samsung Galaxy Camera 2
has a 16MP BSI CMOS sensor, a 21x optical zoom, an upgraded 1.6GHz quad-core processor supported by 2GB of RAM, and access to the Android platform of apps, games, etc. Sharing opportunities are profuse and it has many of the features of the new NX30, already discussed. If you like your screen big it has a 4.8" HD Super Clear Touch LCD. And if you are flummoxed by how to shoot a scene, tap into Smart Mode, with 28 different presets designed to address different shooting scenarios, and even has something called Smart Mode Suggest, said to provide a helping hand that recognizes lighting conditions, scenery, objects, etc., and then recommends the optimal Smart Mode. Imagine that.
Lenses
Lens offerings include some reboots of "older" focal length designs, but the main news was in the expansion of lenses for mirrorless, especially in the fast class, and even more fast primes for all formats.
For Fujifilm XE-series cameras there's the f/2 56mm (80mm equivalent), which strikes me as a great portrait lens for those cameras, and continues the trend of debunking the idea that shallow depth of field and Live View cameras are incompatible. The Fujinon XF10-24mm (pictured) is a 15-36mm equivalent, f/4 R OIS lens that incorporates optical image stabilization and has a newly designed optical system using four aspherical lenses and three extra low dispersion glass lenses.
Olympus has a fast 25mm f/1.8, but what is intriguing to me is their 9mm f/8 "bodycap" fisheye lens (shown on the new OM-D E-M10), a term that aptly describes its profile and image configuration. "Motor" zoom lenses made more, to me, for smooth video than practical still use, are also becoming more available, and compact. The newly configured Olympus 14-42mm is smaller than its predecessor with a solid feel and a zoom that moved "like butter" when I checked it out.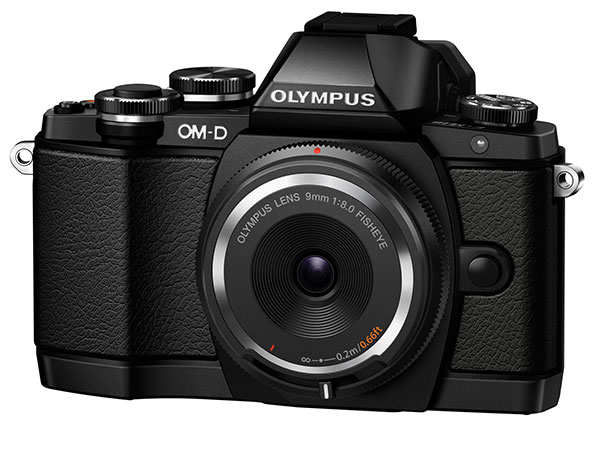 Sigma announced two new lenses. The amazingly compact (2.8x3.4") and affordable 18-200mm f/3.5-6.3 DC Macro OS HSM (pictured) is exclusively for APS-C-sized sensors, is smaller and lighter than the previous version, and offers closer focusing distance to boot. It also has newly incorporated SLD glass for optical improvement. The updated 50mm f/1.4 DG HSM ("full-framer") sports 13 elements in eight groups compared to the previous eight elements in six groups, plus it has improved close focusing at 15.7" and incorporates SLD glass. Sigma folks are big on this one and tell me it gives a good indication of the quality lenses on tap from the company in the future. This one will be available later this year and we are eager to give it a try.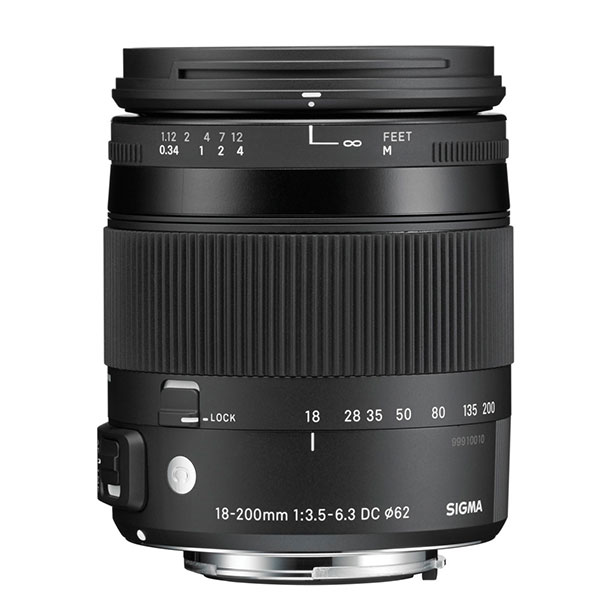 As we went to press, Tamron announced the development of an "all-in-one" lens for APS-C cameras, their 16-300mm f/3.5-6.3 Di II VC PZD Macro. VC stands for Tamron's Vibration Compensation and PZD is their acronym for a "standing wave" ultrasonic motor said to offer enhanced support for Live View, contrast-detection AF. Available for Canon, Nikon, and Sony mounts, there's no price or release date set, but if I were guessing I'd think photokina time (fall) would be a good bet for all of us to get our hands on this compact (3.9" long, 67mm filter thread) optic.
We recently reviewed and were wowed by the Zeiss Touit f/2.8 12mm and f/1.8 32mm lenses for Sony E and Fujifilm XE mirrorless cameras, and now they've added to the line with an f/2.8 50mm Macro. Offering 1:1 magnification, this Touit lens is also being touted as perfect for portraits. Offering floating element design, there are two aspheric elements and two low dispersion elements, plus a nine-blade diaphragm for fans of bokeh. Zeiss folks told us the lens should be arriving about the time you get this issue in your hands.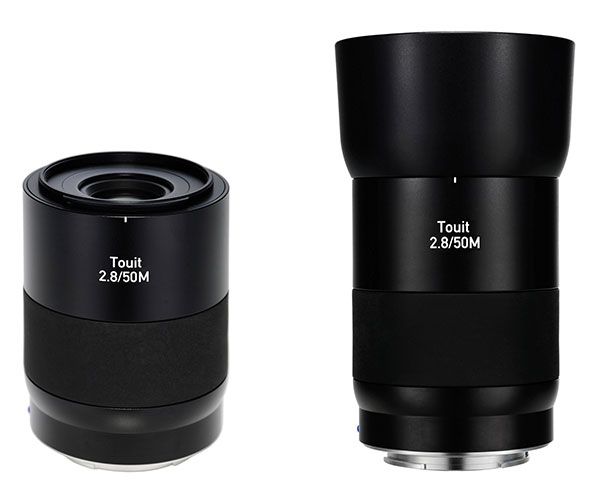 The Samsung 16-50mm F2-2.8 S ED OIS is the company's first Premium "S" Series lens. Featuring an Ultra-Precise Stepping Motor (UPSM), which should appeal to video fans, Samsung claims it's an improvement from the conventional Stepping Motor (SM) that is 3x more precise in its ability to control and focus on subjects. That's coupled with its optical image stabilizer and combination of three aspherical (ASP) lenses, two extra-low dispersion (ED) lenses, and two eXreme High Refractive (XHR) lenses.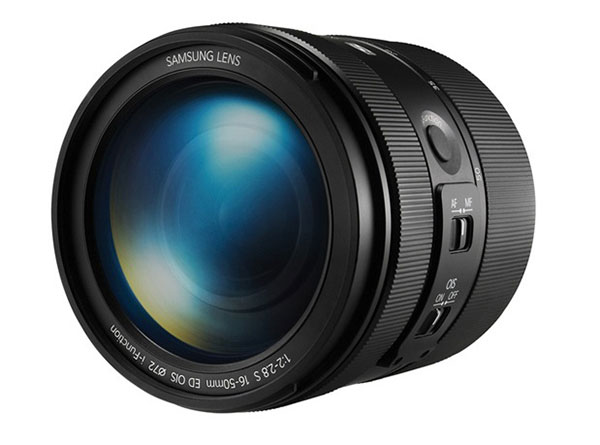 More Items Of Interest
To finish this report off I've picked a few items that I thought were of interest that didn't seem to fit any of the categories above.
The Autographer is a "wearable" camera that clips to your shirt pocket or hangs on a lanyard that continually shoots stills at a rate and frequency based on your movements. The idea is that you never have to "raise a camera to your eye to make a shot" ever again—heaven forbid—and that the images are like the ultimate selfie, though outward and not front of face facing. The rate I was told depends on your pace and change of direction and what the camera notes as a change in point of view and objects within that view. Images I was shown were intriguing in a Lomo kind of way, that being haphazard, oddly exposed, shaky, and definitely low res, so I am sure a cult following will ensue.
Sony's new "action cam," the AS100V, is great for the usual mayhem and frolic these cameras help record, but also has an accessory for mounting it to your dog's collar and a Live View remote that I am sure will prove to produce hours of enjoyable viewing for some and thousands of YouTube videos to boot.
The selfie thing is getting a bit out of control. A new feature in the PowerShot N100 from Canon is the ability to record yourself in every scene by using a dual-lens setup that puts a "picture in picture" of you taking the picture. So, not only the image of the place but your mug itself will prove that "you were there."
The Polaroid "Socialmatic" has a 14MP "front facing" camera and a 2MP "rear facing" one—that selfie thing again. The unit can be used to post taken images to sites via Wi-Fi or can be paired with smartphones via Bluetooth. The twist here relies on the Polaroid legacy of instant prints, which can be selected from those shot and directly printed out from the camera using their ink-free Zink technology. The 2x3" print develops up in under a minute. The Socialmatic also works with Android OS for gathering apps and such, viewable on the 4x5" touchscreen LCD. There's 4GB internal storage or a Micro SD card slot to boot.
The Canon G-series cameras are always highly anticipated. The new PowerShot G1X Mark II offers 12.1MP with a 1.5" sensor and an f/2-3.9 5x zoom (24-120mm equivalent) and numerous custom functions and handling features. The Canon folks dub it a "walk-around" camera for those who don't want to haul their D-SLR or mirrorless cameras around but want very good image quality. (Wait a minute, wasn't that the mirrorless vs. D-SLR pitch?)
And last but not least, a trio of new cameras from Sigma with a new Foveon sensor. Sigma's dp Quattro compact cameras incorporate a newly developed Foveon X3 direct image sensor, said to be similar to traditional color film in that its multiple layers capture all of the information that visible light transmits. Each camera in the line features an integral fixed focal length lens: the wide-angle dp1 Quattro at 19mm, the dp2 Quattro at 30mm, and the medium telephoto dp3 Quattro at 50mm (equivalents are 28mm, 45mm, and 75mm respectively).
While we will cover the new sensor in detail in a later issue, the main design concept involves three layers of photodiodes, each at a different depth within the silicon and each corresponding to a different RGB color, dubbed "vertical color separation technology."
4K Stuff
4K means higher resolution than you might be used to. While you might think "medium format" still vs. full-frame sensor output, the trick in still is that this is for display—the output files are downsampled to up the resolution and won't give you bigger, sharper files for prints. It's another matter for 4K video, which we're seeing more and more of in hybrid still/video units, notably the Panasonic GH4 and Sony Alpha 6000 mentioned in this report. Now that your local big box store is pushing 4K TVs, these cameras will provide the output lacking from movies and broadcast TV, at least for now. In camcorder format, Sony's FDR-AX100 (pictured) gets you a 4K-capable handheld unit with a 15x Carl Zeiss T* zoom lens, something wedding and event photographers might consider.
Product shots appear courtesy of the manufacturers.

FEATURED VIDEO