Mr. Fantastic: Hugh Kretschmer Blends Fine Art with Commerce to Create Mind-Bending Imagery
What defines fine art rests as much in the eye of the artist—be that a painter, sculptor, or photographer—as in the eye of the beholder who finds beauty and meaning in that work. The work can be something the artist discovers and captures or creates from scratch. In the case of photographer Hugh Kretschmer's imagery, it is a tapestry interwoven with elements from disparate sources: a collage, if you will, forming a coherent whole and thereby conveying a message.
Sometimes the message may be vague and the intent may have no purpose other than artistic expression. At other times, the message may have a commercial slant, selling a product or service but in a uniquely metaphysical way. Whatever that message, Kretschmer's method of blending both art and commerce to create fantastic, mind-bending images evolved over time.
Changing His Mindset
"When I first got out of school," Kretschmer recalls, "art directors would see my portfolio and say, Oh, you went to Art Center College of Design (Pasadena, California). The influences there showed in my work. I was struggling to get work because my portfolio looked like everyone else's, and all those other people already had working relationships with these art directors and photo editors.
"So, when I went into the studio and started working on that new body of work, what I decided was not to approach this with the mindset of, I'm doing this to get jobs, but rather because this is what I want to do. You might say, it's work that comes from the heart. It had to be purely based on what I'd been exposed to in my lifetime. That mindset and the body of work resulting from it launched my career."
As with any form of artistic expression, Kretschmer's sensibilities were bound to change over time. "When I first moved to New York, I knew that the type of work I was doing had a short lifespan," Kretschmer says. "It was no longer working for me. So I regrouped and did a lot of soul-searching. Slowly but surely I was able to segue out of that old style into a style that dominated my work throughout the Nineties and early 2000s. The obvious difference was, I was now coming up with visual solutions that involved people instead of the still life constructions that pervaded my photography to this point. All of my work derives from my love of 20th century painting and sculpture, so surrealism is part of that grouping of art movements, along with Russian Constructivism, Dadaism, and others.
"My work has been considered by some as riding the cusp between art and commerce," Kretschmer notes. "I've always strived to do as much in camera, relying very little on Photoshop. The last three years, the reason clients have chosen to work with me is because they say my work has a certain tactile quality, that it feels like it's all there."
Working In Three Dimensions
We can add that what further defines Kretschmer's work is that it's not a two-dimensional digital composite. Everything has light, shadow, and form before it sees a piece of film or a digital sensor. It actually exists in the real world. What's at the heart of Kretschmer's latest work is the collage that tells a story.
"I've been doing a lot of constructions, such as the shoot for the American Egg Board." That had a storybook character. This was also true of a Huggies campaign, which Kretschmer proudly adds "was a complete adaptation of a personal project."
In fact, many, though certainly not all, assignments are concepts the photographer proposed and sketched out. His Twitter blog is filled with such sketches. "The look was very whimsical. That's what I've been seeing lately—that style and sensibility is what they want.
"Lately I've been shooting 4x5 film again. Sometimes I can capture something digitally that I can't do on film and I'll mix the two together. But that's rare."
One trademark of Kretschmer's work is its quirky and offbeat flavor. "I know that I strive to create work that's different from what's out there," he observes, "especially when we're talking about the commercial arena. I've always strived to have a conceptual bent to my work. I like messages that underlie a pretty image. As far as the quirkiness is concerned, it's probably influenced simply by my love for humor and things that are strange or peculiar."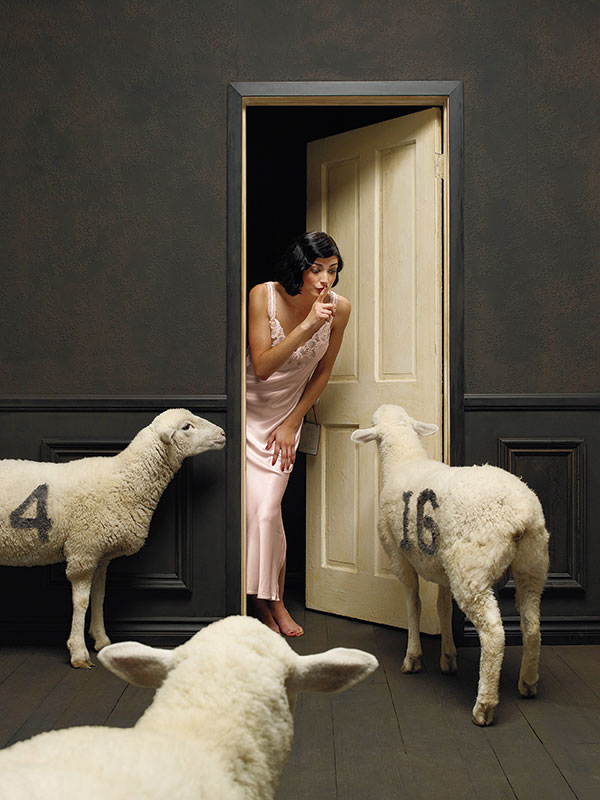 Influenced By Art and Science
"My father introduced me to photography," Kretschmer notes. "He was a scientific photographer for McDonnell Douglas. He had an incredible darkroom in a bomb shelter in our house in Los Angeles. As a right of passage, at age 13, he introduced each of his seven children to photography, giving each of us a camera and film, and showed us how to develop and print. When I saw my very first picture in the developer, I knew this was what I wanted to do."
Most recently Kretschmer was inspired by the shadow box work of Joseph Cornell. Another influential artist was Maxfield Parrish. "A lot of people create shadow boxes that mimic Cornell, but I wanted to do something a little different," Kretschmer explains when discussing his own shadow box project.
"I like the idea of creating a self-contained microcosm. I started small. The next ones are going to be maybe 10- or 12-feet tall. I create mood boards (collages of ideas), and this is kind of a culmination of all that. The theme for each will be its own story, rather than a continuing storyline."
To see more of Hugh Kretschmer's work, visit www.hughkretschmer.net.

FEATURED VIDEO