Pro Gear That Unlocks Your Inner Creativity; In The Digital Darkroom And On Assignment Page 2
The Sheriff Of Nottingham
Serif's (
www.serif.com
) PhotoPlus X3 Digital Studio is the latest version of this useful Windows-based imaging software, although I run it on an Apple iMac using Apple's Boot Camp software. (Writer's Note: Even with Boot Camp, you still have to install a copy of Microsoft's Windows on the Mac OS computer and I'm using Vista Home Premium.) Updates to PhotoPlus X3 include an HDR Automatic Merge tool, a Raw Photo Studio module, and 48-bit color capability. The program includes new special effects such as realistic metal and glass effects that let you add subtle reflections. And for those of you who are interested, PhotoPlus X3 includes support for Microsoft's HD Photo format. The Black and White Studio module offers full control over the creation, mood, and style of grayscale images and the Print Layout Studio module boosts speed, efficiency, and performance over previous versions. PhotoPlus X3 costs $79.99 and existing users may be entitled to upgrade pricing that can save up to 50 percent. Details are available on Serif's website. If you're using an earlier version and entitled to a discount, just do it.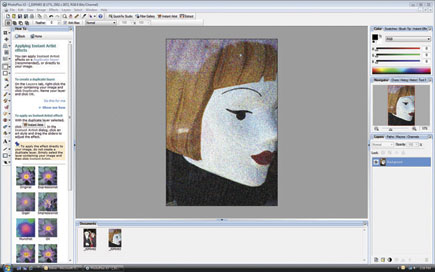 Pro Clear Skin Retouching
Anthropics Technology's (www.portraitprofessional.com) Portrait Professional is one of my favorite portrait-retouching programs—it's not a plug-in—and the latest version incorporates automatic ClearSkin enhancement technology that ensures natural skin texture even after a major touch-up. It will regenerate natural-looking skin in areas such as overexposed skin highlights or where large defects have been removed. To do this, Portrait Professional 9 works in a way different from most skin-enhancement software. Most other automatic skin-retouching software uses filters that delete certain frequencies within the skin and remove the defects that occur at those frequencies. Portrait Professional's ClearSkin technology has the ability to automatically match skin texture in those areas after defects are removed, preserving natural-looking skin. This ability to automatically regenerate natural skin texture not only enables a more natural result when retouching skin, but also enables portraits with blown highlights and other defects to be retrieved. This can be a real time saver for anyone who photographs people.
Promote Control
PreVize is the medical consulting division of Moran Research and Consulting that includes Promote Systems (www.promotesystems.com), a subsidiary that designs and manufactures photography-related products such as the Promote Control, which is designed for serious amateurs and pros. The Promote Control is an advanced remote control for D-SLRs from various manufacturers, including many Canon and Nikon models (see website for specific models), and will have you making HDR photographs and time-lapse sequences in no time.

The Promote Control allows for bracketing step variability that's usually not possible with many in camera Bracketing modes. For example, it can automatically put the camera into Bulb mode when performing bracketed exposures longer than 30 seconds. All you nature photographers out there can now perform time-lapse photography with any camera supported by the Promote Control, including affordable entry-level D-SLRs that lack these kinds of features built-in. A start delay can even be specified to start a time-lapse sequence after a certain time period has elapsed.
You can set the Promote Control to perform a fully automatic, user-defined delay for Mirror Lockup before every picture to provide a tripod-mounted camera with the stability required to make critically sharp photographs. The Promote Control has a large, easy-to-read LCD screen featuring variable intensity backlight, is weather- and dust-resistant, and powered by two AA batteries. Moreover, the control unit's firmware is upgradeable, so the device will stay up-to-date with the latest functionality and enhanced capabilities of future camera models. At $299 the Promote Control is not inexpensive, but if you have the need for any of the features it provides you'll wonder what you ever did without it.