Pro Gear That Unlocks Your Inner Creativity; In The Digital Darkroom And On Assignment
"Part of the inhumanity of the computer is that, once it is competently programmed and working smoothly, it is completely honest."—Isaac Asimov
One possible answer to the proverbial question "what is pro gear" might rightly be answered in this month's Web Profiles (I don't want to ruin the surprise), but a more conventional answer will be found in this column, which provides a look at the kind of software and camera hardware that can make a useful contribution to working pros and aspiring professionals' productivity as well as creativity.

Pixelmator For The Mac
The week—sometimes day—does not go by without some PR person e-mailing or calling about some inexpensive Windows-based image-editing program that's "just as good as Photoshop." It seldom is, of course, but that's why I'm impressed with a Mac OS-only offering that, while it may not be as good as Photoshop, is a strong challenger to Photoshop Elements, is more Mac OS friendly, and costs just $59.

Smith Micro Software's (www.smithmicro.com) Pixelmator is an easy to use, yet powerful image-enhancement program that works with all major image file formats, including PSD, JPEG, TIFF, PNG, GIF, PICT, BMP, and PDF, and offers more than 130 filters and special effects, from blur and sharpen functions to filters such as comic-style and kaleidoscope. Pixelmator lets you create layers that can be individually edited using its tool set and offers a library of filters to fine-tune effects, including color correction tools such as Auto Levels, Auto Color, and Auto Contrast. (Names sound familiar?)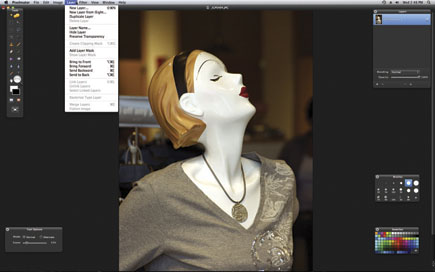 All Photos © 2009, Joe Farace, All Rights Reserved
The program includes more than 20 tools, including Crop, Select, Paint, and Erase, and you can add text and even logos using the simple Type tool. Pixelmator's batch-processing capability saves users time by simultaneously applying filters to image collections using its built-in Automator Actions. All this is possible because Pixelmator leverages Mac-specific tools, including iSight (built-in camera) support that lets users make a picture and add it as a layer in Pixelmator without leaving the application. Integration with Apple's iPhoto lets you navigate to iPhoto's library, events, albums, smart albums, and picture folders.

Plug-In Of The Month Gets Mystical
Auto FX Software's (www.autofx.com) Mystical Tint Tone and Color 2.0 (MTTC 2.0) is a Photoshop-compatible plug-in and stand-alone application—both are installed—that includes 60 filters for enhancing photos. MTTC 2.0 is a workhorse plug-in for pros who want to save time and money while delivering creative results. It requires no special techniques, masking, or laborious processes. You pick an effect then preview and refine the results using its oh-so Kai's Power Tools interface.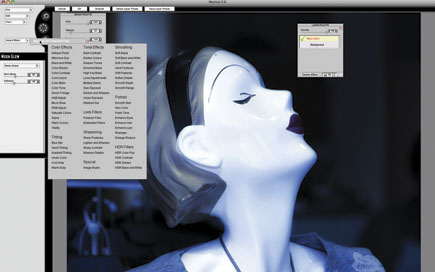 The plug-in streamlines portrait enhancements by including a suite of eight filters that can reshape and touch-up facial and body features as well as smooth skin, improve flesh tones, and enhance eyes, lips, and hair. These filters let you remove blemishes, oily skin, and even out skin tones, and are a snap to use. You can choose from more than 200 effect brushes that apply the selected effect, allowing you to apply color and tonal effects using patterns such as watercolor brushes, oil, charcoal, chalk, sponges, scratches, clouds, and other styles. As Mr. Miyagi might have said, "Just brush-on, brush-off!" The new High Dynamic Range (HDR) filters enhance colors and tones in your images to create stylized images in seconds and work great with either portrait backgrounds or entire landscape photos. You can download a free demo to give all 300 presets a try and purchase it for $249.

Camera Bits And Pieces
Camera Bits, Inc. (www.camerabits.com) launched Version 4.6.1 of its Photo Mechanic photo browser and workflow software. Photo Mechanic's Live Ingest utility lets you edit photos as they are being imported from a memory card or, using Lexar's daisy-chained readers, several cards simultaneously. With Photo Mechanic, users can read the images from a memory card, flatten directory structure, back up on a separate disk, and rename files in a single step. You can then rotate, preview, tag, classify, crop, rename, copy, and delete photos to speed the editing process and add IPTC metadata (such as caption, keywords, photographer, city, or state) to photos individually or in batches.
Photo Mechanic lets you adjust capture dates and times, embed GPS coordinates, and extract JPEG previews from raw photos; lock previews and pan them around to compare details; or manually arrange photos in an arbitrary order, including across multiple folders. Photo Mechanic's Variables Technology lets you use different types of metadata, including Exif and XMP for sorting and organizing photos, renaming photos, and formatting text for output to print or slide shows. You can then create web galleries, print contact sheets, transfer photos to an FTP server or upload them to an online archive, send photos to clients via e-mail, and archive all of your "selects" by burning to CDs or DVDs. New features include a Convert Raw to DNG command and a Loupe tool à la Bridge in the Contact Sheet view. Photo Mechanic is well named and is truly the Swiss Army Knife of image utilities.