Priolite MBX500: The Next Generation Of Monolights?
"Look Ma, no cords!" That's right; the Priolite does not have a power cord. It is run strictly off battery power. Each unit has its own interchangeable and removable battery, plus a built-in receiver to work with a Priolite transmitter. And, unlike most monolights, it has a usable modeling light even on battery power.
Put those features together and you can easily see that this groundbreaking flash unit signals the wave of the future, where photographers work both in the studio and on location with the same lights that they can just pick up and take with them in a moment's notice.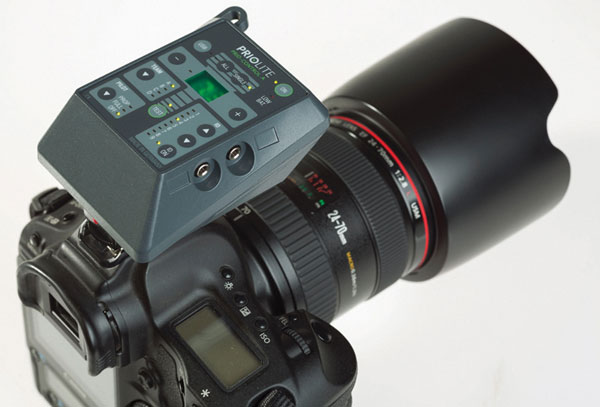 Controls & Features
For my test I worked with their "Leipzig" two-light kit that includes the radio transmitter, two light stands, a softbox, an umbrella, and a nice case. The first thing you'll want to do is charge the lithium-ion batteries. One battery charger is supplied with the kit; you may want to consider adding another, as a full charge takes about three hours. The charge status is indicated by three LED lights. You remove the battery from its cavity on the back of the light by pinching together two plastic clips. A spring-loaded cap covers the on/off switch. Like all the other pieces that make up this unit, it feels intelligently engineered and well made. Each battery weighs about 1.3 lbs; a replacement/backup battery costs about $250.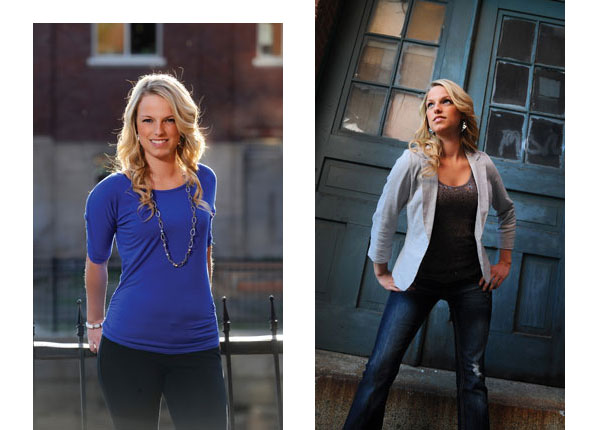 While we're looking at the back of the light, let's run through the rest of the controls and features. Like most European units, the power setting control uses a round dial that controls the output in 1/10 stops over a five-stop range and power settings are displayed via LED lights. There is also a test button and options for controlling the optical slave status. The one minor odd quirk is the modeling light. While there are controls for Off, Full, and Proportional, the MBX500 modeling light is either Off or Full. (Note: I learned that the 1000 ws version is the only model that uses the Proportional modeling light.)
For many, the 500 ws version will be plenty of power. I measured f/20 at 10 feet at ISO 100 in my studio. When you're looking for just a little light, the MBX500 bottoms out at 16 ws. The amount of shots you get from each full charge will of course vary but the spec sheet claims 220 full-power flashes before the need for recharging. Those full-power flashes come at a pretty quick recycle rate of only 2.5 seconds.
When you mount the MBX500 on the light stand, there is a center of gravity bar so you can slide the light along it to balance with whatever modifier you may be using, such as a large softbox. This is a very nice touch, especially when you consider the light/battery combo sitting on top of the stand already starts at 7 lbs. And while we're on the subject of softboxes, the Priolite softbox supplied with the kit uses a speed ring and rods that almost require two people to put together. For a kit that screams "just pick me up and go," I'd like to see an umbrella-type softbox included.
The light is constructed of extruded aluminum with plastic used for the back panel and handle. An LED modeling light is used and the flash tube is user replaceable. The accessory mount is very quick and stable to use and is compatible with Bowens accessories, which opens up a wide range of inexpensive light modifiers.
Now let's take a look at the transmitter that fires the built-in receiver. It's a fairly big, flat chunk that slides into your hot shoe. There is no programming, just switch everything on and it recognizes the light. You can control up to a grand total of 36 lights! That breaks down to nine lights each with four different channels. I've got to believe that that's enough control for just about everybody.
Conclusions And Recommendations
By combining the radio control, battery, and modeling light all together, this is really a home run. I used assistants on my location shoots but I really just had them move lights a little when needed. I'd set the lights up, fire off some test shots, and then easily adjust the power output of each light from camera position—no dropping light stands down and then back up and retesting each time. You can get used to doing things this way in a hurry. With two lights I'd just toggle back and forth between them, then click them up or down in either 1/10 stops or whole stops and retest. It almost seemed like I was missing something, it was so easy!
With so many photographers now using off-camera flash outside, this kit will appeal to both portrait and commercial photographers. About the only gripes I have are the weight, the supplied softbox requiring assembly, and the buttons on the transmitter being pretty small. But I do see this as the first of a new wave of similar flash units. I'm going to guess that as we progress along this path batteries will get smaller, lighter, and have more power and reserve. Overall, I'm sold on the concept, and everything worked great!
The Priolite Leipzig Kit has a street price of approximately $3000; the MBX500 with battery costs around $1500.
For more information and full specs, contact Priolite at www.priolite.com/en/home.html.
Steve Bedell has been a portrait photographer for over 25 years. To subscribe to EPhoto, a free e-mail newsletter with tips for photographers, contact Bedell via e-mail at: smbedell@gmail.com. Also ask about his lighting DVDs.

FEATURED VIDEO