Post Cards From The Freezer; Photographing Antarctica Digitally Page 2
For a unique image, shoot with a fisheye lens. When ice and snow fill most of the frame, set your exposure compensation to +1 for a more accurate exposure.
When scouting areas in a Zodiac, use your imagination when you see an iceberg. Just as we can see animal forms in clouds, it's possible to see them in icebergs. Can you see a familiar animal form in this photograph? (Canon EOS-1Ds Mark II, Canon 28-135mm IS zoom.)
Some shooting is done from moving and bobbing Zodiacs during scouting missions and bay cruises. To help get a steady shot, use an Image Stabilizer lens.

If possible, travel with two camera bodies, one with a wide angle zoom and one with a telephoto zoom. That way, you can take "environmental portraits" as well as tight shots.
Be prepared for the unexpected, as I was when our expedition made an unscheduled stop to photograph albatross on Diego Ramirez Island on the way back to Ushuaia. (Canon EOS-1Ds Mark II, Canon 100-400mm lens.)
I must say that an Antarctic adventure is not for everyone, especially for those who are prone to seasickness. But for the rest of you, I think you'll find that the bottom of the world holds special wonders found nowhere else on the planet. Bon voyage!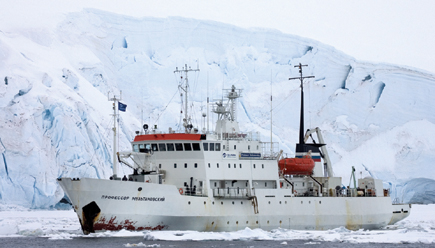 Naturally, these pictures would not have been possible without the help of the crew and experts aboard the M/V Professor Multanovskiy. Thanks guys for the once-in-a-lifetime experience!
Preparing For The Trip
In addition to getting to Antarctica, preparing to take pictures and shooting is a bit of a challenge. Here's what you have to go through:
· Dress in layers, wear long underwear and two pair of socks.
· Don a big, bulky, fleece-lined, hooded parka--designed to protect you from the elements, including the wind, which can be strong when riding on a Zodiac (an inflatable boat) from the ship to an island. Once bundled up in the parka, you feel as though you are wearing a space suit. You need to turn your upper body to see left or right.
· Wear water-resistant and windproof gloves, which are essential for keeping your fingers from numbing up.
· Wear water-resistant pants over blue jeans and long underwear.
· Wear knee-high waterproof rubber boots to keep your feet dry during wet landings (a landing in which you jump off the Zodiac into the icy water and wade through the surf on to land).
· Stuff hand and toe warmers in your gloves and boots to keep toasty.
· Apply sunscreen to prevent sunburn.
· Take anti-seasickness pills to avoid getting ill.
· Pack all your essential camera gear in a water-resistant backpack for protection against salt spray (during Zodiac rides and scouting missions), snow, and rain, which are often the conditions in which you shoot.
· Don a life jacket over your parka before leaving the ship and when getting in a Zodiac.
· Put on your camera backpack over all your stuff, and then take off the life jacket once you reach land.
Traveling to the bottom of the world to take pictures is an experience that can't be beat. (Canon EOS-1Ds Mark II, Canon 15mm lens.)
For more travel and nature photography tips and techniques, check out Rick Sammon's books and interactive DVDs at: www.ricksammon.com.

LATEST VIDEO

SPONSORED VIDEO
Testing Tamron's SP 150-60mm G2 lens while capturing birds and alligators in Apalachicola, Florida.