PMA International
Printers And Flat-Bed Scanners
Luminos' Preservation series includes Platinum and Silver ink sets and five new fine art surface papers that are designed to have extended life when displayed under indoor lighting conditions.
Coming as it does shortly after the MacWorld Expo and shortly before the Seybold graphic arts show, some companies did not launch new printers or flat-bed scanners at PMA. In fact, there appeared to be more new film scanners than flat-beds, and you can read about these devices in David B. Brooks' PMA report elsewhere in this issue. There were, however, some new printers and flat-bed scanners that were introduced by companies who were exhibiting--even though the devices themselves were not there--along with the appearance of a few products that had been previously announced but were finally shipping. In addition, manufacturers were finally responding to questions from digital imagers about the stability of ink jet media and inks and several companies shared the results of their archival testing with me.

Flat-Bed Scanners. Acer Peripherals America showed its new AcerScan Prisa 620PT/ST at the show. It's a flat-bed scanner with a built-in transparency unit that allows it to scan film as well as prints. Two versions of the scanner are available: The 620PT connects to your computer's parallel port while the 620ST has a SCSI interface. Both scanners are designed for Windows-based computers and offer 36-bit color depth. The optical resolution on both models is 600x1200dpi (dots per inch) and up to 19,200dpi is available through software interpolation. The scanners have a power saving feature for people, like me, who are always forgetting to turn their scanners off: After 30 minutes of inactivity, the scanner automatically places itself in standby mode. The 620PT has a suggested price of $149.99, while the 620ST is $169.99.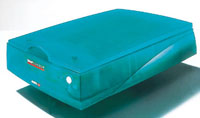 If it's blue and you can see through it, chances are it's for the iMac. Agfa's new SnapScan 1212U is available in a conventional opaque white or a blue translucent housing to match the styling of the Apple iMac or new G3 Macintoshes.
Agfa showed all its flat-bed scanners at PMA including the new SnapScan 1212U in Bondi Blue, a translucent version of the company's USB(Universal Serial Bus) compatible scanner. The Snap-Scan 1212U has an optical resolution of 600x1200 ppi (pixels per inch) which can be interpolated up to 9600ppi.

It has a scanning area of 8.5x11.7" and operates at a 36-bit color depth. The scanner is also available in white and both versions have a suggested price of $129. Moving up the food chain, Agfa showed the previously announced and now shipping DuoScan T2500. As with all DuoScans, the T2500 can scan prints or transparencies using the glassless slide holder that Agfa bundles with the scanner. Eliminating the glass during a transparency scan can also eliminate the potential for distortion caused by the glass itself. That's one of the reasons Agfa claims sharper scans with more accurate color with the TwinPlate technology found in the DuoScan series. The T2500 is a 36-bit scanner with a resolution of 1250x2500ppi which can be interpolated up to 5000ppi. The scanner has a scanning area of 8x14" for prints and 8x12" for transparencies and has dynamic range of 3.4-3.5. The DuoScan has a suggested price of $4495.

Although not on display at PMA, Canon Computer Systems announced two new entry-level, color flat-beds: The CanoScan FB 320P and FB 620P have estimated street prices of $79 and $99 respectively. Weighing just 4 lbs and measuring 10.1x14.7x2.5", these are the smallest color flat-bed scanners in the world from a company known for producing compact flat-beds. Both scanners use a parallel port connection and are aimed at users of Microsoft Windows-based computers. The CanoScan 320P delivers 300dpi resolution with interpolation up to 1200dpi in color and gray scale. The CanoScan 620P provides 600dpi resolution and can be adjusted in one dpi increments from 25-2400dpi in color or gray scale. The scanners feature 30-bit external/24-bit internal scanning modes in color and 10-bit internal/8-bit external scanning in gray scale mode. The way this works is that the CanoScan 620P scans at 30 bits in its "internal" color mode. Because the parallel connection's capacity is limited to 24 bits, this is the scanners "external" mode. After scanning 30 bits, the scanner selects the best 24 bits of color data and transfers it to the computer via the parallel connection. Both scanners use Canon's new LIDE (LED InDirect Exposure) technology which allows the scanners to gain higher color fidelity and less distortion when compared to traditional CCD (Charged Coupled Device) based scanners.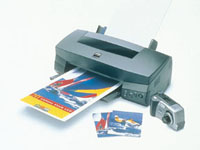 The new Stylus Photo 750 adds a new letter-sized ink jet printer to Epson's line of photo quality printers. The big news? It can output 1440dpi images on plain paper.
Epson showed me their new Expression 800 flat-bed scanner that has an optical resolution of 800x3200. The speedy scanner, which was decorated with hot rod-like flames for PMA, can create a full color preview in less than 7 sec and can scan up to an 8.5x11.7 color photograph at 300dpi in less than 25 sec. The Expression offers 36-bit color depth (internally and externally) and can scan negatives and transparencies at a dynamic range of 3.3 with the optional film adapter. While all this techy stuff is cool, the big news is that Epson has bundled Monaco Systems Profiler Lite color management software with the Expression 800. Profiler Lite is color management for the masses and here's how it works: You scan a test print that's included with the scanner and print it. You then place both the test print and your output on the scanner bed and rescan both of them. The software analyzes the differences between the test print and your print and makes the necessary corrections for input and output match one another. The scanner is available in three models: The Artist model has a street price of $799 and is bundled with SilverFast 4.0, which is one of the best scanner drivers I've ever used. The Pro model costs $999 and includes a transparency adapter. If you're looking for a bare bones model, the $699 Executive lacks the aforementioned software and transparency unit but does include SilverFast Lite software.

Hewlett Packard gave me a sneak preview of two flat-bed scanners that are going to be introduced shortly after PMA. The HP ScanJet 3200C is the first HP scanner expected to sell for under $100, while the 4200C has an estimated street price of $199. The 3200C is HP's entry-level scanner with an optical resolution of 600dpi which can be enhanced to 9600 with interpolation. The scanner has 30-bit color with its internal hardware and features an enhanced parallel connection for use with Windows-based computers. The ScanJet 4200 has a 600dpi optical resolution that can be increased to 9600dpi with interpolation. It's a 36-bit scanner and uses a USB connection, which is also found on many new Mac OS computers, but the system requirements are for Intel Pentium-based Windows machines only.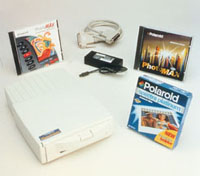 With a 30 sec output speed, Polaroid's PhotoMax Digital Photo printer claims to be the fastest consumer photo printer on the market. Instead of paper, photos are printed onto the company's Spectra self-processing film.
Desktop Printers. Canon Computer Systems announced two new Color Bubble jet printers: The BJC-5000 and BJC-4400. The BJC-5000 uses a new dual cartridge design and can print pages at up to 7.5 pages per minute (ppm) in text (black ink) output mode. Replacing the black ink cartridge and using two color cartridges--the standard and optional Photo Inks for 7-color printing--the speed drops to 3.5 ppm for photo-realistic output. The new dual cartridge design includes two print heads that sit side by side and shuttle across half a page instead of having to streak across the full width. A new 32-bit driver lets you print photo-realistic images on plain paper at 720x720dpi on plain paper and at 1440x720dpi on what Canon refers to as "specialty" papers designed for photographic output. The BJC-5000 can also print 100 percent coverage on standard letter-sized paper--something I've never seen any ink jet printer do before. Canon even offers LetterPlus paper that measures 9x13.3", allowing you to print full bleed 8.5x11" images, then remove the edges after printing is complete to leave full letter-sized output. The printer can also handle an 11x17" paper as well as card stock or art paper up to 146 lbs through the manual feeder. The sheet feeder, by the way, holds 130 sheets of paper. The BJC-5000 has an estimated street price of $299 and ships with black and color cartridges along with drivers for Microsoft Windows 95. The BJC-4400, also introduced but not visible on the floor, offers 720x360dpi output with a monochrome printing speed of 6.5 ppm and color of 2.5 ppm. The printer has an estimated street price of $199. Need a scanner, too? For less than a hundred bucks, swap out the print head for the IS-22 Color Image Scanner head and turn the BJC-4400 into a 24-bit 360dpi color scanner. Like the BJC-5000, the 4400 is designed for Windows users and feature a parallel connection port.


Unlike the model shown at PMA, the Epson Expression 800 flat-bed scanner does not come standard with flames painted on it, but it is rumored that the company will offer flame decals for those users who want their scanner to look fast, too.
Although not officially shown on the floor, Epson gave me a sneak preview of its new Stylus Photo 750 that will be shipping by the time you read this. The new ink jet printer, clad in black unlike the 700 which will remain in the product line, is a six-color device capable of printing at resolutions of 1440x720 even on plain paper. The printer is 150 percent faster than the Stylus Photo 700 or EX and can print an 8x10 photograph in two minutes. The big news is that the MicroPiezo ink jet technology print head is now capable of printing ink drops as fine as six picoliters (that's small) and makes use of variable dot technology that places small drops where appropriate or larger drops when needed--all on the same image. All of the inks currently used in Epson printers are a quick dry type. The paper tray can hold 100 sheets of paper or even 100 envelopes. The Stylus Photo 750, like most Epson printers is compatible with Microsoft Windows and Mac OS computers and includes parallel, serial, and USB ports. Cost of the new printer is $299.

At PMA I learned that Fargo Electronics will be focusing its attention on ID printers, which was the company's original product line. Fargo sold their line of dye sublimation page printers to the newly formed Primera Technology who will be marketing the existing line of dye sublimation printers and will be introducing new ones as well. You can visit the new company's web site at: www.primeratechnology.com.

Luminos, whose ink jet paper I featured in a past Digital Innovations column announced several new ink jet products at PMA. The new preservation series includes five different paper stocks that are specifically designed to simulate the kind of art papers used in fine art reproduction. Paper types include Gloss, Soft Suede, Classic Velour, Flaxen Weave, and Museum Parchment. The papers are design to work with the new LumiJet fine art Preservations inks. The Platinum inks are designed to achieve maximum fade resistance, but you'll have to change the color tables used in your image-editing program to match the ink's characteristics. The Preservation silver inks closely match the color and performance of your original printer's inks but have increased resistance to fading. Luminos also offers standard LumiJet inks which are formulated to match the performance of Epson's original equipment inks. All of Luminos' new inks are available in factory sealed cartridges for a wide range of Epson printers, including the 400, 600, Stylus Photo 700 and EX, 800, 850, 1520, and 3000 models. The company also showed an aerosol spray, called LumiJet Image Shield, that's designed to seal ink jet prints from moisture, fingerprints, and UV light. LumiJet Image Shield doesn't affect the prints' original surface appearance but, according to the company, significantly extends print life. For more information on ink jet image stability, see the sidebar Ink Jet Print Stability. Luminos also introduced LumiJet System Cleaner to clean ink jet nozzles and tubes for maximum printer performance. They recommend use of the cleaner as part of regular printer maintenance, but especially when switching ink jet sets to or from LumiJet Preservation Platinum Ink.

Polaroid, whose booth resembled Mr. Roger's Neighborhood, showed their new PhotoMax digital printer that outputs images on instant processing film. You just insert a 10-exposure pack of Polaroid Spectra film and plug the printer into the parallel port of a Windows-based computer and images can be printed within 30 sec. The printer can be connected to your computer or directly to Polaroid's PhotoMax PDC 640 digital camera for output from the camera. Software includes PhotoMax Pro image-editing software that lets users acquire and edit images as well as add them to business related documents such as business cards, brochures, and even your web site.

Wide Format Printers. It wasn't all that long ago that laser printers were so expensive that few people could actually afford them and they quickly became the province of the service bureau. I remember paying $1.25 a sheet to get laser output from printers that cost $6000-$7000 or more. Times have changed and you can now purchase an ink jet printer for $250 that will produce great looking text and full color photographs. My prediction is that the next frontier in printers will be the popularization of wide format ink jet printers that are capable of outputting poster sized images. While prices for these devices are still a little high for the average photographer, they have become inexpensive enough so that some professional photographers might consider wide format ink jet printers as a way to add a new profit center to their studio's operation. Because you might run into a wide format printer while having fine art images printed at a local service bureau, I wanted to mention a few of the many wide format ink jet printers that were on display at PMA.

Off the show floor, Epson showed me their Stylus Pro 9000 that's been designed for professional photographic application including museum quality fine art reproduction. Like their desktop printers, the Stylus Pro 9000 uses MicroPiezo print head technology but can print large format images at 1440x720dpi in sizes from 13x19-44x100". The printers use a six-color high capacity quick drying ink system that has 220 milliliter cartridges so the printer can be left to output images over-night without having to refill them. The printer uses standard wide format paper types including Photo Glossy paper, Photo Semi-Glossy Pap-er, Semi-Glossy heavyweight Paper, Presentation Matte, Backlight Film (for displays), and Canvas. The Stylus Pro 9000 has 128MB of built-in memory and a 200 MHz RISC (Reduced Instruction Set Computing) processor built-on. The printer has standard network connections as well as parallel, SCSI II, Serial, and USB, which means that you can hook it up to any standard Mac OS or Windows computer. With an estimated street price of $7995, I expect the Stylus Pro 9000 will find a home in print shops, service bureaus, and professional photography studios.

Roland showed their Hi-Fi Jet wide format printer at PMA. Priced at a service bureau oriented $18,000, the Hi-Fi Jet has two models that offer 1440x720dpi printing with 64 nozzle MicroPiezo print heads. One printer is designed to print on 50" width paper and the other can handle paper as wide as 40". Interchangeable ink sets allow the user to choose between Pantone's Hexachrome color system that allows images to have both smoother pastel tones and eye popping color. Hexachrome is a relatively new, six-color (hence the "hexa" prefix) color system, that adds a blazing orange and bright green color to the existing CMYK color space. Hexa-chrome's color gamut is beyond most color monitors and even some traditional printing techniques but produces rich-looking colors.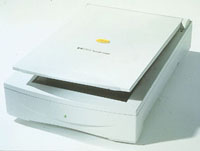 For those skeptics who never thought they would see an HP printer priced under a hundred bucks, you're looking at it. The ScanJet 3200c is a 30-bit, 600dpi scanner that has an estimated street price of $99.
Ink Jet Print Stability
I have been asking ink jet printer companies for years to give me answers to a question readers have asked me for a long time: How long will these images last? Hewlett-Packard, who manufactures the DesignJet CP wide format, introduced me to study the ink jet materials made by Wilhelm Imaging Research. Using a HP DesignJet 2500CP and high-stability, pigmented based UV inks, showed that prints could be displayed for 100 years before noticeable fading occurs. The method was based on indoor conditions in which the prints are framed under glass and exposed 12 hours per day under 450 Lux illumination.

The same report shows that photo quality prints made on an Epson Stylus 3000 using Epson Photo Quality Film could be displayed for two to three years before noticeable fading occurs. Prints made with Epson's Photo Glossy Paper may show fading in two years. At a private meeting, an Epson representative told me that the company has recently reformulated their Photo Quality Paper and the new paper has the identical dark storage capability as color silver halide prints. The new Photo Paper also showed extreme stability in high humidity conditions in which some ink jet paper fails and the ink starts leeching out of the paper. Epson's own tests show a life as short as 1.8 years before noticeable fading occurs but as high 10 years, depending on lighting conditions.

Luminos' Preservation Inks have been specially formulated for producing ink jet prints with an extended life and the company claims their Platinum inks have an estimated life of 65-70 years in average indoor display conditions when used with LumiJet preservation series media. The Silver inks offer an estimated print life of 25-30 years when used with LumiJet preservation series media.

FEATURED VIDEO