PMA 08; Memory Cards Page 2
New CompactFlash Cards
Although the SD format is far more common, several companies have released new CompactFlash cards, primarily targeting serious photographers using high-end D-SLRs. Some of the latest products are UDMA compliant. As discussed in last year's report, UDMA cards employ a new data timing mode called Ultra Direct Memory Access instead of conventional PIO technology. Boasting a 233x or much higher speed rating, UDMA cards are remarkably fast. Do note, however, that they provide the maximum specified write speed only with UDMA-compliant cameras: certain D-SLR models released since the spring of 2007 (and many medium format digital backs).
Several new CompactFlash cards with UDMA designation were announced at PMA 2008. In cameras that are not UDMA compliant, these cards work fine but provide no benefit over a conventional 133x or 266x CompactFlash card. (Check the specifications sheet for your camera on the manufacturer's website re: UDMA compatibility.) For maximum data transfer speed to a computer, you will need a UDMA-enabled FireWire card reader (such as the Lexar Pro series) and a fast computer. If you're suitably equipped, check out the Delkin 16GB Pro card ($399 MSRP) with lightning fast 305x rating (up to 45MB/sec sustained transfer capability).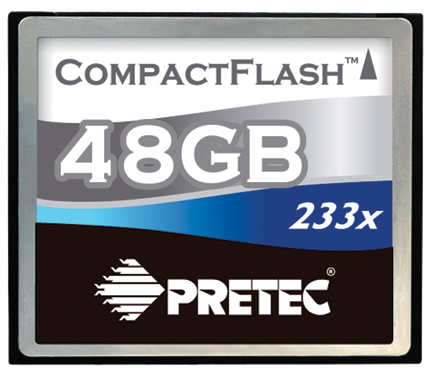 The latest UDMA card from Pretec is even faster at 333x for a maximum read/write speed of 50MB/40MB per second ($899 MSRP for 24GB). Pretec also makes a 233x UDMA version (35MB/30MB per second) for those who do not shoot unusually long high-resolution bursts. It's now available in capacities up to an incredibly high 48GB ($699 MSRP); that's equivalent to almost 12 DVDs or 69 CDs.
The PNY Optima Pro line (to 32GB) and the RiDATA Supreme Series (to 16GB) are 266x rated and both are also UDMA compliant (prices not yet set); they provide sustained read/write speeds up to 40MB/35MB per second.
If the camera you own--or plan to buy--is not UDMA compliant, any fast CompactFlash card would be a fine choice. The new RiDATA SMART cards from Ritek USA are particularly noteworthy since they include a Write Protection feature. A Self-Monitoring Analysis and Reporting Technology system helps to prevent data errors; that can minimize the loss of image data. The Write Protection cards (prices not yet set) are available in two lines: Supreme 150x with capacities up to 8GB and Lightning 120x in sizes up to 16GB.
And for those who want exceptional capacity at a bargain price, Transcend offers a new 32GB CompactFlash card with a 133x speed rating for a mere $210 (street price). This card provides a read/write speed of up to 45MB/16MB per second, and in spite of the modest price, it comes with a Lifetime Warranty.
Other Card Types
Two other formats remain available although they are not used very widely. The xD-Picture Card can be used in many Olympus cameras, and in a declining number of Fuji cameras. The new Olympus xD Type M+ series card, in capacities up to 2GB ($42 MSRP), is said to be 1.5x faster than the standard Type M card. Data on actual read/write speeds was not available. As you might expect, the new card is compatible with the Panorama, 3D, and Art modes available with some Olympus digicams. (Other brands of xD cards do not support those features.)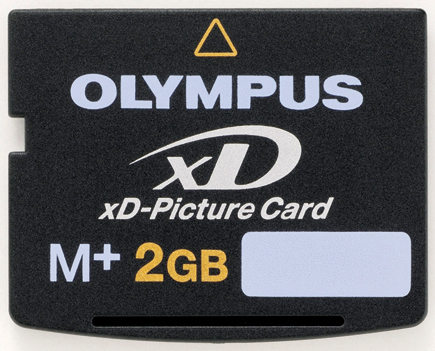 The Memory Stick PRO Duo card is required by most of the recent Sony digicams and it can be used in the Alpha D-SLRs with an adapter. Older Sony digicams that use the full-size Memory Stick will also accept the smaller, newer card with an adapter. Sony now makes the PRO Duo in a higher capacity than ever before, up to a full 16GB ($300 MSRP). The speed remains the same as in lower capacities; apparently the minimum write speed is 15MB/sec.

LATEST VIDEO

SPONSORED VIDEO
Testing Tamron's SP 150-60mm G2 lens while capturing birds and alligators in Apalachicola, Florida.