PMA 08; Memory Cards
As digital camera resolution is increasing, memory card manufacturers are keeping up, releasing new products with greater speed and storage capacity. Whether you shoot raw or the finest JPEGs, there's definitely a benefit to using the fastest memory card. The extra speed is useful primarily for greater burst depth--more frames in a long series--but also for shorter data recording times. A high-speed card is also ideal after a long trip, when you're transferring hundreds of images to a computer (with a very fast card reader).
New SDHC Cards
The Secure Digital (SD) format is quickly becoming the most common in all types of cameras so we're seeing a real push on greater capacity. Virtually every new card announced in the past 18 months has been SDHC (High Capacity) designated. (The original SD format was limited to 2GB.) The switch to higher-capacity SDHC cards requires the newer FAT 32 protocol. As a result, the SDHC cards are compatible only with recently built digital cameras and memory card readers. (Note: If you're using a device older than about 18 months, check the specifications on the camera manufacturer's website.)
Just like CompactFlash cards, the SDHC types vary in speed. Typically, they're rated with a Class designation based on the SD Card Association's specs. These denote the minimum sustained read and write speeds of 4MB/sec for a Class 4 card and 6MB/sec for a Class 6 card. (The "write" speed refers to in camera use while the "read" speed is relevant to data transfer to a computer; actual transfer speed depends on the card reader and the computer, of course.) Since those are minimum ratings, some SDHC cards can accept data at a much faster rate. Do note, however, that some companies provide specifications based on a maximum sustained rate so be careful when making comparisons.
Because numerous Class 6 cards were already available, the primary emphasis this year was on greater capacity, although speed was not being ignored. All Lexar cards are now available in 8GB versions and the new Professional 133x Platinum II model ($250 estimated MSRP) boasts a minimum sustained write speed capability of 20MB/sec. That's incredibly fast. Frankly, not many digicams or older D-SLRs can deliver that speed, making even a Class 4 card fine for such equipment. Kingston's new SDHC Class 4 card is now available in capacities up to 16GB ($231 MSRP).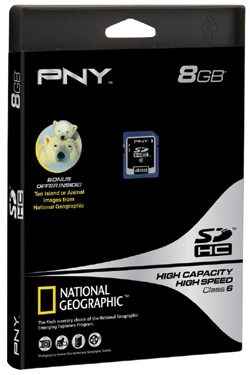 The SDHC cards from PNY are available in both Class 4 and Class 6 versions, in sizes up to 32GB ($249 and $299 MSRP) so you can buy exactly the desired speed/capacity. In truth, 32GB is more than most of us need for still photography since it will hold about 4500 JPEGs made by a 12-megapixel D-SLR. That can be a huge problem if you lose even a single card after shooting for a couple of weeks or during a major assignment. Frankly, the ultrahigh capacity cards are more suitable for owners of AVCHD video cameras since they'll hold over five hours of 1080i movies.
In any event, if you want a 32GB card in SDHC format, you can find several. Panasonic's gold series is available in a wide range of capacities up to 32GB ($699 MSRP) and promises a minimum write speed of 6MB/sec but a maximum data transfer speed up to a full 20MB/sec. SanDisk's Ultra II series will be available in capacities from 8GB up to 32GB ($349 MSRP, with a free card reader) with "50 percent faster read and write speeds": a maximum of 15MB/sec in both aspects.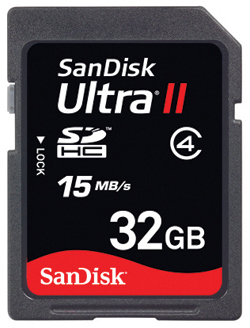 The most innovative new SD product--the world's first wireless memory card (2GB, $99 MSRP)--is available from Eye-Fi and also from Lexar. It comes with everything needed for a connection to your home Wi-Fi network. After the simple and quick setup, pop the card into your digital camera and go out to take some photos. When you get back home, turn on the camera and computer and your images will be transferred automatically. They can even be uploaded directly to your favorite online photo-sharing site. The Eye-Fi and Lexar Wire-Free SD cards require Internet connection and a Wi-Fi network; they'll work in public hot spots but only those without a password requirement. The cards are compatible with 802.11g, 802.11b, and 802.11n networks and they're loaded with software for both Windows and Mac operating systems.

FEATURED VIDEO