PMA 08; Digital Storage And Display Page 2
I got a gander at the two latest HyperDrive models to come from Sanho (BKA). I was especially impressed by the ColorSpace "O"--I found the display easy to read and navigation was much simplified, compared with the earlier HyperDrive Space. ColorSpace sports a 2.2" QVGA color screen, slots for 18 of the most popular memory card types, USB data port, user-replaceable 2.5" IDE/PATA hard drive, and generic rechargeable lithium ion battery. If you don't anticipate a need for all those memory cards, then go with HyperDrive ColorSpace "O" and its considerably larger 3.2" color screen, with support for 11 card types. Measuring only 5.24x2.95x0.98" and weighing 9.5 oz (with hard disk and battery), ColorSpace will support up to 120GB of downloads on a single charge, both JPEG and raw. Of special importance to anyone who has accidentally corrupted or formatted a memory card, the device comes with data recovery tools. When connected to a computer's USB 2.0 port, the device operates like any hard drive. MSRP for HyperDrive ColorSpace: 40GB/$259, 80GB/$299, 120GB/$330, 160GB/$359, 250GB/$459; HyperDrive ColorSpace "O" (with 3.2" color screen) is $40 above those prices.
Storage Appliance ClickFree HD700
Storage Appliance showed the ClickFree HD700 for data backup. Once plugged in via USB port, the device automatically launches, searches, and backs up anything important without you ever having to push a button. Subsequent backups are done in the same manner with new files copied to the device. You can back up data from up to five PCs (Mac support to come). About 400 file formats, including JPEG, TIFF, DNG, and raw, are recognized. And it's surprisingly affordable: 120GB storage capacity for $149. Also of interest is the ClickFree DVD Photo Backup (Windows). Once backed up, the integrated photo viewer allows users to view, print, and share photos. For power users, ClickFree Automatic Backup provides numerous options for a fully customized backup. Users can target photos in specific folders, select file extensions, and choose to extract photos from e-mail and zip folders. ClickFree DVD Photo Backup is packaged with two discs capable of storing up to 5000 photos in over 60 different file formats, with a suggested list price of $4.99.
Western Digital My Passport Essential
Western Digital introduced its new My Passport Essential portable USB drive, a redesign of an older model. Weighing in at less than 5 oz, the drive is bus powered and supplied with security software (128-bit encryption--Windows only). WD Sync software allows consumers to take desktop content with them by simplifying the synchronization of essential personal files and Microsoft Outlook data on a PC. Google software on the drive allows users to quickly locate files with the Google Desktop Search tool, manage photos with Picasa photo organizer software, and simplify web searches with the Google Toolbar search bar. MSRP for the Western Digital My Passport Essential USB Drive 320GB is a very reasonable $199.
Digital Photo Frames
Last year a relatively new phenomenon, the digital photo frame, began becoming popular, though they had been around for some time. This year frames came pouring out of every nook and cranny, even from companies where you'd least expect to find them. I'll begin simply by listing just a few of the companies that have entered the fray or strengthened their market position with new products this year: Coby, JOBO, Nextar, Norcent, and Royal, and move on to slightly more detailed info on others.

Digital Spectrum Solutions introduced the Nu-Touch 700, which is a very stylish 7" frame with a touch-sensor array that remains invisible until you swipe a finger across it.
Digital Foci debuted some charming items that will make perfect gifts for birthdays and holidays: the Pocket Album OLED Series. The 2.8" version ($99) comes with a wrist strap and holds more than 3000 photos, whereas the 1.5" model ($49) comes as a digital keychain and holds 120 photos. OLED technology provides an excellent display of images from almost any viewing angle.
HiTi Digital unveiled what may be a world's first--the K80 ($180 estimated), an 8" photo frame with embedded Bluetooth connectivity, which means you don't need a dongle (a physical "key" that unlocks this capability) to make it happen. Images can now magically fly from any Bluetooth device, such as a mobile phone, over to the frame for instant slide shows. And it has an intuitive touch-sensitive control panel, with PictBridge printing support.
Media Street showed us what may also be a world's first--the eMotion Solar Portable Media Player & Charger, which is a handheld, solar-powered digital photo viewer about the size of a typical portable hard drive/viewer. But isn't it nice to be free of those pesky batteries for a change? It has 1GB of internal memory, and supports SD cards. To make it even more interesting, this device will also charge other devices, such as a mobile phone or MP3 player.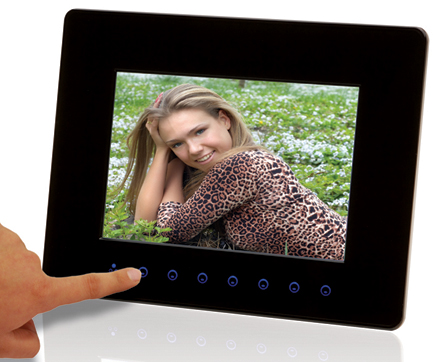 Digital Spectrum Solutions Nu-Touch 700

FEATURED VIDEO