PMA 08; Digital Storage And Display Page 3
Mustek brought out an array of products, among them the PF-i700 digital photo frame ($129 MSRP) with built-in Apple iPod docking station and the PF-A950A ($249), the world's first digital frame with NXT Flat-Panel Speaker technology for lush surround-sound photo shows. And if you want to wake up to pictures, there are the FOTOstation ($79) multimedia alarm clock (includes FM radio) with 2.4" display and the PF-E700 ($149) with 7" display (no radio)--and both with USB and memory card support.
It wasn't too long ago when Casio introduced a digital camera in the form of a watch. If you have one of these, you can take pictures on the one hand, and show them on the other with the very smart-looking Neutrano Photowatch (under $100).
Pandigital focused on tabletop digital photo frames and debuted two hi-def (1024x768) 15" ($300 MSRP) and 10.4" ($250) models. They also focused on redesigning existing frames to get rid of the visible IR (remote) aperture, to give the frames a cleaner, more appealing look. These changes will be accompanied with new software that gives the frames Wi-Fi and Bluetooth connectivity (requiring a dongle). Another new development is the PanTouch Photo Album, with a touch element (though not touch screen) and an improved graphic user interface.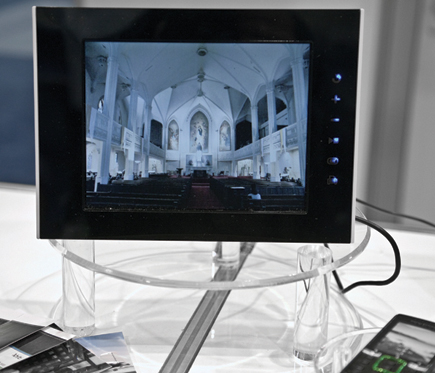 Well, if you've ever wondered what could replace that big-screen TV in your living room or den, Smartparts has the answer with the world's largest--32"--digital photo frame model SP3200 ($899)--and it's widescreen. And if that's not enough, they also debuted the world's first digital frame with a built-in dye sub printer for 4x6 glossy prints, the SP8PRT ($279)--it doesn't get much better than that.
Media Street eMotion Solar Portable Media Player
Sony unveiled several photo frames, including the Bluetooth-enabled DPF-V900 ($250) and DPF-V700 ($190)--both requiring optional Bluetooth adapter, with JPEG and raw (selected formats) support. These two models also feature Sony's BIONZ processor with face detection technology for faster processing speeds, as well as in-frame photo correction such as focus enhancement, redeye correction, and exposure adjustment.

FEATURED VIDEO