PHOTOSHOP ALERT: Don't Use the USELESS Levels Tool (VIDEO)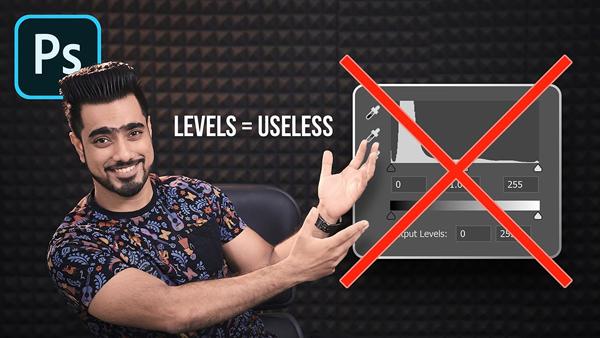 What, what? If you're confused by the headline above, admittedly so was I. One of the first things many of us do when opening Photoshop is use the Levels tool to make quick, basic adjustments to exposure. But according to a very trusted source, you should never, ever use Levels. If that sound like blasphemy, read on.
To paraphrase internationally acclaimed image-editing expert Unmesh Dinda, this commonly used tool is total garbage. In fact, Dinda wonders aloud, "Why does Levels even exist in Photoshop." As you'll in the tutorial below, he discusses eight specific reasons why Levels adjustments are "totally useless and unnecessary."
Of course Dinda is more than a naysayer and his goal is to help everyone do a better job enhancing their images, so he doesn't leave us hanging in this eye-opening video. Instead, he demonstrates what he insists is a much better alternative, with superior controls and more advanced features. And his approach enables you to play with both colors and light.
Dinda's method is all about the "almighty" Curves tool, that he says does a better job of everything Levels lets you accomplish, and much more. And he demonstrates this thesis in a very convincing manner. Sure it may be something new to learn, but once you get the hang of it, you may never use the "sub-almighty" Level tool again.
Dinda's first beef is that the use of Levels frequently results in a loss of colors and detail. That's because all Levels really does is add blacks or whites to an image. Of course you can do exactly that with the Curves tool, but it's the other capabilities that provide the magic.
The power of Curves is that it enables you to choose any point in the brightness range and selectively adjust portions of an image. As Dinda explains, this tool is also far superior to Levels when it comes to special effects. Moreover, the Curves tool lets you manually draw brightness levels and effectively manipulate color.
You may want to take a few notes while watching this video, but this approach becomes second nature in no time. You can find much more from Dinda on his YouTube channel. And if you missed yesterday's Photoshop tutorial, with a cool trick for giving images a golden "Midas Touch," be sure to take a look.

LATEST VIDEO