Give Photos the MIDAS TOUCH with This Fun & Easy Photoshop Trick (VIDEO)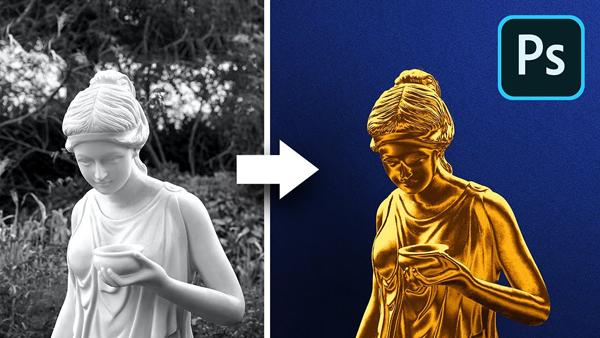 There's a reason that image-editing guru Unmesh Dinda has almost three million subscribers to his YouTube channel. With a motto of "Keep Creating," Dinda offers a steady stream of easy-to-follow Photoshop and Lightroom tutorials for users of all experience levels.
In the fun episode below, Dinda demonstrates how to turn any object gold with a quick set of photo adjustments he calls "The Midas Touch." For purposes of demonstration, he's using a photo of a white statue, but this technique will obviously work great for all sorts of images.
As a bonus, Dinda also explains how to quickly create a "luxurious" background for a shot, after you've applied his gold effect.
As you'll see in the quick video below, all that's required for the "Midas Touch" is a simple Curve, a one-click filter, and a couple easy adjustments. And you can download the Curves preset for free, along with the sample image from the tutorial, using links in the description below the video.
Dinda provides keyboard shortcuts for the necessary steps, and he begins by separating the statue from the background. Then he demonstrates how to turn the background layer black using the Select Subject tool. From there, it's a simple matter to strip away all the colors from the shot using the Hue/Saturation sliders.
Now it's time to create a Curves adjustment layer and turn the statue gold using a crazy "zigzag" technique. He first gives the statue a chrome effect, before applying the "Midas Touch." Depending upon the image you're working on, you may have to tweak a couple settings, but it's really easy to do.
You can find more editing tips on Dinda's YouTube channel, and in another tutorial we posted recently that further explains using Photoshop's Curves tool.

FEATURED VIDEO