Photographing Parties
Parties and celebrations vary among family and friends and around the world, but festive occasions are very important universally. Gatherings of people--whether it's a child's birthday party, holiday dinner, or a class reunion--provide memories and numerous picture opportunities. These photos let us relive important events in later years.

To successfully capture the essence of an occasion, it's a good idea to photograph it before, during and afterward. Of course, people are the essence of a party, but pay close attention to the props as well. Photographing details like party decorations can make a strong statement. To isolate details like these, you may want to utilize the telephoto setting on your camera's built-in zoom, if it has one.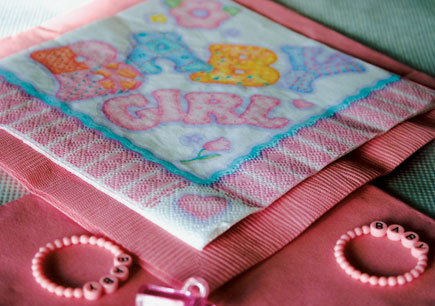 Photographing festive decorations and small details can make a strong statement.
Reader photo by Lauren Darcy, Santa Cruz, Ca
You may want to shoot some pictures before the event begins. For example, a beautifully set table will become very messy and chaotic once the party is underway. An artfully decorated cake always deserves to be photographed before it's divided among the party revelers. On the other hand, the aftermath of a event can provide some great photo moments as well.

Group portraits are often a priority on special occasions. Just be sure to arrange people in interesting configurations, rather than just lining them up like a firing squad. If you're posing people, take advantage of your surroundings whenever possible. If the event is outside, you can position people on steps or on the slope of a hill, for example. You might also consider shooting from a high angle, like a balcony or a second-story window. This will offer a good overview of the party guests, and it's easier to render everyone's face visibly. Soft, diffuse lighting is important when photographing people outdoors, so look for areas of open shade. If it's a lightly overcast day, you're in luck. In bright sun, a little fill-flash will help to soften shadows.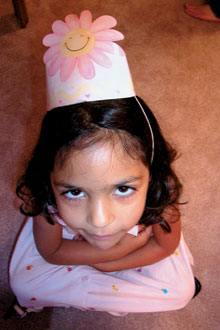 Using a wide-angle lens and a high vantage point makes for a cute photo of this droll party girl.
Reader photo by Jasmine Chapgar, Bluebell, PA
Indoors, you can pose some people standing and others sitting at a dining-room table or wherever they're gathering for the event. One good time to shoot a party is when guests assemble at a table for a meal. Everybody feels comfortable and is usually having a good time. For best results, you may have to stand on a chair to get a high angle to include everyone's face. If you must take pictures of large groups at their level, ask the taller people to stand in back, with shorter individuals in front. When shooting large groups of people indoors or outside, you'll probably need to adjust your camera's built-in lens to its wide-angle setting to encompass everyone.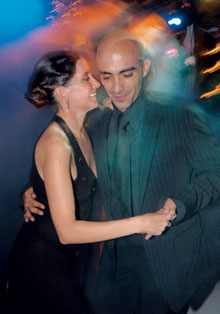 Motion effects combined with flash give an image a dynamic look.
Reader photo by Bruno Taverna, Zapopan, jalisco, Mexico
While the party is in progress, it's a good idea to capture some candid moments. This means you must be unobtrusive and always ready with your camera so you won't miss a thing. A lightweight point-and-shoot camera or an SLR set on its automatic mode are ideal choices for candids. If you're outdoors and can shoot under natural lighting conditions, you won't have to depend on flash. Indoors, you may need to use flash, or fast film (ISO 800--1600), or an equivalent setting on a digital camera. In addition to maintaining a low profile when shooting candidly, it's important to take a lot of pictures quickly to increase your chances of capturing some memorable party moments.


FEATURED VIDEO