Photographing Boudoir in Natural Light: Tips and Tricks (VIDEO)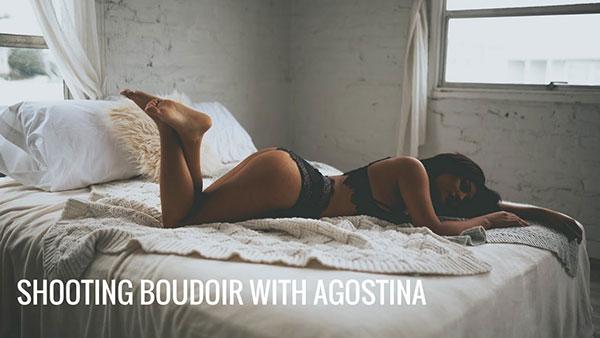 We've been featuring more and more boudoir photography how-to stories and videos on Shutterbug.com, and the response from readers has been positive. So, here's another great boudoir how-to video, this time from Photo-Me-Ike, who we featured a few days ago with a lighting test video.
In the below clip, Ike teams up with boudoir photographer Agostina DiMartino at DiMartino's studio in Everett, WA to show how to capture this type of intimate photography while using only natural light. In the behind-the-scenes video, DiMartino gives the ins and outs of how she shoots boudoir including posing, directions to the model, camera angles, and the use of natural lighting.
In particular, DiMartino spend time with her model, Juanita, in front of her studio's large windows to demonstrate how to use this great natural light source to produce flattering and unique boudoir shots
"I have them face the window because I want the light to highlight and accentuate their face," she says. "I don't mind shadows. I shoot only natural light, so I embrace the shadowing."
While DiMartino's studio is large and spacious, she primarily uses a 35mm when photographing boudoir. "The 35, for me, looks the most like what I see in real life," she explains. "My boudoir is lifestyle, and I want you to feel like you're in the image. I want you to feel like you're standing right there, and I feel like the 35 really shows that best."
Her gear of choice is a Canon 5D Mark III with a Sigma 35mm f/1.4, which she shoots with "wide open."
You can see more of DiMartiono's work here. Watch more of Ike's photography video's here. And you can check out our other recent boudoir photography coverage here.

FEATURED VIDEO