Photo Backpacks; Amiable Traveling Companions For Your Gear Page 2
The Kata HB-205 GDC (Global Digital Collection) Hiker Backpack accommodates two or three D-SLRs and up to eight lenses, including one full-size 400mm f/2.8. Thermal Shield Technology (TST) is a unique combination of material and engineering that provides maximum protection with minimum weight. The outside structure is made from an abrasion-resistant ribbed fiber product that is dust and waterproof. Underneath, a closed-cell foam shield provides protection from impact, moisture, and temperature extremes. The bag is equipped with a set of modular dividers, and there are two soft TST open pockets for water bottles or other small items. The rugged harness system is designed to allow for adjustment in all dimensions to ensure a snug, comfortable fit. Tipping the scales at a scant 5.5 lbs, the HB-205 sells for $215.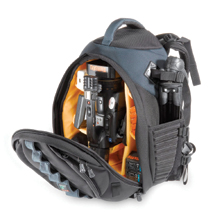 The Tamrac Adventure 9 Model 5549, available for $110 (street) in gray, red, or camouflage, is designed to accommodate a full-size D-SLR in the Canon EOS-1D size range with grip and lens attached. It will easily stow several additional lenses, a 17" laptop computer and other accessories. If you're looking for a well made, lightweight bag that will hold enough equipment for a full day's shooting, the Adventure 9 is an excellent choice. Tamrac backpacks, like their gadget bags, are famous for high-quality construction and functional details. You'll find the Tamrac SAS (Strap Accessory System) unbeatable when it comes to attaching external pouches and pockets. And the red flag system they use to distinguish available memory cards and batteries from used ones is a real time saver. If you shoot with a smaller D-SLR system, the Tamrac Adventure 6 Model 5546 (about $50) holds a mid-size D-SLR in the Canon EOS 20D class and two or three lenses.
Tamrac's Adventure 9 Model 5549
Airline Carryon Requirements
Yes, it's small, but does it meet size requirements for airplane carryon? If your backpack is larger than 22x14x9" you may run into trouble. Most airlines surveyed limit the size of carryon bags to a combined length plus width plus girth of 45", with a weight limit of 40 lbs. Continental allows slightly more generous dimensions on domestic flights: a combined total of 51". If you're traveling internationally, check your carrier's website.
Manufacturers/Distributors
Bogen Imaging Inc. (Kata)
565 East Crescent Ave.
Ramsey, NJ 07446
(201) 818-9500
www.bogenimaging.us

Lowepro
1003 Gravenstein Highway North, Ste. 200
Sebastopol, CA 95472
(707) 827-4000
www.lowepro.com

Naneu Pro
551 W. Grant St.
Orlando, FL 32805
(866) 806-2638
(407) 859-9571
www.naneupro.com

Tamrac, Inc.
9240 Jordan Ave.
Chatsworth, CA 91311
(800) 662-0717
(818) 407-9500
www.tamrac.com

Think Tank Photo
2360 Mendocino Ave. A2
Box 307
Santa Rosa, CA 95403
(866) 558-4465
www.thinktankphoto.com
This report shows a small sampling of the extensive line of backpack manufacturers/distributors. To see a more complete line-up, visit our website, www.shutterbug.com, and click on Links, then Accessories, and finally, Camera Bags.

LATEST VIDEO