Photo Backpacks; Amiable Traveling Companions For Your Gear
It's been said that every gadget bag is a compromise between how well it protects your gear and how easily your equipment can be accessed. This is especially true with photo backpacks. But if you need to carry a heavy load of gear into the field, a properly fitted backpack is hard to beat. Besides cost, there are five points to consider when selecting a backpack. How you rank them depends on how and where you plan to use the bag.

Protection
The first point is protection. The typical backpack is divided into three or more functional compartments, although designs differ from bag to bag. Except on the least expensive bags, the main equipment area can be further divided by means of adjustable partitions that secure with touch fastener-type hook-and-eye fasteners, so each camera body and lens sits in its own space. Look for well-padded dividers that create thick walls between individual items. The second area is for a notebook computer. If you carry a 17" notebook, make sure the backpack has a PC sleeve large enough to accommodate that size. The third area is for miscellaneous items. Sometimes this space can be used to tote something as large as a folded raincoat, but it's usually the smallest compartment more suitable for accessories and cables.

Accessibility
For most photographers, accessibility is the deciding point. How frequently will you need to get at your gear? Because backpacks position your equipment behind you, it can be hard to reach a lens or accessory without removing the bag and setting it on the ground. Notable exceptions to this rule are the sling-type packs from Lowepro, Tamrac, and others that can be quickly swung around from your back to your front. You may also want to consider using a waist pack in addition to your backpack--that way you can keep mission-critical items within easy reach. You can also attach frequently used equipment to the outside of most gadget bags, either in a pouch (as in the case of a cell phone or GPS) or by rigging it directly (a tripod, for example). Some manufacturers offer a full line of dedicated accessory pouches to accommodate a water bottle, filter pouch, memory card case, or other custom-fitted container.

Comfort
Look for a pack that has wide, padded straps. Most backpacks make use of modern, lightweight materials that provide tremendous strength and minimal weight. Some bags have harness-type straps that interconnect across the chest or waist belt and allow you redistribute the load to achieve better balance. If you travel through airports often, consider a backpack that is equipped with internal hideaway wheels.

Durability
Backpacks are made from a variety of materials, the most popular being a nylon derivative called ballistic nylon. The denier (the linear mass or "heaviness") of the fabric differs depending on bag maker. Lighter weight materials are used for internal areas. In general, look for tightly double-stitched seams, YKK zippers, and strong hardware connections, particularly if the shoulder straps are removable.

Many bags are waterproof and/or include fitted, seam-sealed rain cover as part of the standard package.

Cosmetics
Beware of good-looking backpacks that were not designed to carry photo equipment. While they might be handsome and wear a famous logo, most general-purpose backpacks do a lousy job of protecting your camera equipment. Besides, there are so many dedicated photo backpacks available you're bound to find one that suits you.

One backpack that defies classic definition is the Rotation 360Þ from Think Tank Photo. Whereas most bags position your gear behind you where it's essentially out of reach, the Think Tank Rotation 360Þ offers the best of all worlds. A horizontal hole that runs through the lower third of the backpack allows a medium-size belt pack to travel from its rear resting position, through the opening, and around the girth of the wearer. In the normal position, the smaller bag constitutes the bottom part of the backpack. When rotated it becomes a convenient belt pack. As a result, the weight stays behind you (where your body can best support it) when it's not needed, and in front of you when you need it. Priced at $279, the Rotation 360Þ holds a ton of equipment and is built like a tank.
Think Tank Photo Rotation 360º
Naneu Pro offers a great-looking, lightweight photo backpack that can be converted into a daypack by simply removing the internal padded compartment. The Alpha BDU Special Edition is available in two camouflage patterns ($99), Desert or Woodland. It offers a roomy top compartment for personal gear and a bottom compartment that can be subdivided with traditional style dividers. The Alpha has a tripod tether, padded waist belt and shoulder pads, plus several outside pockets for stowing small items. It also comes with a cell phone holder, rain cover, and small compass.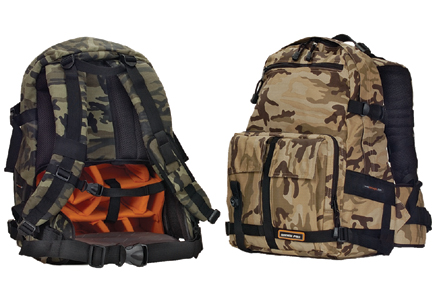 Lowepro's SlingShot 300 AW ($99), the largest in the popular SlingShot series, is a hybrid cross between a backpack and a shoulder bag. It's carried on the back like a traditional pack, but its unique design allows the user to shift the entire bag to the front for easy equipment access. The bag is very well made, and will accommodate one D-SLR with a long zoom attached plus five or six other lenses. The outer fabric is water-resistant, and Lowepro includes a waterproof cover for added protection against rain and snow. For lighter loads, the SlingShot 200 AW and SlingShot 100 AW offer all of the functionality of the 300 but hold fewer lenses. All three feature well-designed interior compartments that include thoughtful touches like memory card pockets and microfiber cloth protection for your camera's LCD.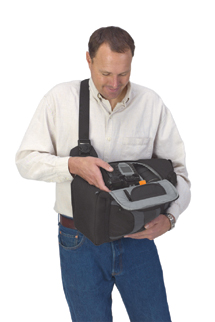 Lowepro's SlingShot 300 AW

LATEST VIDEO