Passport
The Time Out Theory Of Travel Photography
I ran into rain one day in Vermont, so I took time out to create my own composition of colorful leaves. I had a 60mm Micro-Nikkor on my F4.
Photos © 2001, Jack Hollingsworth, All Rights Reserved
I plan to the hilt. As a pro traveling on assignment or for stock shooting, I have to, but the problem is I often feel I'm overloaded with itineraries and details. I've got my shot list, my research reports, my source notes. I often have hour-by-hour breakdowns of how I'm going to spend my time and where I'm going to be at any given moment. After all, I have to know where to be when the light is at its best, right?
Sound familiar? When you travel on vacation, for fun, do you often feel overwhelmed by your own schedule? I can't tell you what to do about that, but I can tell you what I do: I take time out. In a sense, I actually plan for not planning.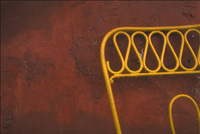 My time-out chair, Positano, Italy. Why do we always need to show the complete subject? Composition can add mystery and design. I used my favorite lens--the 50mm Nikkor on my F4.
Well, maybe I don't exactly plan for it--but I fully expect that there will be those times when I'll have nothing to do, nothing on my schedule, nothing in particular to accomplish except discovery. And if I don't find those times, I'll create them. I need them, no matter how short they may be, as a rest from the shoot-and-move-along pattern of my days. These are the time-out moments when I relax a bit and shoot for myself simply because something catches my eye or my imagination.
I've found that these opportunities, when I can shoot what I want to shoot rather than what I have to shoot, reflect my nature, my personality, and my sense of vision. They tell as much, or more, about me as they do about the subject of the photograph. The pictures I take during those moments are often of the small details, the simple graphic compositions that frequently get lost in attempts to make "the big picture."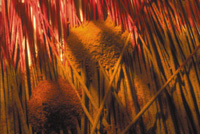 A few hours in my Bali hotel room and the 60mm Micro-Nikkor on my F4 produced this still life.
In fact, I often think that it's very difficult to put your personality into a photograph of say, the Washington Monument or the Eiffel Tower. For the most part, those photographs have little to do with the person who took them. The time-out photographs that capture the small details are really all about the photographer and the photographer's reaction to where he is.
On The Road
For example, there's the photo I took from a hot air balloon over the Masa Mara plain in Kenya. I had a chance to take the flight while on assignment. No one spoke as we floated slowly up through the stillness of dawn. We were perhaps 200-300 yards up, the fog burning away, and the photo I took captures the peace and tranquillity I felt at the moment.
I'd packed the camera away after a long day of shooting, but on the way back to my hotel there was one more picture to take. I used a 35mm Nikkor lens on the F4 to get it.
The very opposite of that feeling came upon me once in Positano, Italy. There was so much going on--so many people, so much visual stimuli, so many pictures to make --that I needed to stop and catch my breath and take a break from the frenetic pace. I spotted a chair by a wall and sat down. After a time I got up to resume the chase--and as I started to walk away, turned back and captured an image of my time-out chair.
When I arrived to take pictures at a beach on Cape Cod the first thing I saw when I got out of the car was a fence bathed in the golden light of sunset. It was so simple and direct an image--in fact, so easy an image, that I first thought that it can't be worth a picture. But it was, and I took time out to get it before rushing off to capture the shot list. Other than composing to get three fences in the picture--foreground, background, and shadow image--I didn't have to work very hard for the picture. But an easy one can be a good one if you just take the time to get it.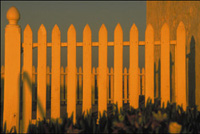 The first thing I saw when I arrived at the Cape Cod beach was this fence. Sometimes the easy ones work out just fine. Shot with the F4 and an 80-200mm Nikkor zoom.
I was shooting fall foliage in Vermont in October when I ran into a cloudy day that delivered intermittent rain. Here was a time-out day--in other words, a chance not to be overwhelmed with opportunities for the big pictures of glorious color. I had time to walk around, think and notice, and I saw how the wet leaves seemed super-saturated with color. So, with time on my hands, I made my own composition of an arrangement that pleased me and took several shots that were designed to do nothing more than please me.
After a long day of shooting in the Amalfi Coast region of Italy, I trudged back to my hotel, worn out. I even had the camera packed away, something that rarely happens. Of course, the shadow cast on the wall of a caf caught my eye, and I took time out to take the final picture of the day. I once took time out from my shooting to turn my hotel room into a studio. It happened in Bali, where the Buddhists who owned the property left incense in the rooms for the guests. I noticed the incense sticks the first day, and from time to time I'd buy a few more sticks, some powdered incense, some saffron, with the idea of taking a few photographs. One day I spent a few hours setting it up in the room, shooting in a combination of lamp light and window light and taping strips of paper to the window to get the slashes-of-light effect on the image. I know that the last thing most people would do is spend hours in their hotel room taking pictures, but, well, I was just taking time out to see and capture what was around me.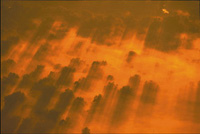 The Masa Mara plain in Kenya, in dawn light from a hot air balloon. Taken with a Nikon F4 and a 35-70mm Nikkor lens fitted with an 85B warming filter.
Travel is complicated. It takes a lot of work, no matter if you're doing it for business or pleasure. My time-out photos simplify the process for me and they fuel me for the rest of the voyage. Looking back on them, I realize that they best capture my personality and my vision. Not a bad return for a few moments of time out, I'd say.

FEATURED VIDEO