Passport
The Last Resort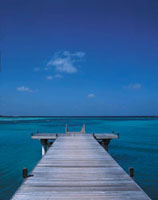 A simple, graphic composition captures the appeal of the locale. (Nikon F4, 35-70mm Nikkor lens fitted with a polarizing filter.)
Photos © 2002, Jack Hollingsworth, All Rights Reserved
I'm not going to tell you that resort photography isn't work--it is; but I'm not going to tell you that it's all work. I like to go early, stay later and bring the family. By going early I get in a day or so of scouting locations. Of course, everything at a resort is going to look good, and it's my job to make it look even better. But I scout because, at the very least, I have a list of things to photograph, and most of the time I have to follow, to the letter, the layout of an advertisement or a storyboard. And not only do I have to get the shots, I have to get the exact angles the Art Directors and account executives want. Angles add drama and interest, and you'll notice them in the great resort photography you see in magazine ads and travel posters.
I can't wait for the guests to show up--my views of the pool have to make it look very quiet, even private. But you'll have to get up early for a shot like this. (Hasselblad XPan, 45mm lens.)
Frankly, following the layout is the least creative part of what I do at a resort. Sometimes I get to stretch out a bit and add some of my own ideas. And then, as I said, I like to try to stick around after the assignment for some personal shooting--for stock or simply vacation shots of the family when they join me at the end of the assignment. I may be a professional photographer but, just like you, I want to capture images that preserve special personal moments.

A resort in its best light--afternoon light, that is, for a view of an island spa and a guest boat. (Hasselblad XPan, 45mm lens.)
Gear For The Road
For resort photography, I travel heavy. I'll carry my Mamiya RZ67 for staff and people shots; my Hasselblad XPan for sweeping panoramas, landscapes and scenery; and my Nikon F4 for everything else. Why not? I've got a room, and I'm going to be there for a while.

There's generally a big difference between the assignment images and the personal ones. For my personal pictures I'm not following anyone's idea or layout. I'm not selling the location. Rather, I'm communicating how I feel about the place, and I'm showing the things that interest me. You do the same in your vacation pictures, I'm sure: here's what the place looks like, here's what we did. You photograph the things that point to what you liked and why you enjoyed yourself.

Taken at midday, when the water appears at its most inviting blue. I used a tripod to steady up the XPan and the 45mm lens.
A resort offers special opportunities for photography. You're going to be there for a while so you can take some time to see the place at different times of day. Most important, you'll see how the changing light of the day works with different locations. Don't be in a rush. As you experience and enjoy the resort, you'll get better ideas for photos--and so you'll get better photos.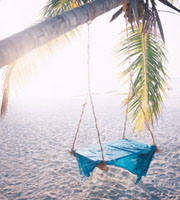 I see this image as representing an invitation to travel. Don't you wish you were right there, right now? (Nikon F4, 50mm Nikkor lens.)
(Below) Images like this are the emotional heart of your vacation. This is what it was like, this is what I saw, and this is how I felt. (Nikon F4, 80-200mm Nikkor zoom.)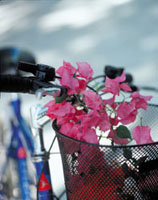 Tell The Story, Many Times
Here's one big idea that you might want to start with: Don't try to capture the resort in one photograph. A lot of people make the mistake of grabbing the wide angle lens and trying to get as much as they can in a single frame. Often those pictures are chaotic and confusing, or simply dull. There is, I think, a better approach. Sure, take one shot of the entrance, but then switch to pro mode and get the individual elements of the place, the details that will give viewers of your photographs the feeling of the locale.
Capture what impressed you, pleased you, and what you want to share; bring back the personal meaning, the smaller slices of the resort world and resort life. Make your photographs a diary of your stay, and aim for something different each day. (All of the photos you see here, by the way, were taken at Four Seasons resorts around the world.)
Start Out By Traveling Light
Because you're not on assignment, I'd advise traveling light. I think you can get 90 percent of your images with a 28-80mm, 35-70mm, or 80-200mm lens on your 35mm camera. Bring a polarizing filter--there's going to be a lot of sunlight reflecting off everything.
Tripod? I bring it, but you're not going to want to--unless you're really serious about your photographs or are thinking of possibly selling them for stock or to the resort itself.

What was that? Sell to the resort? At the risk of creating competition for myself, yes, it's possible. If you come home and have your film processed and find you've got a winner or two, contact the resort. Let them know what you've got and see if they can use it. Be polite, be brief, but state your case and show your best. It can happen.

And if the photos didn't turn out to be winners, as a last resort it probably wouldn't be a hardship to return some day to try again.

FEATURED VIDEO