Passport
Ordinary Attractions
I photographed the snack I bought, and every time I look at the photo, it brings back the feeling of that particular day in Greece. (Nikon F4, 35-70mm zoom lens.)
Photos © 2002, Jack Hollingsworth, All Rights Reserved
Watching out for and photographing the ordinary was something I always did and still do; it's instinctive for me. But it wasn't until I read Focus on Travel by Alan Rokach and Anne Millman that I realized that was what I was doing. The book, published in 1992 and still in print, is one of my favorites, and in it, the authors/photographers say this: "So much of travel focuses on the wonders that attract visitors...that we often neglect the location's typical side...It's often an image of the ordinary that most vividly recalls a place." When I read that I realized that my photographs of ordinary things were memory triggers.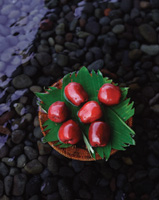 I was shooting for Four Seasons resorts in Bali when I sat down to take a breather. I saw the apples, heard the rippling water and put the two together. Now, each time I look at this photo, I can hear the sound of that water. (Mamiya RZ67, 110mm lens.)
If I look back on my career, I realize that although I'm proud of the work I've done photographing famous locations, distinctive landmarks, exquisite resorts, and luxury cruise ships on assignments for books and magazines and for commercial clients, those aren't the images that I recall with special fondness. Rather, it's the ordinary shots that instantly provide a sense of place, a remembrance of feeling and often a desire to return. The ordinary subjects are the ones that resonate emotionally. They instantly bring the "That was a great trip!" response; the "Man, I remember that day!" reaction.
Memory Triggers
The picture of the Great Wall of China or London Bridge doesn't do it. It's the photograph, for example, of a plate of food that reminds me of the day. It brings back the feeling of working hard all morning, being very hungry, then sitting down in the shade and eating some grapes and then making a shot that will always bring back the feeling of working hard and being happy with what I was doing. And I've found that when I show pictures like that to others, they respond with their own memories and feelings.
I wasn't working that day in the Maldives and was on my way to get a massage when I saw the beach towel. Of course, I always carry my camera, work or not, so I was able to capture a memory of my day off. (Mamiya RZ67, 110mm lens.)
Keep Open To Inspiration
In order to get pictures like that, all you have to do is be open to them. It's so easy for travel photographers, both amateurs and professionals, to become geared to the recognizable, the applauded, the appreciated landmarks of a culture, region, or country, and we can easily spend all our time thinking about those subjects. We worry about how we're going to photograph them: What time of day do I have to be there? What lens do I need...what film?...what filter? Will there be a crowd? Should I put people in the shot? What if it rains? Fair enough--we have to think about things like that,but what we risk is losing sight of the ordinary.


A bowl of flowers on the sand, shot in the Maldives. I happened to notice it on the way to somewhere else. It took 30 seconds to photograph--and to preserve a memory that'll last for years. (Mamiya RZ67, 110mm lens.)
The truth is, no one's going to measure you by your photo of the Eiffel Tower. No one's going to be really impressed by your picture of the Grand Canyon. Those photos have been made--and seen--countless times, and no matter how well you do them, they're already imprinted in our minds. It's how you do the ordinary that's going to set you apart.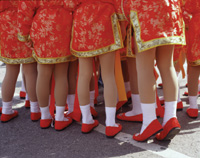 I was more fascinated by the red shoes on the ballerinas than the performance they were giving during a Chinese New Year's festival. I got the performance shot, too, but this is the one that has more meaning for me. (Pentax 67, 90mm lens.)
And often it's easier to capture the ordinary. It's going to be there, rain or shine. The light doesn't have to be perfect. The tourists don't have to be having lunch. All you need do is notice what's around you, and then capture those things that add significance to your travels. They may be ordinary subjects, but they are not ordinary pictures. They are specific, personal memories.



FEATURED VIDEO