Passport
Cruising For Images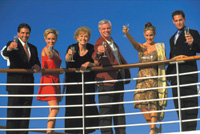 Most people will be happy to pose for a group shot, especially at the start of the cruise. The end-of-day light was perfect for this one. (F4, 80-200mm Zoom-Nikkor.)
Photos © 2002, jack Hollingsworth, All Rights Reserved
If I try to tell you that cruise photography is hard work, you probably won't believe me. And you'd be right. It's work...but the "hard" part doesn't make it. For me it's a combination of work and pleasure, and it's work with both instant rewards and long-term benefits.
In the interests of full disclosure, I have to tell you that I often work for cruise line companies, and my photos are used to promote their cruises. To get the photos I take the cruises, which range from one-week trips to three weeks-plus, and I enjoy 'em. I've been shooting for cruise lines for close to 20 years, and I've cruised all over the world, from the Greek Isles to Africa, Europe to Asia, and of course the Caribbean. My photos are used for the lines' brochures, ads, annual reports, and web sites.

A lot of my experiences are with the smaller, intimate yacht-like ships that cater to the high end of the cruise market. They sail at night, and when you wake up in the morning you're off the ship at seven in an exotic and picturesque port, and you don't have to be back 'til eight or nine. Eat dinner aboard ship and tomorrow you'll be at the next port.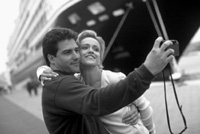 Did I mention how much I like black and white? While I might pack light on the hardware, I take lots of film. If you're really into shooting, I'd say budget 10-20 rolls a day. (F4, 35-70mm Zoom-Nikkor.)
For those of you who like traveling with your camera--and for the really serious folks who wouldn't think of traveling without it--a cruise is truly an awesome way to see and photograph the world. It's travel in the lap of luxury with lots of photo opportunities in picturesque port cities.
And because these cities are prime travel destinations, you'll have access to all kinds of resources that aid photography, like concierges, interpreters, and transportation. Cruise travel is a golden opportunity to get great photographs.

My assignment is to make the cruise line look good, and to that end my pictures are almost always taken with an editorial look to them--a lifestyle look that glamorizes the people, the means of their transportation and the locations they visit. I'm hired mainly for my ability to portray the destination, but I'm always looking for that cool angle, that romantic point of view for all my cruise photos.
The success of my cruise photography depends on my being able to capture lifestyle imagery. This photo was equal parts spontaneity and golden afternoon light. (F4, 50mm Nikkor.)
Which is not to say that I don't take pictures of the staterooms--I do, but they are a small part of what I do. And when I photograph them, I'm especially interested in capturing the details that indicate the level of class and luxury of the cruise ship.
Floating Base
So what's the difference in having a ship as my base of operation? Does it affect how I work and what I carry? Yep, it sure does. First thing, I probably pack a little lighter when I'm on a cruise assignment simply because staterooms are smaller than hotel rooms--though I have been in some pretty small hotels! Another thing to consider is that you're probably going to be buying a lot of things along the way on the cruise, so you want to come aboard as light as possible.
Cruise Gear
I cruise with two camera bodies, four or five well-chosen lenses, two flash units, and my carbon-fiber Gitzo tripod, all stashed in or strapped to my big Lowepro bag. Sometimes I'll even take my Mamiya RZ67 as well as my Nikons. For some reason I'll just decide that today's a 6x7 day rather than a 35mm day and take the Mamiya ashore for the day's photography. I can handle the 6x7 as easily as the 35mm, but I'm not as fast with it, so that may play a part in my decision, depending on what I'm going to be shooting. I often like having the bigger film size. If you're shooting travel stock, which I do in addition to my assignments, you've got to have an edge or an angle that sets you apart, and sometimes the bigger film size gives me that. After all, everyone is shooting 35mm all over the global village.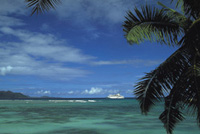 I'm always looking for scale and framing devices for the ship. Landside perspectives can accomplish both while carrying the destination message that my assignment is designed to convey. (F4, 28mm Nikkor.)
Even though the ship moves mostly at night, there are opportunities for "at sea" images while the ship's moving, and for those shots I might think about a faster shutter speed, but that's really a minor point. What does play a big part is a polarizing filter--it's an absolute necessity to deepen the sky and the water, whiten the clouds, and eliminate glare. I don't use a skylight filter, though I do carry a lot of warming filters.
The Ultimate Photo Op
Of course the key point is that a cruise is the ultimate photo opportunity. You have a cultural access that you really wouldn't have on your own in a city or two. Just think of all the different choices you have when your cruise offers a port per day for four or five days or more. Think about going into a port and having at your disposal 20 or more excursions to choose from. What I do is think like a guest, like a tourist. I look at the choices the night before and see what would be cool to shoot and then take advantage of it.
Chances are you're not going to devote the same kind of energy that I do. For you it's a vacation, for me a job, but with all the access a cruise offers, you're going to have the opportunity to get some memorable photos.

FEATURED VIDEO