Passport
F/8 And Be There; No Plans? No Preparations? No Problem.
Here's an e-mail I sent to a friend at the end of June last year:

"Hey, man, I just returned from Prague with some pretty cool pictures--all lifestyle shots of models. I went with no planning, no preproduction, no shot list, no schedule. And no earthly idea of what I'd come back with. It was three days of me, my camera, a local assistant, and a bunch of beautiful models.

You know this is not the way I usually work. Even my short-trip shoots are researched, staffed, and scouted to the hilt. But not this time. This was way out of the box.
All Photos © 2005, Jack Hollingsworth, All Rights Reserved
I knew I'd be in Prague for the CEPIC Congress, the annual meeting of the European stock group, so I figured, why not turn it into a shooting trip? I had some new lenses for the EOS-1Ds Mark II that I wanted to check out, so why not? Pretty soon I got hooked on the idea of just doing it on the fly to see what I could come up with if I got away from my usual highly planned, highly organized, highly structured shoots.

The only thing I did ahead of time was contact a woman who'd be my assistant and translator. I gave her the dates and asked her to line up some models and be ready to go. And that was it. I wasn't there to cast the models; they'd do their own hair, makeup, and wardrobe. There were no locations picked ahead of time. I was thinking, can I get good stuff without a bunch of people, a lot of plans, and a whole lot of noise? You know what those shoots are like, with an entourage following you around, the day all planned out and Plan B, C, D, and E for backup case it rains, snows, fogs up, the sanitation workers go on strike, or the streets clog with traffic.
This time we just walked out of the hotel in the morning--me, the assistant, and five models--and started breezing through the city like a pack of trick-or-treaters, just following our feet. I gotta tell you, the feeling was exactly like in the old days when I started shooting travel, before there were art directors and production budgets, crews and shot lists. It was just show up and explore. Like what amateurs can do all the time, only they use their friends and families as models.

Right off we spotted a bunch of antique and classic cars in a square in the old section of the city. Tourists can take rides in them, but I gave the guy a few bucks and shot one of my models sitting in one of the cars. As I'm shooting, I'm starting to smile. I'm thinking, this is gonna work just fine.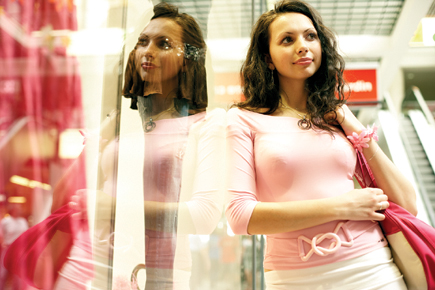 Prague helped. It's a city that's quintessential old Europe in its ambience. Cobblestone squares, gothic cathedrals... you'd have to work hard not to get good shots. I used whatever caught my eye--doorways, outdoor markets, cafés.

I hadn't scouted anything; our locations were whatever looked good at the moment.



FEATURED VIDEO