Panasonic's Lumix G2; Micro Four Thirds Compact System Camera
The promise of Micro Four Thirds system cameras is that you get the light weight and portability of a smallish point-and-shoot camera with the lens interchangeability and functions of an advanced D-SLR. Panasonic goes one step further with the new G2 (retail about $799 with a 14-42mm lens), with enough innovations and new functions to keep even the most jaded photographer from getting bored. The camera works with a true systems approach, with a hot shoe for built-in flash and stereo mic, as well as numerous interchangeable lenses that work within the Four Thirds mount family. One thing that was not fully appreciated at the time of the Four Thirds system launch was the future inclusion of video within all the latest cameras, which to me, in this camera, pretty much eliminates the need for a camcorder for all but the most dedicated videographers. While everyone thought the cell phone-cam would eliminate the point-and-shoot digicam, the digicam, and all the other siblings up the electronic still camera ranks, might just finish off the camcorder.
The G2 can be as simple or as complicated as you like, but a word to the wise—once you delve into its layers of menus and features you can become quite lost in the labyrinth of modes and options. I had a fairly short leash on the testing period for this camera and found that each day I discovered something else, some of which was quite interesting and new and others I thought gimmicky.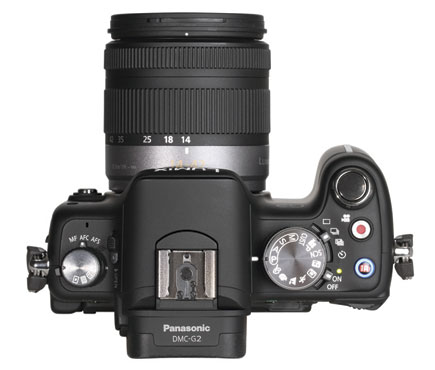 Hot shoe can hold stereo mic or auxiliary dedicated flash. Mode dial makes moving through Exposure and Scene modes easy. Accompanying drive selector switch includes single and continuous as well as the all-important exposure bracketing, which this camera offers in seven steps! Note the iA button, which to me gets activated accidentally way too easily. Left side dial is for AF choices.
The large monitor is fully articulating, which means it also folds back to sit safely against the camera body. Many of the controls and quick menu choices are touch-selectable here, and you can even do a face detect selection and release the shutter by touching the screen! The various dials allow for many functions as well, all set by reference to the monitor. Those four-way switch toggles were a bit tiny for my fingers but should be okay for most.
Perhaps the first revelation was the touchscreen operation, in which you literally touch the screen as you work. You "poke" the screen to make various settings, initiate focus in follow focus, and even release the shutter (!). This actually works well when you take advantage of the fully articulating monitor and full-time Live View, the latter giving you a pretty good preview of what the processed interpretation will look like once it lands on the memory card.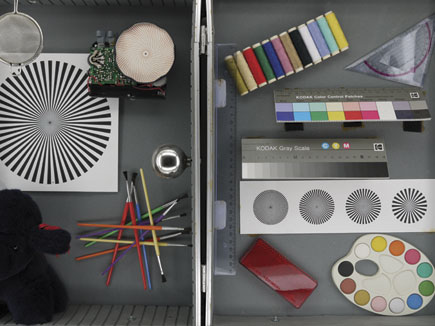 Test chart shot and supplied by BetterNet, our testing lab in our association with TIPA. See text for comments on chart.
© 2010, BetterNet, All Rights Reserved
In other words, like a point-and-shoot, when you change white balance the LCD shows the effect, the G2 offers up prior-to-exposure previews for Scene modes and aperture settings (depth-of-field preview!) and even, in an odd sort of way, shutter speed effects.

This is quite fun to work with but unfortunately this seeming advantage has the seed of its own…well, not destruction, but disadvantage built in. As you touch the screen for such things as face detection, making settings, etc., there is a natural build up of skin oil on the monitor surface. When hit by any sort of sidelight this tends to obscure the view due to a layer of fingerprints that have built up on the monitor face. The screen is quite nice and bright in general, and this helps cut down on the problem a bit, but there's no question that this way of working eventually creates a less than optimum viewing environment. And when you snap the shutter by touching the screen, which is a real kick to do, especially when you have some sort of very odd viewing angle that the articulating monitor affords, I fear that this adds to the potential camera shake. In other words, if you use this course of operation make sure you are well stocked with cleaning supplies, and don't eat pizza while you shoot!
Depth of field can be previewed on the large and bright LCD monitor. This train yard in Antonito, Colorado, was photographed at ISO 100 with an exposure of f/16 at 1⁄200 sec. I put the camera on daylight white balance and the colors throughout were rich and true.
Speaking of camera shake, Panasonic has done an amazing job with their Mega OIS optical stabilization lenses. This is something that can be a problem in smaller cameras, especially those that tempt fate with long-range zooms. But I put the system to what I considered the ultimate test—shooting aboard a moving steam train as it lurched and vibrated its way along a narrow gauge track. I must say that even leaning against the side rail on the open flat car, an environment with considerable vibration, I lost maybe two shots out of 100 to vibration using OIS Mode 2. Very impressive.
(Left): Aperture-Priority, Shutter-Priority, and Manual modes plus easy access to controls make the G2 a very good travel companion. This waterfall was exposed in Aperture-Priority mode to get focus from foreground rock to forest in background. Exposure at ISO 160 was f/11 at 1⁄200 sec. (Right): The metering system is for the most part uncanny, and I took this using the iA mode, not something I'd ordinarily recommend but thought would be good to test. The system picked ISO 100 at f/8 at 1⁄640 sec and there was no need to do any local exposure control later even in the brighter areas of this shot of the "little engine that could."
All Photos © 2010, George Schaub, All Rights Reserved
The camera performed quite well in lab tests performed by BetterNet, a testing lab we now access as part of our TIPA membership. According to their tests, the automatic white balance settings reproduced the gray fields of the GretagMacbeth chart in a very neutral way. Color saturation was rich, but not overly so. The Panasonic G2 reproduced the BetterNet ISO 1233 resolution chart with 2509 lines per picture height, a very good result for an effective 12-megapixel camera with 4000x3000 pixel resolution.

FEATURED VIDEO