Panasonic's Lumix DMC-GF1; A 12MP Micro Four Thirds Camera
Micro Four Thirds format cameras promise of compact size, reduced weight, and versatility approaching a D-SLR. I recently had the opportunity to work with the Panasonic Lumix DMC-GF1 to see how it fulfilled those ambitions.

The GF1 is available only in kit form, with your choice of lens. One kit features the Lumix G 20mm f/1.7 ASPH "pancake" lens (so named for its flatness). Remember, since this camera uses the Four Thirds Live MOS sensor, that focal length is doubled. That still makes the 20mm (40mm equivalent) a very respectable street/candid lens, especially in low light and indoors, where flash may not be practical or allowed.
The GF1 is a Micro Four Thirds format, interchangeable-lens camera capable of delivering both stills and HD video.
Courtesy of Panasonic
GF1 Rear View
There are just enough buttons to be functional, yet not intimidating. In place of an optical viewfinder, the GF1 sports a Live View finder, which is usable under all lighting conditions, even bright light, if with a slight degree of difficulty.
Courtesy of Panasonic
GF1 Top View
The mode dial is conveniently positioned on top, but note the iA (intelligent Auto) function in red: you may find yourself often resorting to this handy mode, especially with movies. As for movies, any time, any mode: just hit that dedicated red button. What's more, although a tight shoe fit, I was able to use an Olympus FL-50R with this camera and achieve full TTL flash control.
Courtesy of Panasonic
Boasting perhaps broader appeal, the other kit (the one tested) comes with the Lumix G Vario 14-45mm f/3.5-5.6 ASPH/MEGA O.I.S. The one drawback to the 20mm lens is that it doesn't support Image Stabilization, whereas this zoom lens does. More to the point, on Panasonic G-series cameras, Optical Image Stabilization (O.I.S.) is solely a function of the lens—via an on-board switch (with input from the camera: you select the Stabilization mode). The Micro Four Thirds mount supports a variety of lenses, even lenses made specifically for other camera brands, adding to the appeal of this design.

You could probably take the GF1 out for a stroll without reading the voluminous manual (a hint at all the built-in functionality). Most of the function buttons are conveniently located on the right side, under your thumb, and easily identified. The one button that may be confusing is labeled "Q.Menu." This button brings up the option to scroll through the most commonly used functions on the LCD display. In fact, all menu options are made via the large LCD on back, since there is no data panel on top. The only time I had any difficulty reading the screen, either for viewing/composing or menu selection, was under bright sunlight—and even then, it didn't stop me from getting the shot. (You might want to avail yourself of the optional eye-level finder under these conditions—an item not tested.)
Mode-Sensitive Menu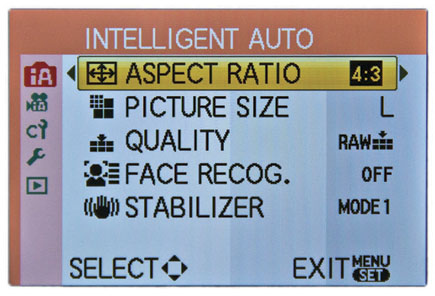 The menus on the GF1 are sensitive to the shooting mode. Here we see the applicable parameters for intelligent Auto (iA), a very versatile Automatic mode that responds well to almost any ambient conditions and automatically sets the necessary parameters to suit the situation.
There are four cursor keys that surround the main Menu button.

Each cursor key is also dedicated to a specific function, namely ISO, AF mode, WB, and the user-defined Fn.

As with the Quick Menu, the main Menu options are sensitive to the operating/shooting mode. You get the widest range of options in the standard/creative modes, with fewer options in the camera-controlled/auto settings, such as Scene mode.
Facial Recognition
Face detection can be set as a Drive mode, although facial recognition is automatic and easiest to use in intelligent Auto (iA), as is the case here. As well as recognizing real faces, the camera had little difficulty identifying the face in this sketch, even when partially hidden by the artist's hand. The camera also correctly identified a face in a sculpture.
All Photos © 2009, Jack Neubart, All Rights Reserved
Lots Of Shooting Modes
More experienced shooters will likely use MAPS (Manual, Aperture-priority, Program, Shutter-priority) modes, which take you on the road to more creative picture making. When you select the My Color mode, you are automatically locked out of using ISO selection and exposure compensation. Even the Quick Menu has been grossly truncated for this mode. Your taste will dictate how often you use these effects. Scene mode gives you numerous predefined choices that run the gamut from portrait to sports, landscape, night scenery, sunset, and many more. Hit Display and an explanation pops up.
14-45mm/Landscape: Capturing Reflections
Working with the 14-45mm zoom, this scene in New York's Central Park is what I envisioned capturing, without compromising any part of the scene. (ISO 100, f/5.4, 1⁄50 sec, Program mode.)
The one mode that I did find myself using, despite a natural inclination to avoid it, was iA (intelligent Auto)—marked in red on the dial to distinguish it. Here the camera appears to shine with a wisdom all its own. You still have control over exposure compensation and flash, but are otherwise largely locked out of the decision-making process.

FEATURED VIDEO