Olympus Zuiko 25mm f/2.8 "Pancake" Lens
Olympus Zuiko 25mm f/2.8 "Pancake" Lens

A "Normal" Lens with Unconventional Features
by George Schaub
The Olympus Zuiko 25mm f/2.8 lens, designed for their and other Four/Thirds system cameras, is a sleeper of a lens that offers some fun and interesting photographic options. Not only does the lens allow you to photograph as close as 5.1 inches, it is so small that you might mistake it for a cookie and light enough at 3.3 oz to escape notice. In fact, it is somewhat affectionately dubbed a "pancake" style lens, a characterization that has more to do with the optical design than a physical description. (In fact it looks more like a hockey puck--the pancake appellation has more to do with the flattening of the optics in the venerable Zeiss Tessar-like design than any outward appearance.) I tested this lens with the E-3, which is a heavier than their E-420 or similar camera, which with this lens must be featherweight indeed.
No one doubts the functionality of a zoom lens, that class being the most popular seller. But there are many charms to a fixed focal length lens, the first being weight and the second usually being speed. There is no variable focal length to be troubled with and no optical formulae that can yield very good results at one focal length and less than optimum at another. Then there's the surety of having to deal with the images you make at one focal length, which eliminates the variable seductions of a zoom. It is a certain disciplined way of shooting that might just make you consider a set of options rather than range about and consider that you have mastery of all possible points of view.
I usually take along a fixed, fast 50mm (which this lens offers when you do the 4/3rds system multiplication game) when I am doing photography in a city or at night. My Canon 50mm is an older f/1.8, which while not officially sanctioned for use with digital (in my case a 5D) allows me to get some shots that I would otherwise miss, or not even consider. It's fast, it remains inexpensive and is a favorite of the stable.
The 25mm Zuiko quickly attained that status with me. I would of course prefer an f/2 but what's one stop among friends; apparently the design itself limits it to that maximum aperture. I made some shots of family and friends and some fairly pedestrian images of a walk in the woods (though there's no question that this with a lighter weight Olympus or other 4/3rd camera would make a great street photography lens.) The shots I wanted to share with you, however, are those made in extreme close up of some ice forming on a late autumn pond, a favorite subject of mine in the designs and color levels the subject offers.
Olympus E-3, 25mm f/2.8 lens; exposure at ISO 400 f/16 at 1/30 sec; center-weighted averaging metering, aperture-priority exposure mode.
All Photos © 2008, George Schaub, All Rights Reserved
For this subject matter I set the camera up for Live View, which on the E-3 is as simple as pushing the Live View function button on the back of the camera. Another advantage for this type of shooting is that the E-3's LCD can be articulated in many directions, which allowed me to extend my arm and shoot as if I had the camera mounted on a Benbo or similar terrain-adapting tripod. This being late autumn in the woods I needed to gain up the light so I worked mostly with ISO 400 and 800. I set the camera up for aperture priority and set an aperture of f/11, which gave me a handholdable shutter speed of between 1/15 sec and 1/60 sec, depending on the light, very much within the toleration of the Image Stabilization setup in the body. I set a center-weighted metering pattern, which is usually my choice and a –1EV exposure compensation, which I arrived at after making some test shots. I shot in Olympus RAW, dubbed .ORF format.
| | |
| --- | --- |
| | |
| Olympus E-3, 25mm f/2.8 lens; exposure at ISO 800 f/8 at 1/60 sec, -1EV; center-weighted averaging, aperture-priority exposure mode. | Olympus E-3, 25mm f/2.8 lens; exposure at ISO 400 f/16 at 1/15 sec; center-weighted averaging, aperture-priority exposure mode. |
For this type of shot I generally just get really close and move about until I feel there is some sense of balance and form in the shot. I was able to get into some fairly small areas using Live View, and could even extend my arm out over the pond edge (the ice was pretty thin) to frame some shots. On those shots I found it difficult to do more than framing using Live View (the screen was simply too far away to focus on) so I pressed the shutter release button down slightly until I heard an exposure confirmation beep, then made the exposure. The lens proved to be lots of fun and opened up some very interesting photo ops that day.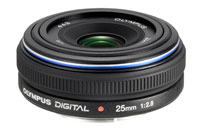 Priced at between $225 and $250 at reputable dealers found on the Internet, this lens can be a nice extra optic in your kit bag. Only you can answer the question as to whether or not it would come to be a sort of trick lens, like a fisheye, that gets occasional use, or a workhorse that's right down your alley. If you have a smaller Olympus model like the E-410 or E-420 and are planning to do street photography it makes perfect sense. It also makes for a very cool traveling companion that along with being quite practical will attract conversation, if you enjoy talking to fellow photographers. My only problem with it is the screw-in (aluminum) lens cap, which I know I would lose in short order.

FEATURED VIDEO