Olympus OM-D E-M5 Mark II Mirrorless Camera Review
If you're looking for a small and portable yet powerful camera that's a good alternative to heftier digital SLR models, Olympus' OM-D line of mirrorless compact system cameras are some of the best options out there. These retro-styled shooters recall cameras from the film era, resembling miniaturized SLRs. In short, if you feel all warm and fuzzy at the sight of classic cameras, you just might find Olympus' OM-D models to be absolutely adorable. But there's more to them than simple nostalgia.
Earlier this year, Olympus unveiled the OM-D E-M5 Mark II and along with sporting a throwback look, it came loaded with new technology. I got a chance to test out an early production version of the Olympus E-M5 II during a trip to Bermuda (and for a few weeks after I returned), and found it be an impressive little picture-taking machine.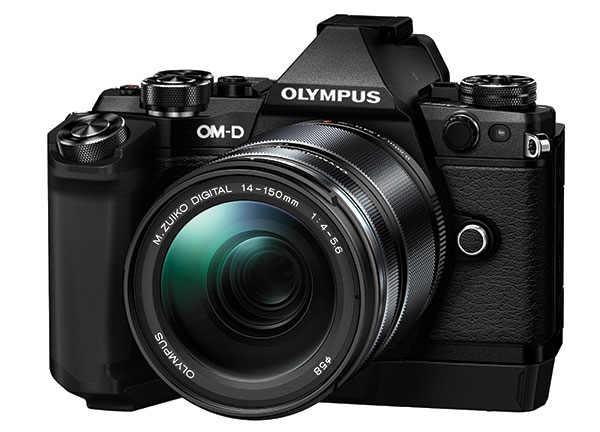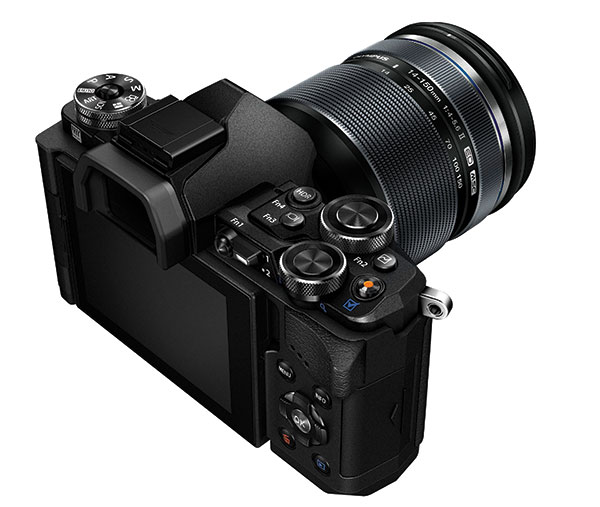 The E-M5 II uses a Micro Four Thirds sensor similar to the one in the previous model—it once again offers 16 megapixels of resolution—but Olympus says the Live MOS chip has been redesigned. The Olympus E-M5 II also boasts a host of new and updated features, including improved 5-axis image stabilization; a 3-inch, flip-out, vari-angle LCD screen on back; more versatile video features; and a new 40MP high-resolution mode that combines eight images into one high-res shot.
The Olympus E-M5 Mark II ($1,099, body only) sits below Olympus' flagship E-M1 ($1,299) mirrorless camera in its OM-D line but above its E-M10 ($799) model. The E-M5 II is available in black or silver versions, and there's also a slick looking titanium-colored version available in limited quantities.
Build
The Olympus E-M5 Mark II has a small but tough, angled SLR-style body with dimensions of 4.9x3.3x1.8 inches. While it certainly won't fit into even a coat pocket—especially with a zoom lens attached—it's a very easy camera to travel with. I had no trouble stowing an E-M5 II and a collection of lenses in a photo backpack along with a laptop and assorted accessories during my Bermuda trip and hauling this entire setup around this island nation on shoots. The lenses stashed in my bag were the Olympus M.Zuiko 12-40mm f/2.8 PRO, the 40-150mm f/2.8 PRO, and the 14-150mm f/4-5.6 II. I also included a MC-14 teleconverter (for the 40-150mm).
The camera is relatively lightweight (16.5 ounces with the batteries and SD card loaded) but felt solid with a dustproof and splashproof build. No one will mistake the E-M5 II for a professional-level DSLR but that's the point. It's meant to be as inconspicuous as a rangefinder but with the formidable skills of an SLR.
While it resembles the previous model from 2012, there are a few design tweaks to the E-M5 II that actually give the new camera a more retro look overall. For one, the E-M5 II has a more traditional looking pentaprism on top, even though it isn't a pentaprism at all since this is a mirrorless camera. The button layout on top of the camera also looks more polished and refined and the E-M5 II has added a second control wheel on the top plate, surrounding the shutter button. There's a new 3-inch, 1.04M-dot vari-angle flip-out touchscreen on back and a 2.36M-dot electronic viewfinder (1.48x magnification) on top.
The E-M5 II has a more pronounced thumbrest on the back of the camera and the faux leather wrap around the body—which is a vulcanized rubber material—feels grippier than on the previous model. Thanks to the design changes I just mentioned, I found it easier to hold and shoot with than most of Olympus' other micro models, except the E-M1 flagship camera, which has a more robust build.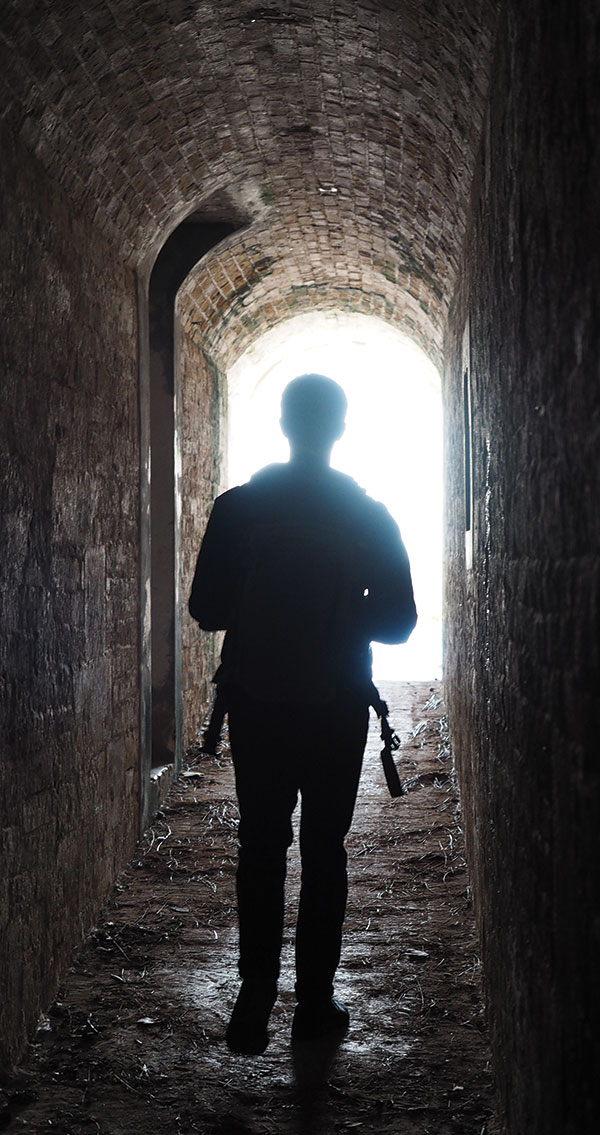 Features & Performance
The Olympus E-M5 II's most useful new feature is its in-camera, 5-axis Voice Coil Motor (VCM) image stabilization system, which shifts the camera's sensor horizontally, vertically, and on the X (pitch), Y (yaw), and Z (roll) axes. According to Olympus' claims, the 5-axis VCM stabilization offers five f/stops of compensation performance, and allows you to capture sharper images at shutter speeds as low as 1/4 second without the use of a tripod. Meanwhile, sensor shift on the X and Y axes can also help produce sharper photos when photographing close-up subjects.
In real-world use, the ramped up stabilization system in the E-M5 II allowed me to capture crisp, handheld photos of a variety of tricky subjects, including fast-moving dolphins leaping out of the water at a marine life show, and low-light images of people moving through the interiors of a dark fort. I liked that you could also use the 5-axis VCM stabilization when shooting HD videos—the E-M5 II can shoot 1080p video at up to 60p—allowing me to get stable night footage of boats puttering through a Bermuda harbor.
The E-M5 II is powered by Olympus' TruePic VII processor, which enables it to shoot Raw images at up to 10 fps with S-AF, or 5 fps with C-AF tracking enabled. This speed helped at the dolphin show but one of the trade-offs of shooting with a mirrorless camera vs. a DSLR is the slight image lag you get in the camera's electronic viewfinder while shooting bursts, making you sometimes wonder whether you got the shot.
I had similarly mixed feelings about the E-M5 II's new 40MP High-Res Shot mode. The mode captures eight sequential images, moving the sensor by 0.5-pixel steps between each shot. The E-M5 II then compiles those images to produce a super-high-resolution shot; results were very good, especially detail-rich composite photos I shot of the harbor in the town of St. George's. The caveats are that a tripod is really necessary to use this mode and you must shoot a still subject—not a moving subject—to get quality results. Because Olympus is hamstrung with its smaller Micro Four Thirds sensors, it can't pump more pixels into its chips without degrading image quality in low light.
The answer is a quirky 40MP mode with limited usability, to compensate for the E-M5 Mark II's relatively low-resolution 16MP Micro Four Thirds imager. Many, if not most, photographers, it should be noted, will likely find 16MP to be more than enough resolution for their photography and will use the composite 40MP only occasionally to shoot landscapes and similar static subject matter.
During my testing of the Olympus E-M5 II, I experienced one technical glitch relating, possibly, to the proximity sensor in the electronic viewfinder's (EVF) eyecup. The camera I was shooting with and several other E-M5 II units tested by other press members during our Bermuda trip, would sometimes freeze up when switching between the EVF and the LCD screen on back of the camera. It was hard to tell what was triggering this problem but the result was that you could no longer shoot with the camera and the rear LCD and EVF would show a black screen. The camera would eventually start working again on its own or you could remove and reinstall the battery to get it going. Hopefully this is an isolated problem, or something Olympus can fix with a firmware update to the E-M5 II.
Image Quality
Image quality from the Olympus E-M5 II was quite good: I'd put it on par with some of the better non-full-frame mirrorless cameras on the market and comparable to many mid-level DSLRs. While Bermuda is a lovely location, February (the month of our trip) is not the most ideal time for a photo trip; the country is not as far south as some might think (it's approximately parallel to South Carolina).
While temperatures were a lot warmer there than the Northeast, which was locked in a deep freeze when I left, skies were overcast and on the rainy side. Despite these conditions, the E-M5 II did a great job pulling out rich, vibrant color in my images. Overall, the camera's a decent, dependable, and occasionally outstanding performer in outdoor shooting conditions. The same was true of the E-M5 II's HD video capabilities: solid all-around with the added benefit of more stable footage thanks to the 5-axis image stabilization.
I'm not much of a fan of most camera's specialty modes, but I've always liked Olympus' Art Filters, which add an arty, in-camera effect to your shots. In particular, the Dramatic Tone filter, which adds a striking, moody look to images (particularly to clouds); the Pop Art filter, which adds bright punch to colors; and the Grainy Film filter, which transforms your shots into a classic, black-and-white film look, are my favorites. I played with these filters extensively during my time in Bermuda and liked the results. You can see some examples in this review.
As with other Olympus cameras, which use smaller Micro Four Thirds image sensors, the E-M5 II was only a so-so performer in low light at higher ISOs. Stick to ISO 6400, at the highest, or you'll start to see lots of crunchy, digital noise in your low-light shots.
Conclusion
The E-M5 Mark II is another evolutionary improvement in Olympus' OM-D line of mirrorless, compact system cameras. While this attractive, retro-style shooter (which looks like a cross between a miniature SLR and a rangefinder) doesn't break much new ground, it features enough positive enhancements to warrant a serious look from Olympus fans. In particular, the 5-axis Voice Coil Motor image stabilization system did a great job of keeping my handheld shots of fast moving and dimly lit subjects sharp. Same goes for the camera's HD footage, which was remarkably crisp and steady thanks to the 5-axis stabilizer. While I liked the new High-Resolution Shot composite mode, it comes with some major caveats and I'm not sure how often I'd use it. Overall though, the weatherproof Olympus E-M5 II is a great little camera that's ideal for any travel photographer looking to lighten the load.

FEATURED VIDEO